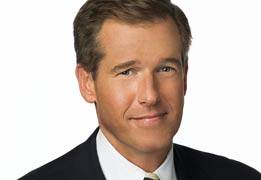 Arizona State University announced on Monday that Brian Williams, anchor and managing editor of "NBC Nightly News," will receive this year's Walter Cronkite Award for Excellence in Journalism.
Williams will receive the 26th Cronkite Award on Nov. 18 at the Sheraton Phoenix Downtown Hotel from ASU's Walter Cronkite School of Journalism and Mass Communication.
Williams became the seventh anchor and managing editor in 2004, succeeding Tom Brokaw, who won the Cronkite Award three years ago.
"As someone who grew up idolizing Walter and having come to know him in adult life, I know that there is no greater name in our profession," Williams said. "Walter Cronkite is the only reason I entered the field of television journalism."
Williams has also won four Edward R. Murrow awards, five Emmys, the duPont-Columbia University Award and the George Foster Peabody Award. He also holds six honorary doctorates.
"I am overjoyed that Brian Williams will accept the 2009 Cronkite Award from ASU," Cronkite said. "It's no secret that I am one of his most ardent admirers."
The New York Times called Williams' coverage of Hurricane Katrina "a defining moment as a network reporter and anchor."
Williams also covered the Sept. 11 attacks, the Iraqi War and the past four presidential elections.
He was named one of the 100 "People Who Shape Our World" by Time magazine in 2007.
"Williams understands the new state of play in the media and even has a blog of his own," former Time managing editor Walter Isaacson wrote. "Yet he is traditionalist enough to protect the concept of a national conversation, based on a shared common ground of facts and reporting and ideas."
Williams joined NBC in 1993 and was named the network's chief White House correspondent the following year. He was the anchor and managing editor of "The News with Brian Williams," an hour-long nightly newscast on MSNBC and later CNBC. He also anchored the Saturday edition of "NBC Nightly News" before taking the place of Brokaw in 2004.
---