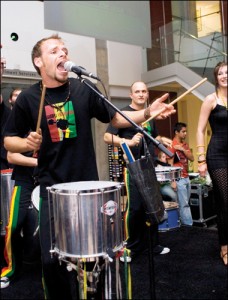 Source: The State Press
Strong winds were no match for Malissa Geer's months-long effort to organize the Downtown campus' fourth-annual Urban Gallery Exhibition to bring ASU closer to the community.

The weather forced Geer, a University community-engagement liaison and the event's organizer, to set up differently than planned, moving the outdoor stage inside the University Center to join the indoor stage. But the exhibition still helped to make the Downtown campus a true urban university, she said.

"I'm delighted because I know that the vision for our Downtown campus really is to be integrated without community," Geer said. "I couldn't feel better about the success of how many people did come out despite the wind and despite the million other important things they could have been doing tonight."

The exhibition was the finale of the day-long Action, Advocacy, Arts event at the University Center, extending through the first two floors of the building, as well as floors four through eight. The day's events included music, artistic performances and art.
Full article here.
Your guide as you Explore Your Core
---