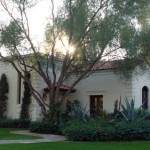 The Encanto-Palmcroft neighborhood, with all of it's old world charm and palm-tree lined streets, will be putting on their bi-annual Home Tour & Street Festival on Sunday, March 29th from 10 AM to 4 PM. The majority of the estate-like homes in this neighborhood were built in the 1920's and 30's, including Spanish Colonial homes and Tudor Revivals although there are also a few classic Red Brick Ranch homes from the 50's. Past neighbors of note in the Encanto-Palmcroft neighborhood have included US Supreme Court Justice, William Renquist, former Phoenix Suns star Alvan Adams, former Phoenix Mayor John Driggs and many more.
In addition to the home tour, there will be live entertainment, food from local restaurants & vendors, arts & crafts & historic cars on display.
To experience the tour to it's fullest, park at Phoenix College, where you can purchase your tickets and a refreshment and then hop on an old-fashioned trolley with tour guide who will provide some commentary on the history of the neighborhood.
For more information about properties in the Encanto-Palmcroft neighborhood, that are currently For Sale, contact Lyle Plocher with Urban Connection Realty at 602 373 3725 or lyle@urbanconnectionrealty.com
---