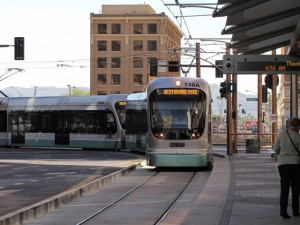 From Greg Hogue:
One thing I didn't know was that the rail has stops within a block of US Airways Center and Chase Field (the eastbound rail has a stop right in front of Chase Field). I could actually get out and see more Diamondback games this year!  On my ride into downtown, I saw several restaurants that I want to go back and try when I have more time. I wouldn't have known they were there if I wasn't riding the light rail.

One place is First Watch at One 1st street. They open early so if I worked downtown and wanted some breakfast, I could see myself leaving the house a bit sooner.  Or I might try Fair Trade Cafe, a little coffeehouse that deals only with fair trade coffee and supports local businesses.  One of the stops is only a block from Margaret T. Hance Park on north 3rd Avenue. Near the park is the Irish Culture Center and the Japanese Friendship Garden.

There is so much to see and do around downtown Phoenix that I never knew about until I took the light rail and explored.  I have no excuse now for not seeing what the city has to offer and I have the light rail to thank for that.
We're happy to have you on board, Greg.  For even more to do in Downtown Phoenix, sign up for our newsletter in the top-right corner of this page.  And if you're looking for places to eat, drink, or shop all along the light rail line be sure to check out our friends over at Rail Life.
Source: ABC 15
---