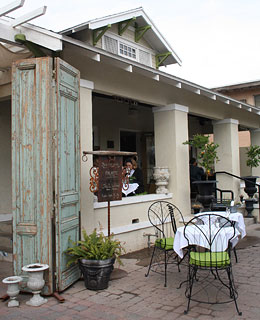 From Chow Bella
I got word last night that Palatte, the popular downtown brunch spot known for its eclectic menu and relaxed historic-house setting, just closed yesterday.

Supposedly the restaurant was still doing a bangin' business on the weekends, when people would line up for frittatas, scrambled egg "mishmashes," and roasted sweet potato pancakes, but weekday lunch business dropped off in recent months.

Sources tell me that owners Ed and Christine McHale got an offer they couldn't refuse from some folks who want to put another restaurant in that spot. Stay tuned for more details . . .
This is sad news for us here at The Journal, our best wishes go out to Ed and Christine for their next adventure. Palatte, je t'aime!
Source: Phoenix New Times
Update: Below is a note that The Journal just received from Christine-
From the bottom of Ed and I (Christine)'s
heart we can not thank you all enough
you meant more to us than you
will ever know. We love you all
and enjoyed every last minute of the endless treasures at PALATTE.
---