Webcam Offers 'Dean's-Eye View' of Park's Art Installation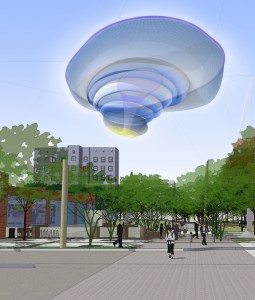 ASU's College of Public Programs has reactivated its live webcam to share a "dean's-eye view" of the installation of artist Janet Echelman's floating net sculpture at the Downtown Civic Space Park.
The sculpture, titled "Her secret is patience," is set to be installed March 9 to 12. The design of the sculpture was inspired by Arizona's distinctive monsoon cloud formations, and by saguaro flowers and boots (which form inside the cactus). Its title comes from a quote by poet and philosopher Ralph Waldo Emerson: "Adopt the pace of nature; her secret is patience."
The webcam view from the sixth floor of the college, located next to the park in downtown Phoenix, overlooks the two giant steel rings which will help support the sculpture.
The webcam can be accessed online at http://copp.asu.edu/do/from-the-dean/civic-space. It is housed in the offices of Debra Friedman, university vice president and dean of the College of Public Programs at the Downtown Phoenix campus.
The flexible netting will be suspended 38 feet above the ground on a framework of steel rings, cables and poles. The artwork will rise to an overall height of 100 feet and be about 100 feet wide at the top. Special lighting will make the sculpture visible as a landmark at night.
The structure that will support the art sculpture was a complicated feat of engineering that was recognized with the Excellence in Structural Engineering Award from the Arizona Structural Engineers Association.
When opened next month, the 2.77-acre Downtown Civic Space Park will include several large grassy areas, spaces with game tables, an interactive water feature, public seating and hardscape where student organizations can network, much like they do outside ASU's Memorial Union in Tempe, and Phoenicians and visitors can mingle.
For information about the webcam view, contact Corey Schubert at (602) 496-0406 or corey.schubert@asu.edu. For more about the net sculpture installation, contact Joyce Valdez at the City of Phoenix at (602) 262-6213.
Source: ASU College of Public Programs

---