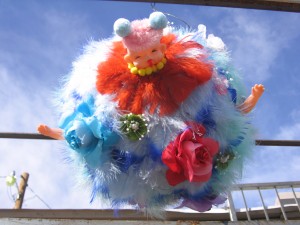 The Mutant Pinata Show will take place again this year at 1301 Grand Avenue, at the historic Bragg's Pie Factory, and will be open for the March First Friday (March 6th from 6 – 12 PM); Art Detour Weekend (March 7th and 8th); as well as the March Third Friday (March 20th) and the April First and Third Fridays (April 3 and 17).
The exhibit will be comprised of dozens of hand made, eclectic, and bizarre mutant pinatas – some made with the traditional paper mache base and others configured out of materials as diverse as colored cement and chicken wire.  Pinatas are decorated with a variety of materials including (but not limited to) glitter, pom poms, chenille, packaging peanuts, moss, masks, fleece, fake flowers and feathers.  Most entries for the exhibit are from the Valley, made by local children, artists and crafters, but at least one is coming all the way from Hawaii!  All entries that are submitted will be hung in the large vaulted room in the former pie factory, creating a visual pinata cacophony.
The Bragg's Pie Factory, a cast-in-place concrete streamline-moderne building built in 1946 by Alan and Elaine Bragg, and was recently accepted to the National Register of Historic Places.
---