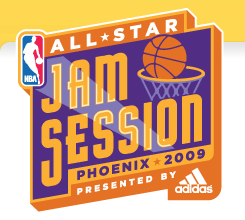 Just a few weeks ago, Arizona captured the international sports spotlight with the Cardinals Superbowl appearance and now this coming week we get to be in the spotlight again, this time by hosting the NBA All-Star Game and associated events.  The official activities get kicked off on Thursday with the NBA All Star – Jam Session and conclude on Monday the 16th, also with the Jam Session.  The Jam Session will be held at the Phoenix Convention Center, while the All Star Game itself, on Sunday evening will be held at US Airways Center. This will be an exciting 4 + days with all of the events, parties, etc. 
Info and FAQ's about the game and other activities
Copper Square guide to ALL Star Game events and downtown restaurants
Right across the street from US Airways Center, the NBA All-Star Block Party will feature live music, player appearances, video-game kiosks, beer gardens and basketball competitions.  NBA All-Star Block Party
The other aspect to All Star Week is the numerous parties that take place.  When we hear about Downtown Phoenix parties, we'll let you know.  If you hear about some, let us know.
---