Much like the creatures and worlds that only come alive at night, on any given evening in Downtown Phoenix a transformation could be taking place just a few floors above you.
Atop the many parking garages that dot the downtown landscape, adventurous soccer players are sneakily transforming unused concrete rooftops into skyline fields, where the beautiful game is set against a backdrop of office lights and open sky. Last Saturday night, the group descended upon the Chase parking structure in downtown, taking advantage of an open rooftop floor.
'Soccerbombing' as the organizers are terming it, was born out of a simple desire to play soccer without leaving the city, and is just the latest event to come out of Small Goal Soccer, an organization created to fill the gap of adult soccer in Phoenix.
Trevor Brandel, Regional Director of Small Goal Soccer, and his friends turned a night of sake bombers and sushi into a night of soccer when they opted to explore the many empty spaces in downtown, and found the undisturbed views atop parking garages paired perfectly with a pickup game of soccer.
"The first time we went there was six of us and we played a little three-on-three soccer. We had a great time … and we thought, 'hey let's do this again.'"
"I went and rode my bike around at night and was looking for parking garages that had some decent light and enough space where we could set up our goals," Brandel said.
After the first successful outing, they had an even bigger turnout with their second rooftop match in March, where the secrecy of the event and the last minute announcement of the location between friends within the organization helped to create an air of excitement. Because every outing remains a secret until the last minute, only joining the league can get you close to the next secret location.
Under the gaze of street lamps and skyscraper lights, players run between parking lines and try their best not to launch balls over the guard rail in an effort to score. Every now and then someone has to run down a level to collect the ones that got away.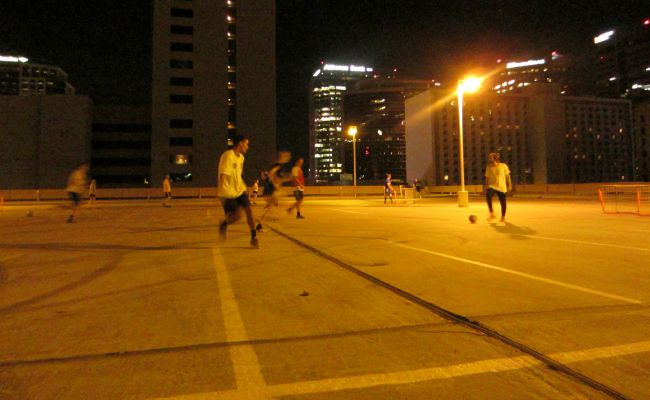 Small Goal Soccer launched in 2008 by Adam Thelwell, the current National Director, who after moving to Phoenix from Manchester, England noticed a huge gap in adult soccer outlets, and sought the community aspect of the game he enjoyed back home. The organization creates a space for players of every skill level to join as all games are played in the 6v6 format rather than the traditional 11 players per side most soccer fans are used to.
"It's a little bit faster, a lot more goals, a lot more shots. Even if you're a real recreational soccer player you can come out, get involved, and enjoy it, whereas 11 a side … if you're not a stronger player, you tend not to get the ball very often," Thelwell said.
Small Goal Soccer is now active in six states, and features men's, women's, co-ed, and burgeoning youth squads. Thelwell and Brandel both agree that beyond the actual games, the league exists to create community among players, with organizers spearheading charity events, networking opportunities, and regular gatherings.
"We do a lot of things within the community as far as networking and charity work. We want to make sure that that's a big piece of it … at the core of all the leagues we start," Thelwell said.
After the league quickly sprouted teams across the valley, many out of town players approached Thelwell and Brandel about starting up a league in their own hometowns, resulting in what Thelwell describes as very organic growth across the country.
The pair is working on a national tournament for the league, where they'll bring teams from every state they're in together for a tournament in Las Vegas next year. In addition to surreptitious soccerbombing nights and regular charity events, the pair hopes to continue to duplicate their success with small format games, and bring the community aspect of the league to more new cities across the country.
 Photos by April Atwood.
---