Some news items don't need translation. That's why DPJ launched the From the Wire series, so we could serve the destinations here by posting information and announcements – in their own words.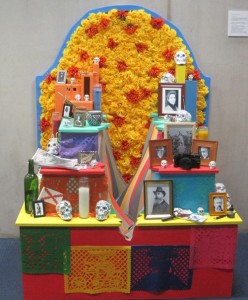 Burton Barr Central Library is seeking proposals for artist-made altars inspired by Día de los Muertos (Day of the Dead) for its @Central Gallery, located on the first floor at 1221 N. Central Ave.  Proposals are being accepted from Arizona residents, 18 years or older.
Deadline for submission is 5 p.m. Friday, September 7.  The exhibit will run October 22 – November 3.
This year's theme, "Stories of Our Lives," invites you to remember and share the stories and people who influenced your life.  Whether through personal experience, literature and reading, or a tale shared at the dinner table, stories have a special place in our thoughts and in our very beings.  Your altar might honor a book, an author, a family member, a pet, or even your favorite librarian.  We all have stories that stay with us and we hope you'll share one.
Artists should be ready to install their altar on Sunday, October 21.
For complete submission instructions, visit phoenixpubliclibrary.org or send an e-mail to centralgallery.lib@phoenix.gov
Phoenix Public Library is a system of 16 branch libraries and the Burton Barr Central Library.  For more information, call 602-262-4636 or visit phoenixpubliclibrary.org.  Follow us on Twitter at twitter.com/phxlibrary and "like" us on Facebook at facebook.com/phoenixpubliclibrary.
---