If we heard about an area like Downtown Phoenix's Roosevelt Street developing in another city, we'd be pretty jazzed about the concept.
What's not to love about an organic arts district and an established historic neighborhood coming into their own, with small businesses, events, community engagement and more taking hold. We could imagine the streetscape, historic buildings, retail opportunities, and increasing number of pedestrians populating the sidewalks.
Naturally, the pièce de résistance of that vibrant, connected, city scene are chic bicyclists safely riding to and from markets, art galleries and cafés.
So, imagine our surprise (quelle surprise! – yes, we think in French when musing about urban bicycling) when we read this online petition posted by Greg Esser of the Roosevelt Row Community Development Corporation.
Could it be that a current street improvement plan excludes bike lanes, on what is one of downtown's busiest, and one would think, multi-modal oriented thoroughfares?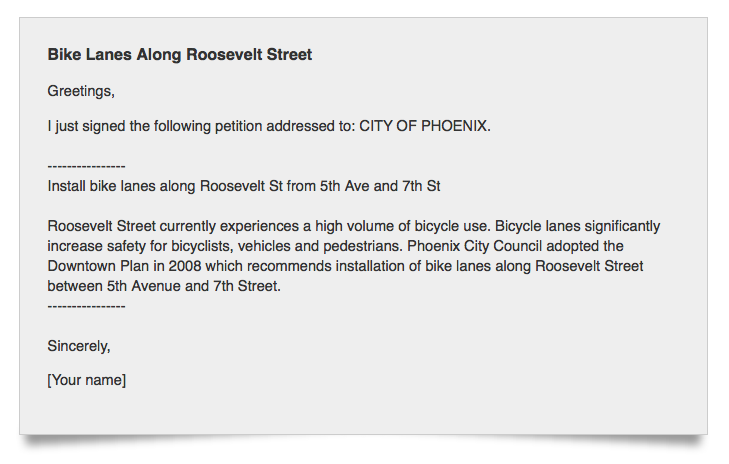 The petition explains:
Roosevelt Street currently experiences a high volume of bicycle use. Bicycle lanes significantly increase safety for bicyclists, vehicles and pedestrians. Phoenix City Council adopted the Downtown Plan in 2008 which recommends installation of bike lanes along Roosevelt Street between 5th Avenue and 7th Street.
Wouldn't we, as a community, want to show off the Historic Roosevelt district's beautiful streetscape to roaming pedal-pushers? And as destinations continue to pop-up in the Evans Churchill Neighborhood, wouldn't any plans of development include this critical mode of transportation, especially given the proximity of a popular Light Rail station at Central/Roosevelt?
It seems the current answer is "no." If you want to try and change that, you might want to add your name to the growing list of petitioners.
---