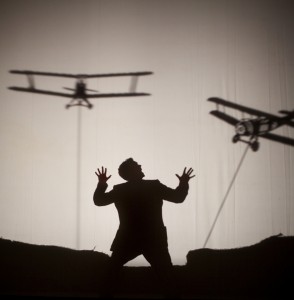 "Alfred Hitchcock's The Thirty-Nine Steps" is a play still performing to sold out audiences in London's West End – after 6 years. It has turned it into a worldwide concurrent series of productions.  The adaptation that landed at Arizona Theatre Company this week brought actors trained on both sides of the pond.
The original novel was written during the lead up to World War I, Hitchcock's 1935  movie was produced during the lead up to World War II, the West End adaptation of Hitchcock's movie was created during an intense period of British debate about the Afghani-Iraqi wars, and American adaptations (including a 3-year Broadway stint) began to spread during the lead up to the 2008 Presidential election.
Coincidences, all.  A hilarious spoof in true depression-era comedic style.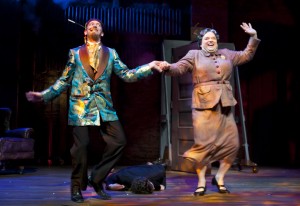 There is excellent physical comedy throughout this madcap story of an itinerant English Gentleman caught up in the chase to find spies in his midst and the damsels who continuously cross his path along the way.  The cast has a lot of fun playing with references to other Hitchcock movies, including most notably, North by Northwest. The male lead, Robert O. Berdahl, comes as close to filling the large footprint of Cary Grant as I've seen.  The supporting cast – one female and 2 male actors – split amongst themselves numerous roles as the plot darts around pre-War Britain. There's even a little Borscht Belt thrown in. The train chase scene done on top of a few boxes is a definite must-see!
Enjoy the play, and then watch the Hitchcock classic film.
If You Go
When: February 9 – 26, 2012
Where: Herberger Theater Center, 222 E. Monroe, Phoenix
Tickets: Buy now.
---