(From the Wire includes press releases received from reliable sources that help tell the story of the many happenings in Greater Downtown Phoenix. Yep, they are ripped from our inbox.)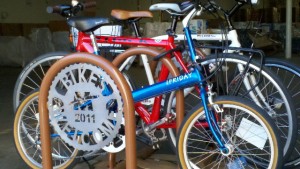 Finding a place to secure a bike in downtown Phoenix is becoming easier and more attractive thanks to the Arizona Diamondbacks and the bicyclists who participated in the Great Bike Chase event last April. The Great Bike Chase is a family bike ride that begins in several different Valley locations and ends at Chase Field for a Diamondbacks baseball game.  The Diamondbacks donated $5 from each event ticket purchased as a way to thank the community for supporting the annual event. More than 300 riders participated in last year's ride contributing to the fabrication of 11 bicycle racks.
"By increasing available bicycle parking, more riders will feel comfortable with traveling to a venue by bike," said Suzanne Day, Valley Metro Business Services representative. "Bikes are a great way to exercise and contribute to cleaner air at the same time."
Bicycles are also considered an easy way to extend a transit trip because they can be loaded onto light rail trains and buses. The Valley's bus system carries more than 1.5 million bikes each year.
Jenny Poon, founder of CO+HOOTS, Creative Coworking for Phoenix, noted that they have several entrepreneurs using their facility who live within a five-mile radius.
"They prefer biking in to work and that's something we're really proud to support. With an increasing demand for bike parking, we need a rack that can hold more bikes to support a developing bike culture in downtown Phoenix," said Poon.
The first of the unique racks is being installed on Monday, February 6, 2012 at Carly's Bistro, 128 E. Roosevelt, Phoenix. Installations are also planned for Blooming Rock, Cibo, Tucan Properties, Harder Development, Advantage Logistics SW, Buttertoast Boutique, Co+Hoots, Dukes Sports Bar, The Centers for Habilitation, and Stadium Lofts HOA beginning on Wednesday, Feb. 8.
"The Valley Metro bike rack program is making it easier for businesses to accommodate an important and growing segment of their customer base who just happen to be bicyclists," said Taz Loomans, Architect and Writer at Blooming Rock.  "This program is a win,win,win situation for local businesses, bicyclists, and the Arizona Correctional Facility."
Made from heavy-gauge steel, the racks were manufactured by Arizona Correctional Industries and feature a medallion designed by local artist Lilydog Industries. The medallion is accented with the buyer's choice of five different slogans such as Bikes Welcome or Ride On encircled by a chain ring design. Varying in size to accommodate between four and 12 bikes, the racks were offered to various businesses, neighborhoods and organizations at 50 percent of the cost to build. Valley Metro funds the remaining cost with the money donated by the Diamondbacks.
Arizona Diamondbacks and Valley Metro will consider the bike rack partnership again with the upcoming 2012 Great Bike Chase on April 22.
---