(Update – Phoenix has agreed to save the ficus.)
(Local activist/resident Sean Sweat of Downtown Dog Park fame lives next door to this project and attended all related council meetings. This article reflects his opinion(s) alone.)
If you haven't noticed the recent construction, First Street is getting a facelift.
Make it walkable
The City's goal with the project is pedestrian improvement via narrowing of the road and widening of the sidewalks. There were three related public meetings of questionable success, with funds coming from $1M of use-it-or-lose-it bond money burning a hole in City Hall's pocket. The project runs up First Street from Fillmore north to Hance Park, though the construction (starting at the south) is currently only partially funded.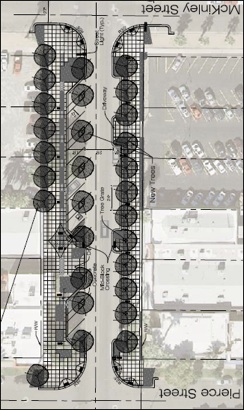 The project found an obstacle when the City determined that there were utilities underneath the west sidewalk. This was a problem because it meant that vegetation couldn't be planted there (namely trees with deeper root structures). The City's solution was to incorporate angled parking on the west side of the road and parallel parking on the east side. This allows them to plant westside trees at the end of planter arms extending between every other angled parking space.
Shady cars
Problem is, these westside trees cover parked cars and don't do squat for pedestrians on the sidewalk during the oppressive summer lunchtime sun. I also wonder if it was considered how large such trees could grow given that they don't have any surrounding soil through which their roots can breathe. I'm sure it depends on the type of tree planted, but generally the answer "is not very large". Expect these trees to be unimpressive, wispy desert trees that give the impression of a half-assed project that missed its mark.
At least they'll be honest trees.
Well, except for the massive, mature, lush, draught-resistant ficus that already exists on the west side of First Street just south of McKinley, providing thick copious shade to anyone that ambles past it. The City plans to remove this one because it "doesn't match their design palette" and because it resides atop a storm drain. (Remember those pesky utilities underneath the western sidewalk.)
What happened?
But those are ridiculous excuses from a City Hall that is obviously lacking the urban transportation knowledge required to truly transform our downtown. The storm drain should be abandoned: utilities should be placed under the road. This ensures that when future maintenance of the utilities is required, pedestrian flow and business access is impacted less, not to mention the cost difference between removing and replacing simple asphalt versus concrete sidewalks and curb cuts is substantial.
Fact is, any quality streetscape project incorporates the relocation of utilities (if needed). Yet this one doesn't. The primary excuse given to me is that the bond money is designated for a streetscape project and therefore cannot be used to move utilities. But that's a lie because utility relocation is what allows one to recreate the streetscape, as proven in many cities not named "Phoenix".
Quantity over quality?
The only conceivable explanation is because the City wants the bond money to superficially go further down First Street, regardless of the long-term failings or the self-imposed constraints forcing a sub-par design. The City should instead should be doing the project right the first time, even if that means covering less area in this first phase.
The project also neglects obvious and common pedestrian improvements such as pavers instead of concrete (think Mill Avenue) or at least pavers for crosswalks to send vehicles a clear message to expect pedestrians (again, think Mill Avenue).
But it does reportedly add benches, and I'm sure everyone reading this has walked First Street at one point or another and thought, "Damn, if there was only a bench here I could rest on…"
Contact Sean at sean.sweat@gmail.com
---