When I first heard about the band Dale Earnhardt Jr. Jr., I didn't really understand them.
Their name is weird and members Josh Epstein and Daniel Zott look like they just walked off the set of Tim and Eric's Awesome Show but once one of their songs flows out of the speakers, you'll never turn back.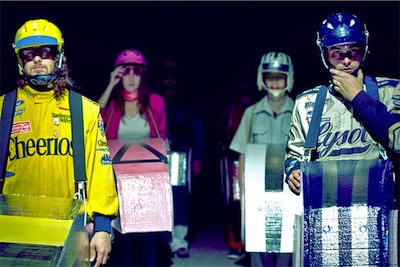 Although they are obviously named after Nascar fans' favorite driver, they are nowhere near country or music you'd listen to while watching a car go around and around in a circle.
They are simple and sweet.
Reigning from Detriot, this electra-pop band mixes soothing rock with harmonic vocals singing of love and relationships.
Their new single "Morning Thought" is more in your face electronic than their EP Horse Power.
A booming beat gives a backdrop to a psychedelic-floating-through-the-skies type trip. They have a touch of Freelance Whales with their cutesy lyrics and melodic voices.
It's hard to believe they come from Detroit, home of bands like Insane Clown Posse and Kid Rock. Songs to download before their show: "Nothing but Our Love" and "Skeletons"
There's plenty of time before the show which is on Wednesday, June 1.
This is a "Hey jump on this band before they come back and play Comerica" hint.
You never know, look at Arcade Fire and with them on the bill for this year's Lollapalozza, I doubt this band will be staying very low key.
Show is $12 at the Rhythm Room.
Start your summer off with a fun, electro-pop band.
---