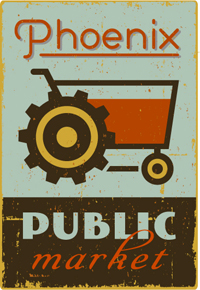 Market Updates
CSM cardholders can look forward to kicking back with a brew this week. If you buy one bottle of Grand Canyon Rattlesnake beer from Oak Creek Brewing Company, get the second for 1 cent!
Do you have a CSM card and a Facebook account? Enter into the market's drawing! Post a photo of you and your CSM card along with a Phoenix Public Market purchase on the Market's Facebook.
Include why you love that item or give the market a recipe. They'll draw names on August 16 and one cardholder will have the value of his or her CSM card doubled!!
T-Day @ the Market: 35% off on cookbooks Elite Café Cookbook and Edible: A Celebration of Local Food on Thursday!
Wednesday @ the Market
Calling all winos! There is a wine tasting featuring Stronghold and Page Spring Vineyards in the Urban Grocery & Wine Bar from 5 to 7 p.m. Wei of Chocolate, Torched Goodness, Bread Basket Bakery, Dr. Hummus, Nakia's Kitchen, Troyer Poultry, Crow's Dairy and others will be among the market vendors there.
Saturday @ the Market
Come on Saturday to eat Diggin' Dan's Salsa, Crazy Cajun Spice Co., Grady's Barbeque and Rainbow Valley's fresh farm cheese and butter while listening to some great live music by Dan Sell.
Orlando Zapata from Wei of Chocolate still needs your help with his summer donation drive for several local domestic violence shelters. They need kitchen and bath items, toiletries and baby supplies, and gift cards are accepted, too. Please help with what you can!
Vote now for Phoenix Public Market!
Arizona Homegrown Solutions has been selected as one of 41 finalists across the country for a chance to win $20,000 through a grant from Tom's of Maine. The fund will install four water-harvesting cisterns at area nonprofits, including the Phoenix Public Market. It will also provide green job training for under served populations and free water-harvesting classes for the public.
You have until September 10 to vote, so vote now! Scroll down to Arizona Homegrown Solutions, Phoenix, Arizona. Every vote counts!
Love the Phoenix Public Market? Of course you do! Show them how much by voting for them as your favorite market. You have until the end of the month.
If You Go: Phoenix Public Market and Urban Grocery & Wine Bar
Urban Grocery and Wine Bar: Tuesday to Friday 11 a.m. – 8 p.m., Saturday 8 to 8.
Open-Air Market: Every Wednesday 4 to 8 p.m., every Saturday 8 a.m. to noon.
Location: 721 N. Central Ave. (market) / 14 E. Pierce St. (grocery) (NE corner of Central and Pierce, three blocks south of Roosevelt and the Roosevelt light rail stop!)
Free parking —  MasterCard, VISA, AZ FMNP, WIC Cash Value Vouchers, and food stamps accepted (cash is also welcome!) Sun Cards are welcome, too!
---