If you're into unique, festive experiences, look no further than the 2017 Grand Avenue Festival. Presented by Grand Avenue Arts and Preservation (GAP), this ninth annual event, scheduled Saturday, Nov. 11, from 11 a.m. to 10 p.m., will celebrate everything from local businesses, historic preservation, to arts and culture.
GAP leaders, including Beatrice Moore and Nancy Hill, developed this festival to advocate for the arts and the preservation of Historic Grand Avenue. GAP's goal with the Grand Avenue Festival is to celebrate and encourage sustainable neighborhood development by promoting creative re-use of resources, whether that be the adaptive reuse of buildings or well, trash.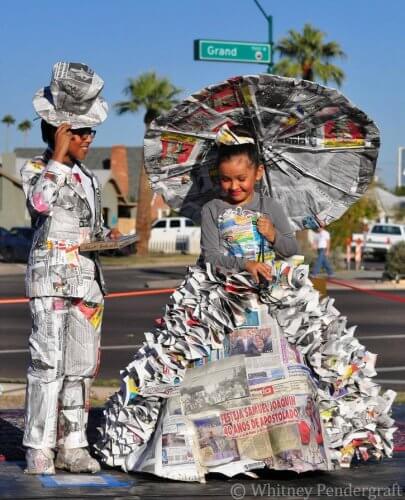 A great example of this creative recycling is their "Untrashed Recycled Fashion Show" which features handmade clothing and hats made from recycled materials. Participants will model their creations at Unexpected Art Gallery at 2:30 p.m., and 1st, 2nd and 3rd place winners will receive cash and other prizes. Artists and community members also work together to turn recycled material into art with the Hanging Gardens and Woven Fences.
Another notable feature of this event includes tours of historic homes and neighborhoods along Grand Avenue. "Under the Vintage Roof" tours will show beautiful historic architecture, adaptive re-uses of historic buildings, and the history of Grand Avenue.
The tours will begin at 11 a.m., 12 noon and 1 p.m. from Milum Textiles, with Jill Johnson of Phoenix Rising Tours and Jim McPherson of the Arizona Preservation Foundation as your tour guides. The "Under the Vintage Roof" tours will feature Milum Textile Services, American Legion Post #1, Paper Heart Galleries, Tuft & Needle, and Unexpected Gallery, with all buildings being built in the 20th century.
"Grand History Mania" starts at 2 p.m. at Motley Design Group, and includes informative talks from history experts. Join Bob Graham as he discusses American Legion Post #1 and the future of the Phoenix Trolley Museum, and G.G. George at 3 p.m. as she speaks about the history of the Arizona State Fair.
Other highlights of this event will include FIGMENT at Unexpected Art Gallery which will offer workshops, live painting and music to allow guests to get in touch with their creative side and get up close and personal with the art.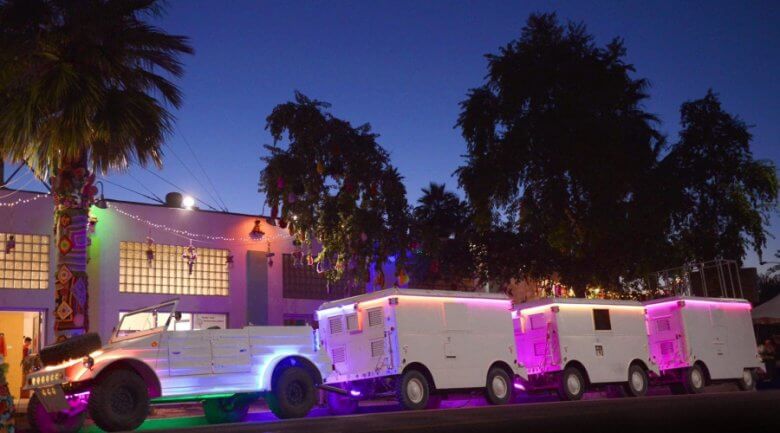 Walter Productions restored military hardware to create the "Peace Train," an art piece that reminds us of Grand Avenue's history of being part of the historic U.S. Route 60. The "Peace Train" consists of three WWII Radio Communication Trailers and a replica of a VW Kubelwagon. Guests can board the re-purposed military vehicle to view the restored interiors.
Don't miss the Phoenix Annual Parade of the Arts, also known as PAPA, which is themed "Undersea Madness" this year. Everyone is invited to participate in this walking art parade, and there will be prizes for the best costume. This year's parade will be led by Taiko drummers from Fushicho Daiko Dojo, and it leaves from Grand and McKinley at 6 p.m.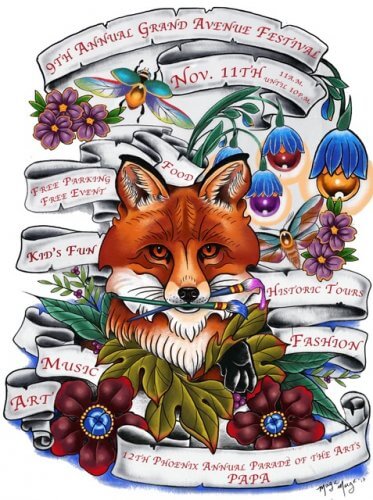 Finish the night off with "After Hours" which goes from 8-10 p.m. Join Marshall Shore and WEARizona as they highlight local designers, stylists, and make-up artists in a fashion show at American Legion Post #1.
If you want a day filled with arts, history, and family-friendly fun, make your way to the Grand Avenue Festival this Saturday!
If you go:
What: Grand Avenue Festival
When: Saturday, Nov. 11, 11 a.m. to 10 p.m.
Where:  Historic Grand Avenue from 15th & Grand avenues to Van Buren street.
Photos courtesy of Grand Avenue Arts and Preservation. 
---