In 1982, with incredible foresight, a small organization was founded called Phoenix Clean & Beautiful. With the leadership of Terry Ricketts, the current Executive Director, former Mayor Margaret Hance, and industry leaders Kalill Bottling and Hensley Beverages, Phoenix Clean & Beautiful began to tackle littering and recycling in the city (pretty amazing they were discussing recycling 35 years ago!). With an assist from former Mayor Terry Goddard and the city of Phoenix Public Works Department, our organization has been working throughout Phoenix ever since.
In the early days, we were conducting neighborhood cleanups and lifting abandoned cars out of South Mountain Park by helicopter and promoting the Clean Community System as prescribed by our national organization affiliate Keep America Beautiful.
After nine years with Phoenix Clean & Beautiful, Terry Ricketts went on to work at APS, where he manages special events and organizes the APS Volunteer Clown Troupe. Even in his new role, he is still there for us whenever we need him.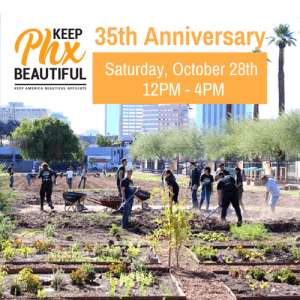 As I approach my ten year anniversary with Keep Phoenix Beautiful, I remember my first day when I asked, "What do we do?" When I tell people who I work for, the reaction is usually "That's nice, but what do you really do for a living?" That first year of mine was also the start of the great recession and budget cuts, and we worked hard to diversify our funding. We officially changed our name to Keep Phoenix Beautiful to better reflect our affiliation with Keep America Beautiful, and we reached out to the Phoenix business community to add new board members.
Over the past ten years, our board had led us through a dramatic transformation that has made us one of the top affiliates in the Keep America Beautiful network, which hosts 640 affiliates across the country. As a local affiliate, we are celebrating our 35th Anniversary this month and have a lot to be thankful for.
We are honored to have representation from companies like Coca-Cola, Verizon, Waste Management, Republic Services, Valley of the Sun United Way, APS, SRP, American Express, Westech Recyclers and Lowe's Home Improvement Stores. We also have City of Phoenix Public Works and Tiger Mountain Foundation represented. Together, we have grown dramatically in one decade, and have a promising future ahead of us.
Many will recently remember us as the organization who managed the Phx Renews site, a 15-acre community garden at the corner of Central Avenue and Indian School Road called Phoenix Renews. This project was actually a vision of Phoenix Mayor Greg Stanton, who charged us with finding temporary uses for vacant lots. While the project was a huge success, it was temporary and as a result, we vacated the land this year.
During our time with the Phoenix Renews program, we hosted 16 nonprofit partners on that site, built 150 community garden beds and hosted events like the Clinton Global Initiative University Day of Service. That day included a visit from former President Bill Clinton and 650 college kids from all over the world. We also hosted Marine Week activities, as well as thousands of volunteers every year. The impact of the work of these incredible volunteers and community partners has resulted in numerous local residents and organizations who are able to produce crops, keep waste out of landfills, and fill our brown, vacant lots with green vegetation right in the middle of a desert city.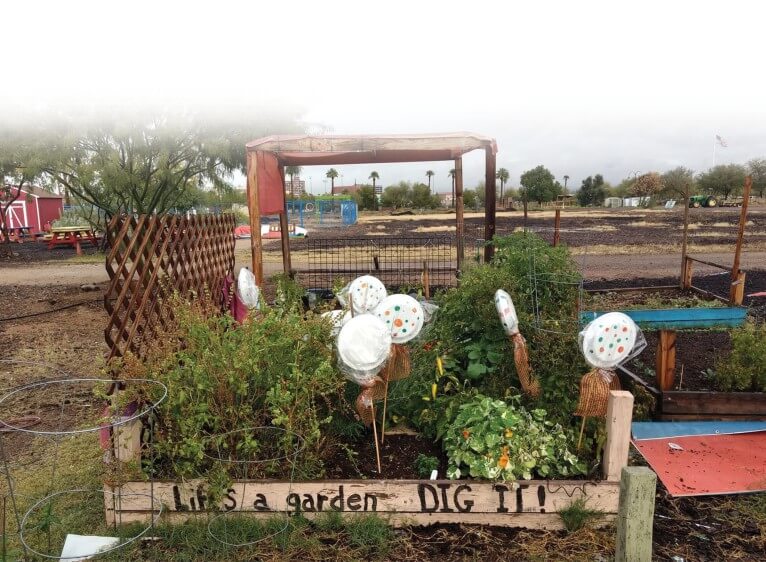 This year, we are continuing our garden activities at two new locations, 1822 W. Pierson and Mountain View Park at 7th Avenue and Dunlap. Our Pierson location is only an acre, but with help from our Landscape Architect Valerie Ahyong (who also designed Central & Indian School), we are utilizing every available inch of the property. The owners of the property, Vivo Development, had no immediate plans for the site. As a result, they tore down two undesirable abandoned houses and cleared the site for our use. Now it has an opportunity to bring new life. We will initially have 40 community garden beds as well as educational opportunities, scout projects and compost and recycling projects and we also have the ASU SHADE Home built for the US Department of Energy's Solar Decathlon in 2013 on site. The house is in the process of being re-assembled after its move from Central & Indian School.
35 years has brought us many events and educationational opportunities which has educated hundreds of thousands of visitors and residents about the importance of recycling and keeping waste out of landfills. This has included at least 200 free presentations to 10,000 children in the valley about the value of recycling, composting and conserving water! One of our key recycle events, "I Recycle Phoenix", is held several times a year and diverts over 1,000,000 pounds of material out of the landfills. The impact adds up! We couldn't do any of these without the help of partners, such as Republic Services and Phoenix Public Works, and volunteers, who prioritize making a difference in their neighborhoods.
Throughout the years, the Phoenix community has continued to give back to Keep Phoenix Beautiful, and so we would like to celebrate with you! Please join us on Saturday, October 28th for our 35th Anniversary Block Party and ribbon cutting at our new Pierson Street Community Garden, with special guests Mayor Greg Stanton and Vice Mayor Laura Pastor. You can find the event details here.
Thank you Phoenix for 35 years of support of our organization. It is an honor to work in this great community and we look forward to our next 35 years!
If you go:
Who: Keep Phoenix Beautiful
What: 35th Anniversary & New Pierson Garden Opening
When: Saturday, October 28th, 12 p.m. – 4 p.m., ribbon cutting ceremony at 2 p.m.
Where: 1822 W. Pierson Street, Phoenix, AZ 85015
Featuring: Honored guests Mayor Greg Stanton, Vice Mayor Laura Pastor
Images courtesy of Keep Phoenix Beautiful
---