DPJ's Wire series delivers news and information straight from the source without translation.
Forty-five years ago, Phoenicians went into the event business by opening the Phoenix Civic Plaza and Symphony Hall to host conventions, concerts and events. On Sept. 28, 1972, the Phoenix Civic Plaza and Symphony Hall welcomed its first guests for grand opening celebrations and has served as Arizona's premier gathering place for local and out-of-town group activities ever since.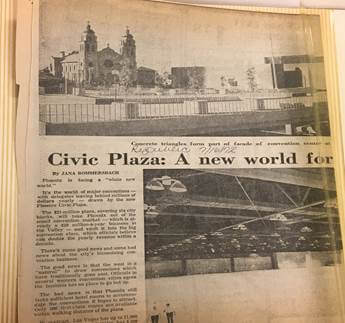 In the early 1960's, local leaders envisioned a center for cultural and theatrical performances that would grow our convention and tourism business and be a driving force for downtown revitalization. Due to the dedication of early thought leaders, the Phoenix Convention Center & Venues continues to thrive nearly five decades later. Since opening in 1972, the center has expanded three times with the largest expansion project being completed in 2008. The latest expansion nearly tripled the size of the venue, which allows Phoenix to attract more conventions with more delegates and host large/high-profile events that place the City and State in the international spotlight.
When the Phoenix Civic Plaza opened, the average conventioneer was expected to stay in Phoenix for four days and spend approximately $50 per day for an average direct spending impact of $200 per convention visitor. Today it is estimated that the average convention attendee will spend approximately $1,498 during their stay, which includes dining out, shopping, visits to local attractions and excursions to the Grand Canyon and other parts of the State.
Since the completion of the $600M expansion project in 2008, the Phoenix Convention Center has welcomed more than 1.7M delegates with a direct spending impact of more than $2.4B.
From 2015-17, the City of Phoenix and the Phoenix Convention Center hosted a trifecta of Major Events and secured its place as a major tourist destination. The Phoenix Convention Center was the official host site for the 2015 Super Bowl Media Center and NFL Experience; the 2016 College Football Playoff Fan Central; and the 2017 NCAA Final Four Fan Fest. Phoenix Convention Center staffers are in the final planning stages for the 2017 Lost Lake Music Festival coming to Steele Indian School Park in October.
Interesting Facts:
• Groundbreaking: July 1969
• Phase I Construction began on massive expansion project in 2004
• Grand Opening: September 28, 1972
• Grand opening of expanded Phoenix Convention Center and METRO Light Rail: Dec. 2008
• Site: 13 acres
• Site: 26 acres
• Civic Plaza Construction Cost: $28M
• 2008 Expansion Cost: $600M
• 1972 Annual Operating Budget: $2 million
• 2017 Annual Operating Budget: $50,384,000
• Size: 120,000SF
• Size: 900,000SF
• Exhibit Halls: 2
• Exhibit Halls: 13
• Meeting Rooms: 20
• Meeting Rooms: 99
• Parking: 1,150 spaces
• Parking: 4,400 spaces, 5 garages
• Early convention stats: 30 conventions booked between 1976-1980
• Current convention stats: 67 conventions booked in 2017
• Avg # of delegates: Average convention attendance ranged between 2,500 – 5,000
• 2017 delegates: 279,061
• Est direct spending economic impact: $3.5M between 1976-1980. Source: Phoenix Gazette
• 2017 Est direct spending (economic impact): $399,934,291. Source: VisitPhoenix
---