Since it opened in 2013, the Phoenix Public Market Café has been on a mission to build "community through food." Located in the Evans-Churchill neighborhood, the cafe offers breakfast, lunch and dinner using ingredients from the adjacent weekly open air market, which also serves as a gathering point for the Phoenix community. 
In furthering their community-building mission, the cafe offers a delicious deal, known as "Community Night," every Sunday and Monday evening. The deal features a special three-course dinner menu available both nights for $12.99.
According to Drew Decker, General Manager of the Phoenix Public Market Café, Community Night started as a way to let people know that "there's a place to hang out downtown where they can come and have really good, nutritious food that's homemade."
The three-course Community Night dinner includes a salad, your choice of entree and a dessert from the pastry chef. "So it's a lot of food, but that's the whole point – we want the community to come in here and really feel like they've been fed and they're getting a good deal," says Decker.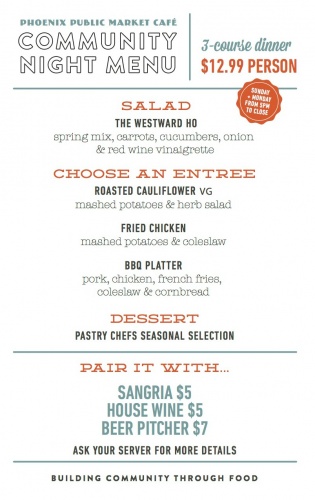 Here's what you'll find on the menu:
First Course
The Westward Ho: Spring mix, carrots, cucumbers, onion and red wine vinaigrette
Second Course (Choice of one)
Roasted cauliflower with mashed potatoes and herb salad
Fried chicken with mashed potatoes and coleslaw
Barbecue platter with pork, chicken, French fries, coleslaw and cornbread
Dessert
Executive Pastry Chef Sarah Chisholm's seasonal dessert
Add-ons include a $7 pitcher of beer, $5 sangria or $5 house wine during "Community Night" hours.
If You Go
Community Night Dinner
Where: Phoenix Public Market Café, 14 E. Pierce St.
When: Every Sunday and Monday from 5 p.m. to close
More Info: Call 602-253-2700 or visit the Café's website.
---