DPJ's Wire series delivers news and information straight from the source without translation.
The Monroe Building offering Phoenix's last opportunity for Naming Rights with 27,000 square foot Penthouse. 
It's one of the most recognizable buildings in Downtown Phoenix's skyline, and now its name is up for grabs. The Monroe Building, located at 111 West Monroe in Phoenix, has announced that it will lease naming rights for the building along with the 27,000 square foot two-floor Penthouse that crowns the building. The naming rights opportunity for The Monroe Building is the only office tower naming rights opportunity currently available in Downtown Phoenix.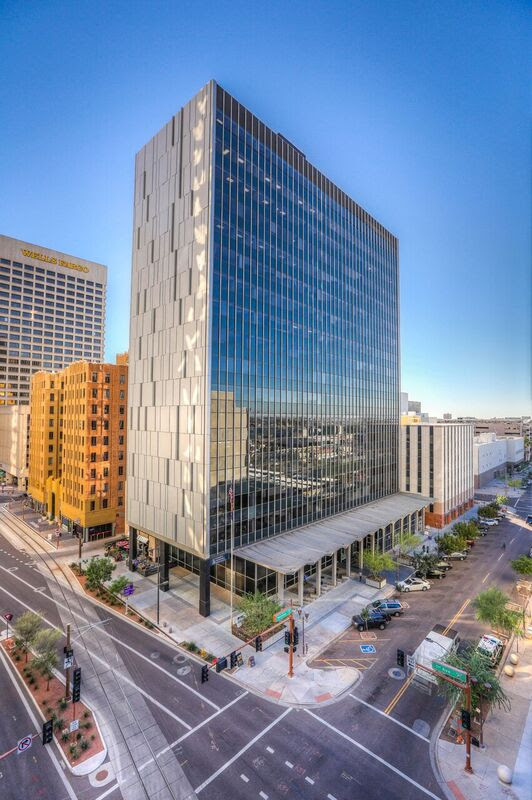 "We have had interest from a wide range of companies looking to relocate their corporate headquarters to Phoenix and secure building signage," said Tim O'Neil, Partner at Ironline. Ironline is a local real estate investment and development company and owner of 111 W. Monroe. "Leasing opportunities with naming rights are highly sought after in major CBD's, and it is unlikely there will be another opportunity to raise a corporate brand on a Phoenix office tower for quite some time," O'Neil said.
Both billboards and real estate have one thing in common: location. The Monroe Building is a 19-story office tower with a premier "Main and Main" address at the center of Downtown Phoenix. The building's naming opportunity offers a towering rooftop signage opportunity that can be seen from the street, from Sky Harbor air traffic, and for miles in any direction. A number of high profile corporations have recently held naming rights in Phoenix including Wells Fargo, Talking Stick Resort, Chase Bank and others. Past naming rights holders for The Monroe Building include The Arizona State Bar Association and Security Title Agency. 
Unlike sports arenas and stadiums where naming rights can command up $25 million a year in licensing deals, office tower naming rights are secured as an asset within a lease agreement for office space rather than simply a signage opportunity. Office tower naming opportunities are not only significantly more affordable than stadium naming rights, but also deliver consistent visibility and prestige on a daily basis, where stadium naming rights opportunities typically only deliver exposure during media coverage of events.
"Considering office tower building signage as an asset within a lease agreement for office space rather than simply a signage opportunity is a very good corporate real estate strategy," said Mark Stapp, Executive Director of Master of Real Estate Development at Arizona State University. "When secured along with quality office space in premier locations, building naming rights and signage improves the corporate brand, attracting both talent and customers, which is a valuable amenity for any corporation seeking premier visibility and market share. It creates recognition, brands the business and builds prominence," Stapp said.
A total renovation budget over $5 million was immediately implemented by owners of the Monroe Building upon acquisition in 2014. The renovations include a curated mix of local retail tenants bringing new life to the ground floor, while building upgrades were made to the exterior, lobby, parking garage, common areas and building energy systems. Ongoing improvements include upgrading office tenant suites, bringing updated finishes and space plans for both traditional and creative open-office users.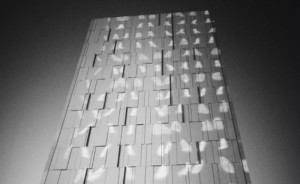 The Monroe Building has quickly earned a reputation as a hotspot for start-up and tech companies with the addition of tenants like Uber, Gainsight and Allbound, while continuing to attract traditional downtown users like the national law firm Cheifetz Iannitelli Marcolini PC. 
The top two floors of The Monroe Building offer the opportunity to work in a unique and inspiring setting, thanks 18' foot floor to ceiling heights and virtually unobstructed panoramic views.
A number of high profile corporations have already explored the naming rights opportunity at The Monroe Building, with potential names ranging from household corporations to more progressive brands.  "We are looking for corporations interested in making meaningful investments in Downtown Phoenix," O'Neill said. "Education, technology, infrastructure and residential density have driven the excitement and energy in the 'New Downtown Phoenix' an all-time high, and we believe we're still in the early innings," he said. "This branding opportunity won't be around for long."   
For more information about 111 W. Monroe or to inquire about leasing space contact Michael Crystal, Managing Director at Newmark Grubb Knight Frank (mcrystal@ngkf.com).
---