DPJ's Wire series delivers news and information straight from the source without translation.
STEM Event Returns on Jan. 9 at UA Downtown Phoenix Campus
UA, Cox Communications Team Up for Family-Friendly Event Guaranteed to Inspire
It's not just about football this weekend, as The University of Arizona (UA), in partnership with Cox Communications, presents Connect2STEM 2016, a family-friendly event celebrating Science, Technology, Engineering, Math – and Medicine. STEM enthusiasts have the opportunity to interact with 100+ tables of hands-on science activities. Last year, the event drew more than 2,000 students and families.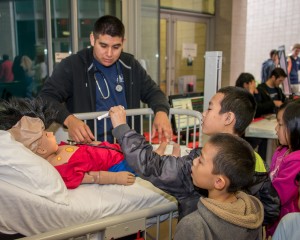 The UA's second annual Connect2STEM event is free and will take place from 10 a.m. – 3 p.m. on Saturday, January 9, 2016 at the UA College of Medicine – Phoenix, located in downtown Phoenix at 550 E. Van Buren Street, Phoenix (5th St. and Van Buren). The event takes place just blocks away from the 2016 College Football Playoff National Championship football festivities including: Playoff Fan Central and AT&T Playoff Playlist Live!
Connect2STEM is an official signature event for the 2016 Arizona SciTech Festival, a statewide celebration of STEM held annually in February and March. At Saturday's event, participants can learn about the science of creating a video game, see real space equipment, scrub up in an operating room, try their hand at suturing and take a concussion baseline test. Connect2Careers, a new activity this year, features graduate students and professionals discussing their careers in medicine, engineering, physical therapy and public health.
"Connect2STEM, organized by the University of Arizona, offers hands-on science activities that are designed to introduce young people to the university environment and start discussions about the future," said Eileen I. Klein, Arizona Board of Regents President. "Enriching events like these can have a tremendous impact in shaping a young person's path, and inspiring the next generation of college students."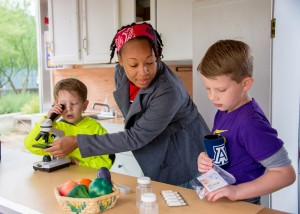 Connect2STEM will feature five hands-on activity zones:
· Bioscience Zone: Touch, feel and discover the human body like never before. See the biomechanics of a life-sized mannequin that can talk, breathe, bleed and sweat. 
· Nature Zone: Get down and dirty with master gardeners and meet your favorite crawly insects.
· Outer Space/Technology Zone: Calling all amateur astronomers! Learn about OSRIS-Rex, a mission to bring pieces of the asteroid "Bennu" back to earth. Then hop aboard the UA Physics Bus.
· Cox Gig Zone: Enjoy gaming stations, coloring contests and giveaways. Learn about the science of how GIGABLAST service gets to your home. Be on the lookout for an appearance by Digeez, the COX mascot.
· Wildcat Spirit Zone: Bear Down! Meet Wilbur and Wilma Wildcat, mingle with fellow alumni and bounce around on the UA Inflatable.
REGISTRATION ENCOURAGED:
· The event is free. Attendees are asked to register online for an automatic chance to win an iPad Pro!
· More than 2,300+ have already signed up. ***Register online at: www.Connect2STEM.com
· Watch a 60-second video featuring highlights from last year.
· Visit www.Connect2STEM.com for discounted parking and event information.
Connect2STEM is possible thanks to the following sponsors: The City of Phoenix Public Works Department, Arizona Public Service Co., Sundt/DPR, The Boyer Company, and Fry's Food Stores.
Images courtesy of UofA College of Medicine
---