Downtown Phoenix's own Valley Youth Theatre is closing out their 2014-2015 season with a production of Stephen Sondheim and James Lapine's fractured-fairy tale musical, Into the Woods.
The production opened on June 12 at the Herberger Theater to positive reviews and the final run of the show begins Thursday, June 25, with multiple performances through Sunday, June 28.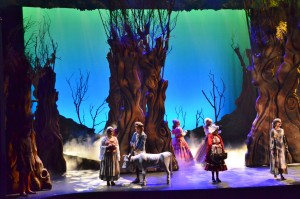 It is the first time the production has run locally since the release of the 2014 Oscar-nominated film version starring Meryl Streep and Anna Kendrick. According to Valley Youth Theatre's Producing Artistic Director, Bobb Cooper, "This is the largest and most lavish production of Into the Woods that has been produced in years in the valley."
The cast includes 22 local young actors and features the overall high production values that Valley Youth Theatre is known for. According to Cooper, "It is the best entertainment value for the dollar! (Audiences) will love and enjoy the production and will want to come back for more."
Theater is a key part of downtown Phoenix's arts and culture landscape. "There is nothing like a live theatrical production," says Cooper. "It is so important to the experience of visiting downtown and it is imperative to attracting business and retail thereby impacting the economy in a dramatic (pun intended) way."
If You Go:
What: Into the Woods presented by Valley Youth Theatre
Where: Herberger Theater Center, 222 E Monroe St, Phoenix, 85004
When: Thursday, June 25 – 7:30 p.m.
Friday, June 26 – 7:30 p.m.
Saturday, June 27 – 2:00 p.m. and 7:30 p.m.
Sunday, June 28 – 2:00 p.m.
Tickets: $20 – $39
http://herbergertheater.ticketforce.com/eventperformances.asp?evt=262
Photos courtesy of Valley Youth Theatre
---