DPJ's placemaking editorial series is produced in partnership with the Phoenix Metro Chapter of the AIA (American Institute of Architects). Together we explore places in our city, look closer at what makes them special, and perhaps challenge those who want to contribute to our built environment to approach downtown development in a more thoughtful way.
As we thankfully turn our attention to the development of newly walkable areas within the downtown Phoenix core, many folks previously inspired by a suburban lifestyle are starting to come around to the pedestrian point of view. It is not difficult to see why at our most basic level—we need one another to connect at the smallest scales to thrive as communities.
Why the resurgence? People of all walks of life need to connect, not just alongside each other at a stop light, or in line at the grocery store, but in the daily interaction of ordinary activities. Connecting regularly in well-conceived, comfortable, neutral spaces enhances our sense of well-being, our power to help others, and our community pride.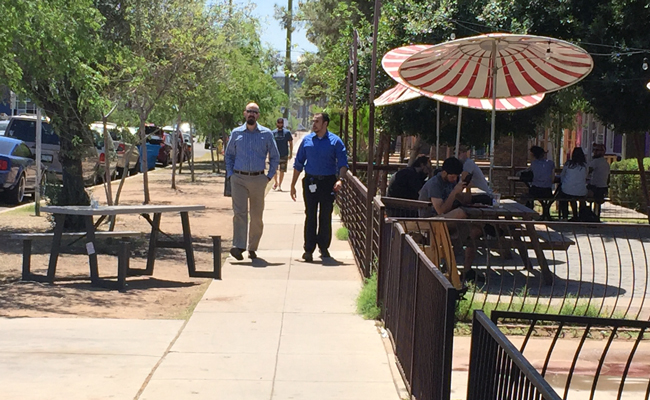 How can this take place in our still auto dominant landscape? What can architects, city planners, and owners do to encourage this casual yet extremely important overlap of ideas, passion, and generosity of fellow citizens? We can create successful, timeless third places.
In "Great Good Places," Ray Oldenburg suggests that "main streets, pubs, cafés, coffeehouses, post offices, and other third places are the heart of a community's social vitality and the foundation of a functioning democracy. They promote social equality by leveling the status of guests, provide a setting for grassroots politics, create habits of public association, and offer psychological support to individuals and communities."
Phoenix is now home to thriving third places. A walk down Central Avenue, north and south of Camelback, displays the restoration of old buildings for new and inspired uses. It is a rare moment that these places are empty, and even more rare for a downtown resident not to recognize a friend or colleague on a Saturday morning.
What makes these places so successful? How is it folks are drawn to them again and again in spite of the simple menus and cramped quarters? From Mesa to Goodyear, here are five things these great third places have in common:
High Quality, Handmade Products
Authentic (not "themed") Environments
Simple Spaces Connected to the Outdoors
Engaged Ownership + Staff
Affordability
The next time you set out to meet for a chat, or pick up a birthday gift, think about what brings you back to your favorite spots again and again…the answer is simple…and very near by.
---