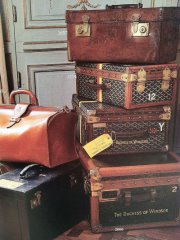 From exquisite, timeless designer pieces to a number of other rare vintage gems, Phoenix is in for quite a fashionably fine treat.
Hosted by a group of professional curators in Phoenix, there will be a "fine vintage and vintage designer clothing trunk sale" featuring items acquired from the 1950s to 1980s such as one of Yves Saint Laurent's classic dresses dating from the 1970s. Special pieces from the Victorian Era and from the collection Fashion by Robert Black will also be available along with a mixture of unique, out-of-print fashion books.
"We're throwing this together just kind of as a test for Phoenix," said David Sheflin, Owner of Vintage Fashion Inc. and host of the event. "We would like to do it every month or every couple months, depending on how it goes."
Items will be available for view and purchase on Saturday, January 28 at The Clarendon Hotel from 10 a.m. to 3 p.m.
Keep track of the event on Facebook for more information, updates and details on a list of designers and sales.
---