Phoenix Symphony Hall
Posted on 2/09/15 by DPJ Staff » No Comments
DPJ's Wire series delivers news and information straight from the source without translation.
Ballet Arizona Presents the US Premiere of Napoli
The Legendary Performance Tells an Epic Love Story for Valentine's Day Weekend
With the winter presentation of Napoli, Ballet Arizona will become the first American ballet company to perform one of the most renowned ballets by legendary Danish choreographer, August Bournonville. The company is calling Napoli the highlight of the season and is eager to share it with fans of the ballet, new and old. Performances will run from February 12-15, with afternoon and evening shows at Symphony Hall in Downtown Phoenix.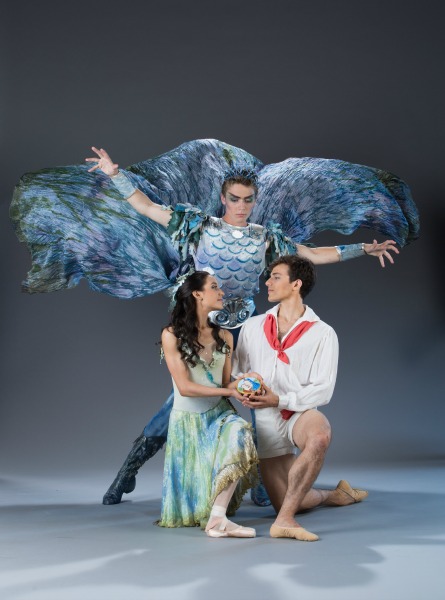 Just in time for Valentine's Day, Napoli tells the festive and uplifting love story of Gennaro, a poor fisherman, and his beloved Teresina. Teresina is washed away in a great storm only to be rescued by sea nymphs ruled by an evil sea spirit. The couple's love must overcome trials and temptations so that light prevails over darkness in the best tradition of Romanticism.
There only two artistic directors in the U.S. with the background and expertise to present this Danish masterpiece in its most authentic form. Ballet Arizona's, Ib Andersen is one of them. As a principal dancer with The Royal Danish Ballet, Andersen regularly performed Bournonville pieces, allowing him to become an expert in the choreographer's style of quick footwork that is often much more difficult that it appears. Napoli was, in fact, the ballet in which Andersen made his stage debut at the age of seven.
The U.S. debut of Napoli in Arizona is source of civic pride for the area – demonstrating that the performing arts in Phoenix are compare with other major cultural centers like New York City and San Francisco.
The highly acclaimed piece is said to be "one that best celebrates this world, real life, vitality and joy," by the New York Times.
Ticket prices for Napoli start at $15, discounts offered for seniors, students, military and groups. Tickets may be purchased by calling 602-381-1096 or by visiting www.balletaz.org
Images courtesy of Alexander Iziliaev.
Posted on 3/15/10 by Lyle Plocher » 1 Comment
For those individuals that are seeking the ultimate urban Phoenix living experience, I can think of no better place than the chunk of Downtown Phoenix that the U.S. Postal Service calls ZIP code 85004.
Virtually everything Downtown Phoenix has to offer can be reached on foot or by bicycle living in this ZIP code. The diversity of "things to do" and "places to go" is overwhelming. In terms of types of dwellings, everything can be found here, including apartments in "luxury high-rise" buildings; recently built loft-style condos and apartments; small, affordable live-work apartments; and even bungalows in historic neighborhoods.
The 85004 ZIP code is bounded by Thomas Road to the north, Buckeye Road to the south, Central Avenue to the west and 7th Street to the east. Within this part of Downtown lies many of our large cultural and sporting venues, such as the Heard Museum, the Phoenix Art Museum, Burton Barr Central Library, the Herberger Theater, Phoenix Symphony Hall, US Airways Center and Chase Field. Wow!
Consider the Downtown arts scene, with an extensive assortment of locally owned art galleries, gift shops, wine bars and restaurants in and around Roosevelt Row. Here is a limited list off the top of my head: Eye Lounge, Made, the Lost Leaf, Conspire, Modified Arts, Nine|05, the Roosevelt Tavern, Moira Sushi, Carly's Bistro, Revolver Records, Matt's Big Breakfast, PastaBAR, The Turf, Sens and the Breadfruit.
What's next? How about shopping at the Phoenix Public Market? Or here's a good one. People often complain that they would move Downtown if there were a large grocery store nearby. These people must have never driven by the Safeway at 7th Street and McDowell.
Bored yet? Why not take in a movie at the Arizona Center, with its 24 screens, or eat at one of the many restaurants there. Have a friend coming in to town for a conference at the Phoenix Convention Center? He or she can stay at the new Sheraton Hotel, attend their conference and then come visit you, without even needing a rental car.
I almost forgot about our new Civic Space Park across from the Arizona State University Downtown Phoenix campus. If you attend ASU or the U of A/ASU Medical School, it might be convenient to live in 85004.
I haven't even mentioned places like CityScape or all of the restaurants in the Downtown core between Van Buren and Jefferson streets. I also haven't mentioned destinations in the Warehouse District, such as Alice Cooperstown, Coach & Willies, AmenZone Primal Fitness Training and the forthcoming Deuce in the Anchor Building.
Last but not least, in the still somewhat undiscovered Central Park neighborhood, just south of the Warehouse District, lies some varied and unusual housing options as well as eye-candy places like the Bentley Projects.
I will leave the summarization of living in 85004 up to you, the reader. Clearly, there is something here for everyone.
Lyle Plocher is a licensed Arizona real estate broker with the Urban Connection Realty Team at HomeSmart. You can reach him at lyle@downtownphoenixjournal.com.