mural
Posted on 12/06/12 by Jill Bernstein » No Comments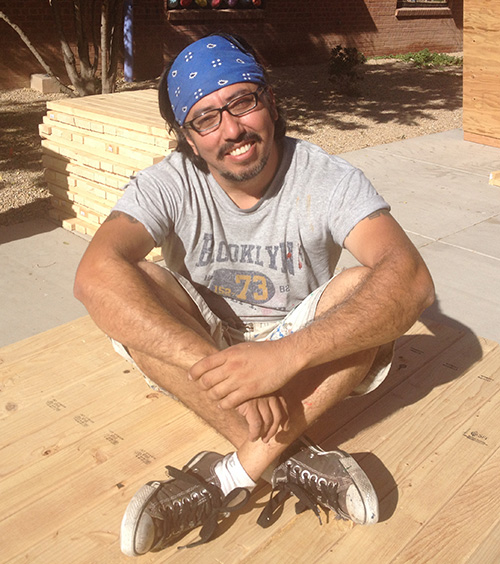 Hugo Medina is a force to be reckoned with; he's not just a talented muralist and the winner of the Public Art Award category in the newly announced Mayor's Arts Awards, he's someone who can rally a community and make things happen.
In this case, that "something" is an extraordinary public mural that will emerge over this weekend at the inaugural Phoenix Festival of the Arts. The mural will be extraordinary in both size and scope and it took a dynamo like Medina to make it all work.
Using Facebook, Medina put out a call to artists to participate in the project. "I wanted a diverse group of artists to get involved," said Hugo. "Everything from accomplished muralists, to fine artists, students, graffiti artists, and novice painters."  Over 80 artists responded to his call.
Medina's concept created a simple but elegant way to bring artists into contact with each other and the public. Each of the 80 artists will have a 4' X 8' wooden panel (donated to the festival by Home Depot) to make their own. In between each artist panel will be a blank panel where the community will be invited to participate. The two artists working on either side of the blank panel will collaborate on an idea for the community to realize.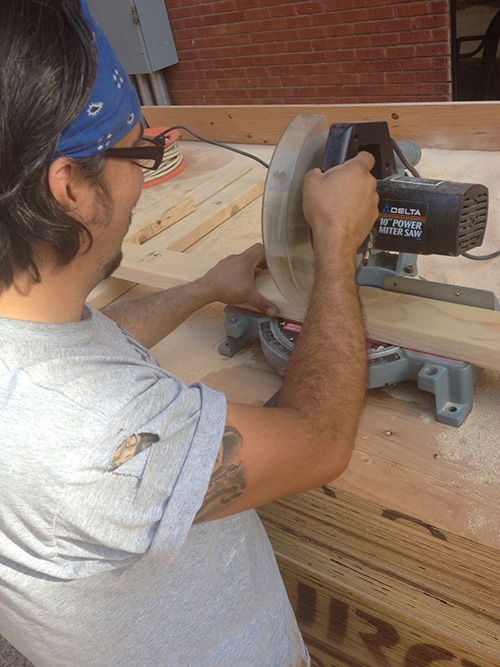 This allows for each artist to make their own work, but also gives artists who may have never met previously the chance to work together. The only restriction on the work is that it not be negative and that it is in some way focused on Downtown Phoenix. By placing the blank community panels between the two artist panels, Medina is hoping that a natural flow will develop from one panel to the next.
The mural will be completed during the three-day festival and when done, will consist of 160 four-foot high panels, stretching for 1,280 feet.  There will be several mural stations throughout the festival where the public can watch the artists work, or grab a brush and participate. Everyone is invited to lend a hand and make their mark, including kids.
Bring the whole family down to Hance Park this weekend to the Phoenix Festival of the Arts to make your mark on this unique public art project that is bringing artists and the public together to create something everyone can be proud of and enjoy.
"Come Monday morning, I'll be working with the City of Phoenix to pack up the panels and move them to the corner of Central and Indian School," said Medina. This is the new  PHX Renews site at Indian School Road and Central Avenue; a large empty space that has been activated into temporary multi-use public space. "I'll curate the placing of the panels around the park," he continued. "Some will be placed along the fence to make them visible from the street, and others will be scattered along the paths within the fenced space." The panels will remain at the site for the next three years.
If you go:
Event: Community Mural at Phoenix Festival of the Arts
Supported by: Artlink and made possible through a donation from Home Depot
When: Friday, Dec 7 through Sunday, Dec 9
Times: Friday 2 to 9 p.m.; Saturday 10 a.m. to 9 p.m.; Sunday 10 a.m. to 5 p.m.
What's required: Your creativity. Paint, brushes and wood panel canvasses will be provided.
Posted on 12/04/09 by Yuri Artibise » 10 Comments
Amidst the new construction, public art projects and restaurant openings throughout Downtown Phoenix, one local artist made a big impact with little more than a brush, some paint and a desire to create. Spanning across the 69- by 11-foot north wall of Valley Youth Theater's corporate office is a new mural created by Roy Frank Sproule III, a 27-year-old avionics technician stationed at Luke Air Force Base.
Roy says he didn't find the wall, rather the wall found him. It was during a June 2007 First Friday when he happened across the wall at 807 N. 3rd St., just south of Garfield Street (across the street from Bunky Boutique and the Roosevelt Tavern). While he had only assisted in painting large-scale murals, he was looking for an opportunity to create his own piece in a visible setting.
"There are just some things you can't do in small spaces," he says. "Large images have a different effect on people." When he came across the empty wall on the high-traffic street, Roy knew it was "just right" for a mural. He went home that night and spent the next six months putting together a portfolio.
In December 2007, Roy returned to the building and knocked on the door. At the time, he didn't even know who owned the building, just that it would be a great opportunity for him to establish himself as a muralist in Phoenix. After meeting with the Valley Youth Theater staff, he ended up talking with Producing Artistic Director Bobb Cooper. Bobb was enthusiastic about the idea, especially after learning that Roy would donate the project to help build his portfolio.
Roy was given images of 20 years of Valley Youth Theater performances to work with. The photographs included images of the theater's famous alumni, such as singer Jordin Sparks and actress Emma Stone, and popular children's story characters like the cowardly lion in The Wizard of Oz. Using these pictures, he made a collage of over 50 photographs to fill the 759-square-foot wall. Once the Valley Youth Theater approved his design, Roy used perforated patterns created in Photoshop to aid him in outlining the shapes with charcoal dust (pounce), a technique used by Renaissance fresco painters.
He started to paint in March 2008 and donated immense amounts of his time and money to the project. Roy spent up to 40 hours a week of his free time at the site over 17 months. He often worked well into the evening, and to avoid the summer heat he pulled several all-nighters. This was all while working full time at Luke Air Force Base. In total, Roy estimates that he spent at least 2,000 hours of his personal time and $1,000 of his own savings purchasing brushes and 16+ gallons of industrial paint for the mural.
Despite the fact that painting the mural basically equaled working another job for a year-and-a-half, Roy doesn't think it of as anything extraordinary.
"People give 110% of themselves all the time," reminds Roy, whether it be managing work and family, working two jobs to make ends meet or having a day job to pay the bills and an evening passion to feed the soul. In Roy's case, his job with the Air Force provided him with the financial base and stability that enabled him to paint the mural.
Roy believes there are two types of artists: those who create for themselves and those who create for the community. Murals should tell a story. While he views the Valley Youth Theater mural as more of a collage, his ultimate goal is to speak through his murals and to create compositions that tell a story.
"If you are not saying anything, you are just decorating," he says. To this end, Roy viewed his relationship with the theater as a partnership. In return for the opportunity to hone his skills, Roy wanted to help them. He was able to do this with the mural; it will help raise awareness of the theater and the professional level of productions they put on each season.
Throughout the process, Roy progressed not only as an artist, but also as a community member. He formed long-lasting connections to both the places and people of Downtown Phoenix. After a being at the site for 17 months, sometimes for as long as 36 hours at a time, Roy gained a new appreciation for Downtown Phoenix. He saw the city core at its best and worst — vibrant sunsets and sunrises; hot summer evenings and crisp winter mornings; the desolation of quiet Sundays and the frantic energy of First Fridays. Seeing Phoenix from these different perspectives helped him think about the colors and techniques he used differently.
Moreover, Roy was able to meet and become friends with many of the local residents and business owners as he painted. While Roy has always liked being in Downtown Phoenix, his experience with the mural made it feel like home. He enjoys the welcoming, inclusive nature of the artists and gallery owners in the neighborhood. He says, "Roosevelt Row is like family to me," noting that he met and became friends with more people in the year-and-a-half he spent painting the mural than the 13 years he spent growing up in his hometown.
In addition, Roy feels that Downtown Phoenix provided him with a lot of opportunity, which has allowed him to develop naturally as an artist. He is not forced to chase opportunities and choose things that aren't a good fit, as in other cities.
"You can be an artist anywhere," says Roy, but there is something special about Downtown Phoenix. "Being here makes a world of difference."
Roy is looking for another opportunity to paint a large-scale mural. His dream is to paint the largest mural in the city, preferably on a high rise. Given his talent and determination, there is no doubt it will happen one day.
The Valley Youth Theater is located at 525 N. 1st St. in Evans Churchill, a few blocks from the corporate office where the mural is displayed. For more information, call 602.253.8188.