historical tours
Posted on 11/13/11 by DPJ Staff » No Comments
(From the Wire includes press releases received from reliable sources that help tell the story of the many happenings in Greater Downtown Phoenix. Yep, they are ripped from our inbox.)
Arizona Centennial Welcomes Ceremonial Tour of Union Pacific Steam Locomotive Engine No. 844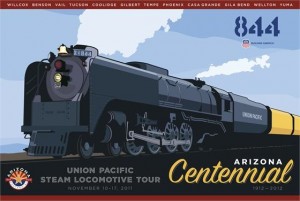 Here comes another Arizona Centennial Signature Event.  This time, Arizonans can take a celebratory trip back in time when the historic Union Pacific Steam Locomotive Engine No. 844 reprises the Southern Arizona "Sunset Limited" route, and traverses the state through Wed. Nov. 16, in recognition of Arizona's 100 Years of Statehood.
Phoenix display days are 9 a.m. to 5 p.m. Sunday, Nov. 13, and Monday, Nov 14, at the Phoenix Rail Yard, 631. S. 7th Street (south of Chase Field/Lincoln St.). This is a FREE opportunity for the public to see the locomotive. For the full tour schedule, visit az100years.org.
"We're honored to deliver another, very special Centennial Signature Event and see that mammoth engine travel through Southern Arizona, Phoenix and on to Yuma during this momentous year," said Karen Churchard, executive director, Arizona Centennial Commission & 2012 Foundation.
"The adventures of steam locomotives captivate us even today.  They literally blazed the trail westward.  And, it's exciting – for train enthusiasts and all of us — to catch a glimpse of the West as it was more than 100 years ago."
Indeed, the skilled engineers who operated No. 844 years ago are still required today, and especially so for this ceremonial Arizona Centennial tour, which traditionally fascinates history buffs and attracts new fans as well.
From Phoenix, Steam Engine No. 844 makes its way back to its original route near Casa Grande, and continues west through Gila Bend, Wellton, and finally arrives in Yuma late afternoon, Tues., Nov. 15.
The massive steam engine, a size two-and-a-half times larger than today's streamlined, computerized locomotives makes a modern-day expedition a challenging task.  A team of engineers travels with the historic train that consumes oil, water and needs adjustment every 20 to 30 miles.
To reach fans in the state's most populated area, the added two-day ceremonial stop in Phoenix means the train will depart from its traditional Southern Arizona route and move northward into what is considered a cul de sac of train tracks that requires extra maneuvering and expertise.
The engineers who guide the locomotive tour are another historical aspect of the expedition since they work for years studying the generational knowledge passed on from railroad workers before them. They apprentice to master the inevitable adjustments and sometimes on-the-spot ingenuity required during travel.  Steam Engine No. 844 will travel with a souvenir car, water tanker cars vital for the steam locomotive's operation, transport cars for the engineers and conductors, and more.
Not since 1977, has a steam locomotive made its way through Southern Arizona as part of a cross-country tour for the U.S. Bi-Centennial.  The exultant whistle stops are expected to be greeted by enthusiastic residents and visitors alike this fall, just as cooler temperatures embrace the Southwest region.
The exultant whistle stops are expected to be greeted by enthusiastic residents and visitors alike this fall, just as cooler temperatures embrace the Southwest region.
No. 844, also known as Union Pacific's "Living Legend," returned to service in 2005 after one of the most extensive steam locomotive overhauls in the United States since regular steam service ended. The work, which started in 2000, included overhauling the locomotive's running gear, pumps, piping, valves and springs, along with replacement of its firebox and extensive boiler work. The cab interior also was refurbished. No. 844 was the last steam locomotive built for Union Pacific Railroad and was delivered in 1944. A passenger locomotive, it pulled such widely known trains as the Overland Limited, Los Angeles Limited, Portland Rose and Challenger.
One of the rail cars that travels with No. 844 has a Global Positioning Satellite (GPS) transmitter integrated with a map at www.UP.com. Enter the word "Steam" in the search box on the homepage for a shortcut to the map.
For the latest information, including schedule updates on the Union Pacific Steam Locomotive Tour in celebration of Arizona's Centennial, visit www.AZ100Years.org.
About Arizona Centennial Commission
The Arizona Centennial Commission, through its nonprofit Arizona Centennial 2012 Foundation, is the statewide board charged by Governor Jan Brewer with planning and implementing Arizona's 100th anniversary of statehood.  In collaboration with the Arizona Historical Advisory Commission, more than 209 projects and events are sanctioned and planned-to-date to commemorate Arizona's Centennial. For information on the Arizona Centennial, visit www.AZ100YEARS.org.
About Union Pacific
Union Pacific Corporation owns one of America's leading transportation companies. Its principal operating company, Union Pacific Railroad, links 23 states in the western two-thirds of the country. Union Pacific serves many of the fastest-growing U.S. population centers and provides Americans with a fuel-efficient, environmentally responsible and safe mode of freight transportation. Union Pacific's diversified business mix includes Agricultural Products, Automotive, Chemicals, Energy, Industrial Products and Intermodal. The railroad emphasizes excellent customer service and offers competitive routes from all major West Coast and Gulf Coast ports to eastern gateways. Union Pacific connects with Canada's rail systems and is the only railroad serving all six major gateways to Mexico, making it North America's premier rail franchise.
Posted on 9/22/09 by Yuri Artibise » 5 Comments
It's a common refrain in the Valley that we have "no history." This perceived lack of lineage has been used to justify the demolition of countless commercial and residential buildings, even entire neighborhoods. One area that has largely been spared from the wrath of the wrecking ball is Lower Grand Avenue, stretching  from Van Buren Street to the I-10 freeway overpass.
Beneath its sometimes gritty façade, Grand Avenue has a long and storied past. Since the mid-1990s, this history has been dusted as many buildings are reverting from industrial uses back to the original small retail and offices that once lined this important connector to Wickenburg, Las Vegas and Los Angeles. An important factor in this renaissance has been the many innovative commercial adaptive use projects in the neighborhood. New owners have preserved parts of the existing vintage structures while making necessary concessions to the realities of modern life. The result is a varied collection of shops, galleries, cafés and living spaces scattered throughout the neighborhood.
Iconic urbanist Jane Jacobs famously said, "New ideas must use old building." This adage is well exemplified along Lower Grand. The adaptive use of older commercial buildings has been an important factor in nurturing the small business community, particularly the arts. Many small, entrepreneurial businesses are attracted to the funky storefronts, affordable studio spaces and overall neighborhood character. Several of the gallery spaces have passed from artist to artist over the years, maintaining the affordability and fostering a new generation of creative minds.
On September 26, a handful of these adaptive reuse projects will be highlighted during the Grand Avenue Festival. During the morning, tours of six buildings are scheduled as part of the day's many festivities. Tour stops include the following:
Tilt Gallery: This house, on the southeast corner of 10th Avenue and Fillmore Street in the Oakland-University Park neighborhood, was built in 1905. It was built of cast concrete blocks, fabricated from molds to resemble quarry stones. It was converted to an art studio and photography gallery in 2005. The current tenants Michelle and Melanie Craven contributed substantial sweat equity towards renovating the building, including stripping and refurbishing the hardwood floors, installing slate flooring in the rear of the gallery and planting desert-friendly plants in the previously all-dirt yard. Today, Tilt Gallery is a contemporary fine art gallery specializing in historical to alternative photographic processes and mixed media projects. The gallery features local, national and international works by emerging and established artist.
Jordre Studio: This small commercial building, at 1007 W. Grand Avenue, was originally built as a corner grocery in 1928. A year later, it was operating as both J.B. Johns Grocery and R.L. Mercer Meats. Local artist Kyle Jordre purchased this newly renovated building in 2006, originally constructed of lathe and stucco with a corrugated tin roof, and now uses it as a studio to produce abstract work that includes rich, colorful fields of paint with vibrant, bold textures.
Paisley Violin and Paisley Town: This commercial building, one of the few along Grand Avenue with a partial basement, was purchased by Derrick and Gina Suarez in 2004, who relocated their successful Paisley Violin Café there from its former site at Roosevelt and 3rd streets. Standing since 1925, this brick building is the very definition of adaptive use, serving as a grocer, furniture store, tamale vendor, radio repair facility, amusement sales and finally a veterinarian before its current incarnation as a café.
In 2007 the couple relocated six small World War II cottages to the backyard of the premises. They have converted them to colorful small business venues that house a hair salon, ceramic artist, vintage boutique, yoga studio and contemporary clothing boutique, with a florist on the way.
Motley Design Group: This modest building was constructed in 1957 as a transmission repair shop and was later used as a warehouse and workshop. In 2008, it was rehabilitated as an architecture and engineering studio for Motley Design Group, best known for its work in historic preservation planning and design.
Rehbein Grocery: Located on the corner of McKinley Street and Grand Avenue, the Rehbein Grocery is an excellent example of an early 20th century strip commercial building. It is one of the best remaining two-story brick strip commercial buildings in Phoenix. The building was listed on the National Register of Historic Places in 1985. Today, the space is home to Shop Devious and Lodge Art Studio.
Bragg's Pie Factory: This historic 1947 cast-in-place concrete building at 1301 W. Grand Ave was originally built by Alan Bragg and his wife, Elaine, for their expanding family pie business (formerly on Van Buren Street close to the state capitol). The building reflects an international style of modern architecture popular at the time (with few remaining examples left in Phoenix). The main, 4,500-sq.-ft. room in the 15,000-sq.-ft. building is capped by a beautiful steel bow truss roof. It is now home to Sapna Café and several offices and studios, including Modern Cat, Barry Sparkman Studio and Studio 8.
Tickets are $10 per person and can be purchased by calling Beatrice Moore at (602) 391.4016 or by visiting the festival website at www.grandavenuefestivalaz.com. Tour times are 8 a.m., 9:30 a.m. and 11 am and leave from Tilt Gallery at 919 W. Fillmore St. Tickets will also be available on the day of the event at Sapna Café, 1301 W. Grand Avenue. Proceeds from ticket sales for the guided walking tours will go to the Grand Avenue Merchants' Association.
Posted on 9/17/09 by Si Robins » 2 Comments

Grand Avenue has gained quite a reputation over the years: home to the notorious dive Bikini Lounge, warehouses converted to art spaces, always-stuffy whiskey-fueled rock shows and even a few triangular-shaped storefronts that cut diagonally northwest, mimicking the avenue itself. So, it's only fitting that a festival has popped up in its honor. Enter the Grand Avenue Festival, a celebration of all things Grand.
Set for Saturday, September 26, this all-day affair will give attendees the complete Grand Avenue experience: lots of free live music, art exhibits, historic building tours and more.
At the heart of Grand's revival is its art spaces, and fittingly, they'll all be open for passersby. Fifteen artist studios in all will be open to the public from 10 a.m. until 6 p.m.: Jordre Studio (1007 W. Grand Ave.), The Lodge Art Studio (1231 W. Grand Ave.), Lucky Rabbit Studio (1020 W. Grand Ave.), Studio of Jen Urso & Christy Puetz (1341 W. Woodland Ave.), Studio of Lee Berger (PHiX) (1113 W. Grand Ave.), the ambient studio (1023 W. Grand Ave.), Deus Ex Machina Gallery (1023 W. Grand Ave.), Phoenix Fall Space (1023 W. Grand Ave.), Studio 8 (1301 W. Grand Ave.), Moderncat Studio (1301 W. Grand Ave.), Barry Sparkman Studio (1301 W. Grand Ave.), Brad Konick Sculpture Studio (701 N. 15th Ave.), R. Booker Studio (701 N. 15th Ave.), Chris Caufield Studio and Trillion Clarke Studio (701 N. 15th Ave.).
Adaptive reuse is a key element to the revitalization of Grand, and the Grand Avenue Festival plans to celebrate that fact with adaptive reuse tours throughout the morning. The tours begin at the Tilt Gallery (919 W. Fillmore St.) and visit Jordre Studios, Paisley Town (1028 W. Grand Ave.), the Motley Design Building (1114 W. Grand Ave.), Arnold's Auto Body Shop (1209 W. Grand Ave.) and the old Bragg's Pie Factory building (1301 W. Grand Ave.), which has recently started housing several art spaces and Sapna Café. The tour costs $10 (the only paying event at the festival!) and is scheduled for 8, 9:30 and 11 a.m. Tickets are available at the Tilt Gallery.
Live music will start at 4 p.m. and carry on until at least midnight, with an impressive lineup of great local acts taking various spots along Grand: the PHiX, Sweets & Beats (1504 W. Grand Ave.), Rockin' A (1209 W. Grand Ave.) and the Loft. Check for a full schedule of tunes the day of the festival.
To celebrate Grand's budding boutique hub status, three fashion shows will take place: A recycled wearables show at 5 p.m. at Bragg's Pie Factory, a local boutiques show at 7 p.m. at Bragg's Pie Factory and a "BoHo Haute Hippie Movement" (guess we'll have to attend to figure out what that is exactly) show at 8:30 p.m. at Soul Invictus (1022 W. Grand Ave.).
On top of all of this, expect demonstrations, quirky gifts for sale, tons of free acoustic tunes and even free snow cones! For fans of Grand and newcomers alike, this is a great opportunity to experience the other art row Downtown.
Parking is available along Grand's side streets, or you could huff it from the light rail station at Van Buren and Central/1st Ave and head west to Grand.