Some news items don't need translation. That's why DPJ launched the From the Wire series, so we could serve the destinations here by posting information and announcements – in their own words.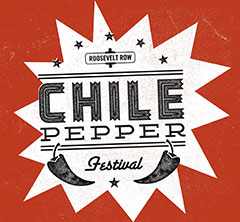 Building on its reputation as a hub for creativity and Downtown public events, Roosevelt Row will space up the season with its first-ever homage to that quintessential Southwestern ingredient: the chile pepper.
RoRo's Chile Pepper Festival will be held Saturday, September 29, from 4 to 11 p.m., at A.R.T.S. project #1 (408 E. Roosevelt St., Phoenix). It will feature helpings of the Valley's best green chile dishes, ice-cold margaritas, salsa showdown,  beauty queens, live music from local bands and much more. Local restaurants and food trucks will serve chile-oriented dishes while patrons roast chile peppers and soak up the vibe in the Valley's most dynamic creative district.
The Chile Festival features a free salsa sampling, where participants can enjoy unique, Arizona made salsa. There will be a salsa showdown with judging based on both traditional and avant-garde recipes. Chile dishes featured by participating restaurants – vetted beforehand by a month's worth of online voting from restaurant patrons – will represent the best of the best for chile-hungry crowds.
Chase that chile with a cold beer, wine or a margarita at the margarita garden. Then mosey over to watche the event's Chile Queen contest, a beauty/talent pageant that only a true chile aficionado could love. Event admission is $10 in advance or $15 at the door (excluding food and beverages).
Roosevelt Row, lovingly referred to as "RoRo" by fans of its burgeoning arts and music scene, predates statehood and features some of the Valley's most culturally stimulating businesses, galleries and living spaces.   Its award-winning galleries, restaurants, events and boutiques connect Downtown's most historically cherished neighborhoods.
Roosevelt Row Community Development Corporation (CDC) is a 501(c)3 non-profit organization established to further the unique character and assets of the area, to advocate for the continuing role of the arts in the revitalization of downtown Phoenix, and to foster a dense, diverse and walkable urban environment.
A.R.T.S. Program:  A.R.T.S. Projects address the issues of vacant urban space by putting dirt lots into productive-use throughout the Roosevelt Row Arts District.  Programming includes the A.R.T.S. Markets, community gardens, public art projects, cultural fairs, outdoor film space, and concerts.  For more information about the A.R.T.S. Program, visit http://www.rooseveltrow.org/a.r.t.s.html
Roosevelt Row Chile Pepper Festival
Basics:
Date: Saturday, September 29th, 2012
Time: 4-11 PM
Location: A.R.T.S. Project #1, 408 E Roosevelt St, Phoenix, AZ 85004
Expected Attendance: 3,000
Guest Admission: $10 in advance, $15 at the door. Children under 4 free admission.
Restaurant Participation and Guidelines:  events@rooseveltrow.org
Structure:
The admission fee covers entrance, live entertainment and salsa samples. Food and beverage purchased separately.
Components:
Foods prepared with chiles as the ingrediants provided by local restaurants & food trucks.
Live chile pepper roasting.
Live Music.
Chile Pepper Queen with Drag Queens (not confirmed)
Beer, Wine & Margarita Garden.
Salsa competition – Guests are invited to try a free salsa sample from participating competitors and vote for their favorite. The competition will be separated into two categories: traditional & non-traditional (verde, fruit, etc). Three cash prizes will be given. One to the winner of each category and an overall Best of Show prize.
Local talent will battle in a Chile Queen Competition. Each competitor will showcase a talent to be judged by an expert panel of judges.
Restaurants receive additional exposure by participating in the Chile Festival "Chile Challenge." Participants will feature a signature chile dish in their restaurants starting in September. The public will be able to rate the dish online. The dish will also be available for sampling and rating at the Festival. The best rated dish wins!
---