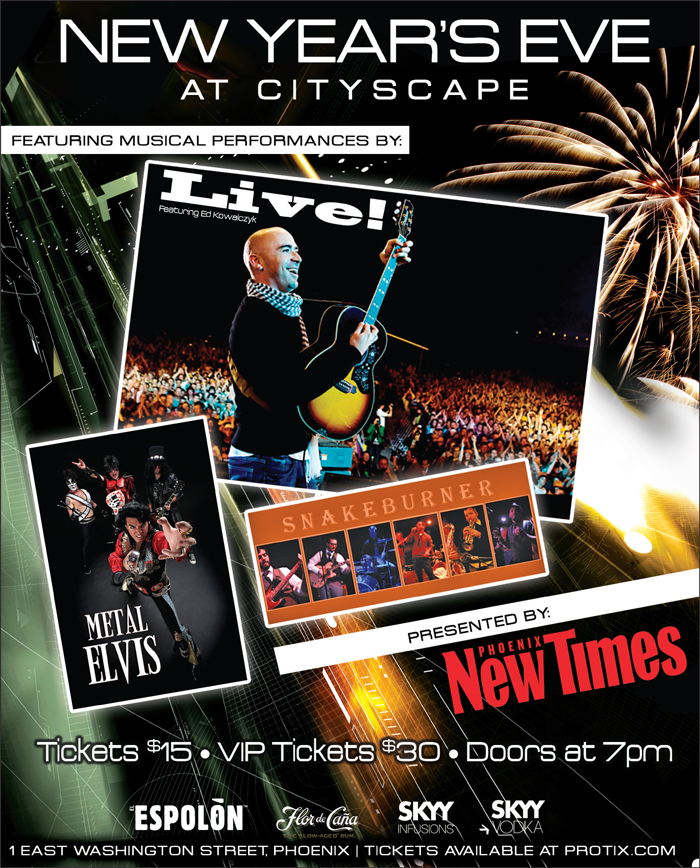 For weeks we've been anticipating what CityScape had up its sleeve for its first-ever New Year's Eve celebration.
Turns out they booked Ed Kowalczyk, the ex-lead singer of Live, a '90s alt-rock band that sold more than 20 million albums worldwide. Not too shabby.
Kowalczyk will perform hits from Live's 1994 smash, Throwing Copper, as well as the band's extended catalog and his newer solo work.
Kowalczyk will headline a night-long celebration that includes Tempe soul band Snake Burner and Metal Elvis, a mashup of Elvis-meets-KISS-style rock-n-roll.
In conjunction with the Throwing Copper theme, the Arizona Centennial's "Throwing Copper" Penny Drive will kick off a statewide effort to raise money to clean the state capitol's copper dome.
Pair this energetic lineup with flowing champagne, beer and wine, as well as the NRG ice skating rink, and it's bound to be a rockin' Downtown New Year's Eve!
The evening schedule:
Gates open: 7 p.m.
Entertainment
7:15 p.m. to 8:30 p.m.: Snake Burner
9 p.m. to 10 p.m.: Metal Elvis
10:30 p.m. to midnight: Ed Kowalcyzk
Food and drink tents will be set up throughout CityScape starting at 7 p.m.
If You Go: CityScape New Years Eve
Friday, December 31, 7 p.m. to midnight
CityScape stage is located on Central Avenue between Washington and Jefferson streets. Parking is available in the CityScape garages, with entrances on Washington, 1st Avenue and Jefferson.
If you are planning on drinking, please consider light rail (stations at 1st Ave/Jefferson heading east and Washington/Central westbound) or call a cab.
Advance tickets: $15 general admission, $30 VIP Red Zone
(Plus $3.50 service charge and facility fee)
Tickets at the gate: $20 general admission, $35 VIP Red Zone
(Plus $3.50 service charge and facility fee)
---