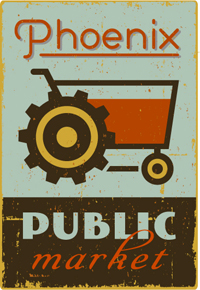 Market Updates
This week's CSM cardholder special is $5 off all bottles of Dos Cabezas wines. Dos Cabezas makes some of Arizona's most unique and complex wines from grapes grown in Sonoita.
T-Day special: $1 off recycled wine glasses with the Phoenix Public Market logo. Refresh Glass repurposes wine bottles into slick 12-ounce glasses. Eco-friendly, great for local business, and yes, pretty swanky as well.
First Friday: Acoustic Desert will perform in the Urban Grocery & Wine Bar from 7 to 11 p.m.
A note about eggs: Chile Acres, Dave the Eggman, One Windmill Farm, Golo Family Organic Farm and Arizona Homegrown Solutions have fresh, cage-free eggs each week at their booth outdoors — you know the farmer, and they know their chickens! The Urban Grocery offers fresh, cage-free eggs from Conchita's Farm in Central Phoenix, as well as Hickman's cage-free eggs from happy chickens in Central Valley, CA.
Wednesday @ the Market
Let the pouring begin! Dos Cabezas will be sampling their Red, El Norte and Aguileon wines in the Urban Grocery & Wine Bar from 5 to 7 p.m. The outdoor market features Wei of Chocolate, Bread Basket Bakery, Dr. Hummus, the Tamale Store, Short Leash Hot Dogs and the market's farm stalls: Arizona Homegrown Solutions' Community Exchange Table, Horny Toad Farm, One Windmill Farm, Hungry Baer Troyer Poultry and Hartill Enterprise's Beefalo meat.
Saturday @ the Market
Stop by early for Somali Bantu Farms' okra, squash and melons, as well as Addey Farm's melons grown on the nearby Gila River Indian Reservation. Maya's Farm is providing the sweet pears — we're getting into the juicy season! — and Gigi's Original Cobbler Factory will have plenty of luscious cobbler.
Vote now for Phoenix Public Market!
Arizona Homegrown Solutions has been selected as one of 41 finalists across the country for a chance to win $20,000 through a grant from Tom's of Maine. The fund will install four water-harvesting cisterns at area nonprofits, including the Phoenix Public Market. It will also provide green job training for under served populations and free water-harvesting classes for the public.
You have until September 10 to vote, so vote now! Scroll down to Arizona Homegrown Solutions, Phoenix, Arizona. Every vote counts!
Have you had a chance to try Short Leash Hot Dogs, Torched Goodness, Truckin' Good Food or any other food trucks parked around the market? With your help, these guys could be feeding people all across the country courtesy of Food Network. Vote daily through September 10 for your favorite food truck to compete on The Great Food Truck Race.
If You Go: Phoenix Public Market and Urban Grocery & Wine Bar
Urban Grocery and Wine Bar: Tuesday to Friday 11 a.m. to 8 p.m., Saturday 8 to 8.
Open-Air Market: Every Wednesday 4 to 8 p.m., every Saturday 8 a.m. to noon.
Location: 721 N. Central Ave. (market) / 14 E. Pierce St. (grocery) (NE corner of Central and Pierce, three blocks south of Roosevelt and the Roosevelt light rail stop!)
Free parking —  MasterCard, VISA, AZ FMNP, WIC Cash Value Vouchers, and food stamps accepted (cash is also welcome!) Sun Cards are welcome, too!
---