DPJ's Wire series delivers news and information straight from the source without translation.
The Phoenix Ale Brewery Central Kitchen Opens in Uptown Phoenix on May 11
Local Restauranteur Brings New Gastropub Concept to Crown on 7th in the Central Corridor; 20% of Proceeds Will Be Donated to Gabriel's Angels Through May 17
A new gastropub concept, The Phoenix Ale Brewery Central Kitchen (Central Kitchen), is now open in Central Phoenix. Serving up a diverse menu of craft food paired with locally brewed craft beer, the restaurant is the first collaboration between The Phoenix Ale Brewery and Owner Rich Stark, former CEO of NYPD Pizza. It is located near 7th St. and Bethany Home Road in the up-and-coming Crown on 7th plaza, and will begin serving guests Wednesday, May 11.
"As a quality beer and food enthusiast, it has always been a dream of mine to open my own gastropub concept in which the fare is as exceptional as, and complementary to, the beer selection," said Stark. "I had the pleasure of working with the late Greg Fretz and the late George Hancock over the past few years, as both a fan of their product and avid supporter of local businesses.  When the opportunity to bring the Phoenix Ale Brewery brand to a hospitality setting presented itself, it was too good to pass up. Between the brewery's terrific beers and our one-of-a-kind dishes, I can't wait for the Valley to come experience our celebration of craft beer and craft food."
The restaurant will offer many distinct flavors and all dishes have been created to pair perfectly with The Phoenix Ale Brewery's nine beloved brews on tap at the restaurant. In fact, a third of the menu items include their beers as a key ingredient. Central Kitchen is redefining comfort food with signature items such as the Ale House Chicken Fried Chicken, Cast Iron Macaroni and Cheese, and the BBQ Bison Burger. The burger's sauce – as well as other items on the menu – uses the King George Amber, a beer named and soon to be debuted at the restaurant, in Hancock's honor.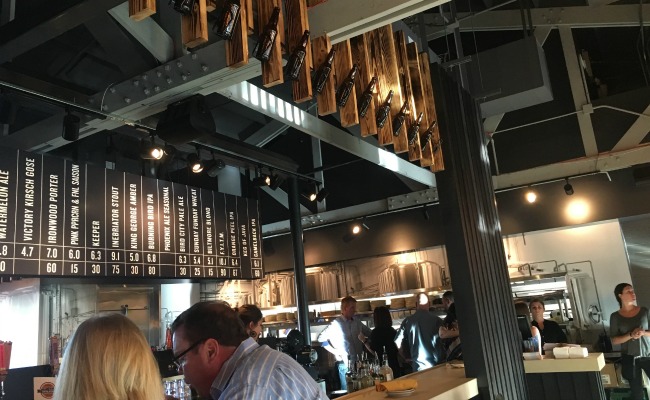 Central Kitchen's signature dish is the Black Iron Pizza, which is uniquely baked in a custom, square, black iron pan that provides a delicious thin crust pie unlike anything else in the Valley. Stark's inspiration for the hand-formed pizzas – ranging from traditional meat pizza to one-of-a-kind mashed potato pizza – came from his early days working in his family's pizzeria in Baltimore.
Employing nearly 60 team members and occupying 3,500 square feet, Central has a contemporary, yet bright and open feel. The design combines sleek and Southwestern textures, while also drawing on a beer-driven color palette of gold, orange, and brown hues, which creates a relaxed atmosphere for a quick drink or to catch a football game with friends. Seating includes community tables for large parties and casual dining, booth seating for a more quiet and private experience, and a large patio that is pet-friendly.
The Phoenix Ale Brewery Central Kitchen has selected local 501(c)(3) nonprofit, Gabriel's Angels, to benefit from proceeds from the grand opening and to serve as an ongoing charitable partner. Gabriel's Angels delivers healing pet therapy to abused, neglected and at-risk children. With its nearly 180 Pet Therapy Teams, the organization currently provides pet therapy services to over 122 agencies serving 14,500 children annually. Central Kitchen will donate 20 percent of proceeds May 11-17 to Gabriel's Angels.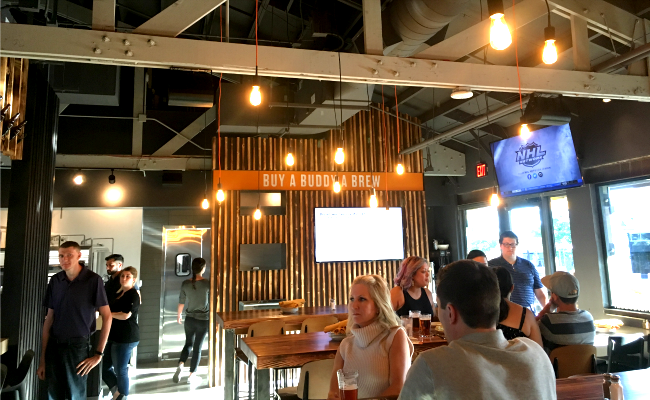 On an ongoing basis, guests will also have an opportunity to pay it forward with a cold one, through Central Kitchen's very own Buy a Buddy a Brew℠ program. Diners can purchase a beer for a friend, family member or complete stranger in advance, for he or she to redeem on their next visit. Brews purchased for buddies will appear in real-time on a screen in the restaurant for some fun guest engagement.
The restaurant is located at 5813 N. 7th St. in Phoenix (across from Okra) and will be open 11 a.m.- 10 p.m. Sunday through Thursday, and 11 a.m.- 11 p.m. Friday and Saturday. "Craft To-Go" (carryout) ordering, and crowler and growler refills will also be available.
---