Wizards of Time
Posted on 2/16/10 by Yuri Artibise » No Comments
A familiar face in the local food movement has been given the opportunity of a lifetime: to study at the renowned University of Gastronomic Sciences in Parma, Italy. Natalie Morris was recently one of only 50 students (out of over 1,000 worldwide) admitted to the school's Master in Food Culture and Communications program. This opportunity will allow Natalie to study in the birthplace of the Slow Food movement, and learn directly from its founder, Carlo Petrini.
Morris, a Valley native, has long been an advocate for local food and has become a fixture at the Downtown Phoenix Public Market and the recently opened Urban Grocery and Wine Bar. Morris' great accomplishment is bittersweet for the market. While they will be losing her for a year, they take comfort in knowing that her talents have taken her to a prestigious academy. In addition, they know Morris will return with knowledge that will benefit the Valley's local food movement for years to come.
"I have purposefully dedicated my time and career to maintaining this way of life," Morris says. "I truly believe that I play a beneficial part in our producers' futures by actively supporting them. Receiving my degree in food culture under the guidance of Slow Food will submerse me in understanding the artisan and craftsmanship that is key to our earth's future in sustainability and profitability. With this degree and information learned, I hope to be able to return to Phoenix to impart my knowledge of food security and biodiversity and promote those farms and ranches who actively live by these standards."
Alas, studying aboard comes with a hefty price tag, but one that is well worth the benefits to not only Morris herself, but to Valley chefs, farmers, ranchers and food aficionados as well. To help with Morris' tuition and living expenses — and to celebrate her accomplishment — two fundraisers are being held.
This first event, and one of interest to most DPJ readers, will be held on Sunday, February 21 from 5-8 p.m. inside the Urban Grocery and Wine Bar. The event will feature favorites of the Downtown Phoenix dining scene, including PastaBAR, The Breadfruit Authentic Jamaican Grill and the market's own Chef Elizabeth. The event will feature locally sourced food from Valley producers Maya's Farm, Seacat Gardens, Double Check Ranch, The Meat Shop and Petit Fromage. A number of Arizona winemakers will provide tastings, including Dos Cabezas WineWorks, Pillsbury Wine Company and Arizona Stronghold Vineyards. For beer lovers, Prescott Brewing Co. will also be on hand. In addition, local band Wizards of Time will perform outside. Tickets for this event are available for $35 through Eventibrite.
A second event will take place at FnB Restaurant in Old Town Scottsdale on Tuesday, February 23 at 6 p.m. The four-course dinner from Chef Charleen Badman will feature Arizona's own agricultural bounty paired with owner Pavle Milic's selection of Arizona wines, which was recently featured in The New York Times. Reservations are $75 per person, and can be made by calling the restaurant at 480.425.9463. Reservations are limited.
The Urban Grocery and Wine Bar is located at 14 E. Pierce St. in Evans Churchill — 602.493.5231.
For those who cannot attend either event but would like to donate, please click here or contact Natalie Morris by email or phone at 623.703.5234.
Posted on 6/26/09 by Si Robins » 2 Comments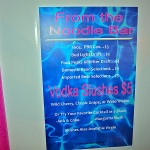 Beards, Lucky Strikes, margarita slushies and sleeves of tats abound at the debut of 2009's Star Swim at the Wyndham Hotel. Nevermind the bands that played (more on that in a minute), this now weekly event is the place for twentysomethings to let loose is half-naked reckless abandonment, and if the crowd from the first weekend is any indication, this thing is catching on fast. The rooftop pool was full of boozin', cruisin' for digits and generally (sometimes frighteningly) loud people dancing in some very unconventional fashions. Local bands Hooves, Art for Starters and Wizards of Time helped de-sober the crowd, but by the time headliner Dear and the Headlights (or Drunk and the Headlights, as they proclaimed) took the… er… pool deck, everyone was in a very social state of mind. By the end, half the crowd commandeered microphones to sing along, people from overlooking hotel rooms were cracking open their windows to get a listen and the stuffy lobby bar was emptied in anticipation for a booze-soaked encore. This is a pretty successful debut at the Wyndham for Star Swim, which occupied Saturday evenings at the Hotel San Carlos last summer. The schedule for upcoming weekends is below.
50 E Adams St
5 to 10pm Saturdays, all summer long
Tickets are $6 and available online here. (Also available at door.)
May 30: Kinch, Aushua, Yellow Minute, Cardiac Party
June 6: K e n e s s e t, Mostly Bears, Snake! Snake! Snakes!
June 13: Black Carl, Mr. Gnome, Mondegreen, We Fear the Bees
June 20: What Laura Says, the Necronauts
June 27: The Rogue
July 4: Miniature Tigers, Princeton, DJ Ben Collins (1-10 p.m.)
August 1: Lymbic System
More bands and dates TBA.