William Reed
Posted on 12/16/10 by Monica Arevalo » No Comments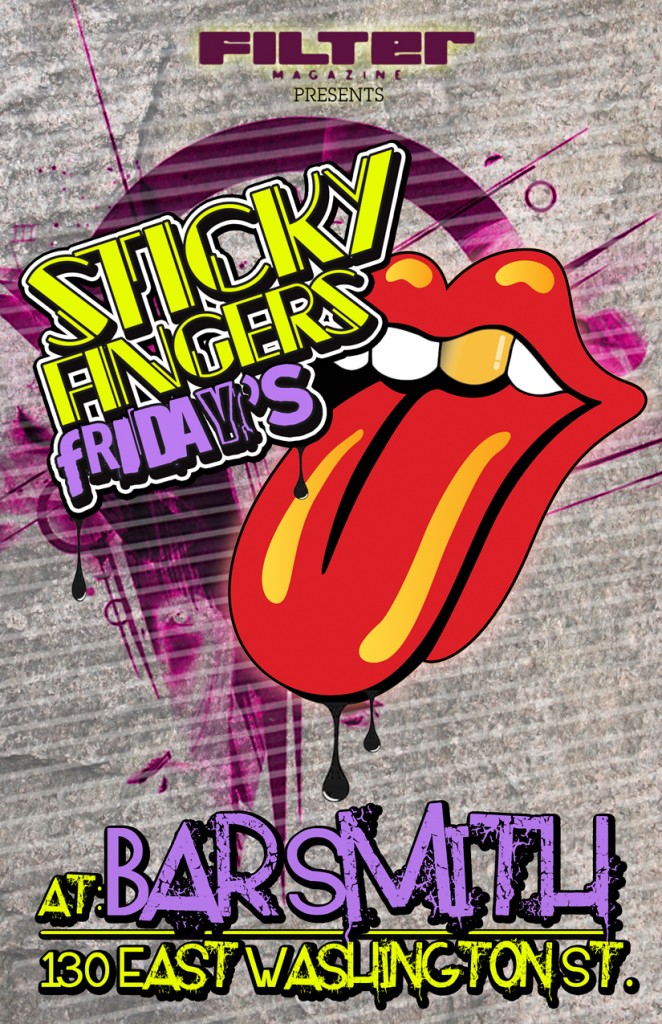 Are you looking to shimmy on Friday nights but never know where to go for a good dance floor?
DJ William F'ing Reed's Sticky Fingers at Bar Smith gets people out of their seats and keeps them on their feet all night.
With a different DJ and act every week, Sticky Fingers always has something new for people to hear and see.
Recently, Sticky Fingers is bumping up the volume to 11 by adding live bands to the Friday night mix.
Reed is currently looking for electro, electronic, dance rock and electro-fusion hip-hop bands. Earlier this month, Phoenix electro-pop band Treasure Mammal grace the rooftop stage.
Asked what type of live music he is searching for, Reed is quick to answer: "Bands that are high energy and primarily dancey."
This isn't Reed's first time around hosting nights at bars. He has been associated with "the best dance night" and "best hipster dance night" by many Arizona publications, as well as SPIN and URB magazine.
Reed got his start in the late '90s when he started playing with friends. He never considered himself a DJ, but his friends told him that he had good taste in music, so he decided to try it out.
In early 2005, the then owner of the Rogue Bar in Scottsdale asked Reed to DJ.
"He offered me $50 and free drinks, and I thought that was the coolest thing ever," Reed recalls.
One night turned into every week, and then Reed had his own night called "Shake!," which lasted for five years (it ended its run on Halloween 2009).
For someone who didn't consider himself a DPJ, he was becoming one of Arizona's best and well-known.
He started Sticky Fingers in April at Rips Bar in Midtown, but in November was looking for something new.
"We were working to do a level of production that simply could not be accommodated at Rips," Reed admits.
He knew the owners of Bar Smith and they were looking for someone to fill-in their Friday nights. Every Friday night since has had over 500 people.
"It was a perfect fit," Reed says.
Reed ensures a good time and something to keep people moving. If you can't make it these next couple Fridays, shoot to be there New Years Eve night.
Reed says it will be "great, great, great."
Sticky Fingers will only be bigger and better in 2011, with international DJs and bands joining Bar Smith, Reed mentions.
This Friday, Snake! Snake! Snakes! is kicking off Sticky Fingers. The event is 21+ and free before 10:30 p.m. Entry is $7 after 10:30.
Bar Smith is located at 130 E. Washington St. Downtown (light rail at 3rd St & Washington/Jefferson stations) — 602.229.1265
Posted on 10/07/10 by Monica Arevalo » No Comments
Upstate New York's Phantogram and Ohio-based Josiah Wolf (of Why?) are coming tomorrow night, Friday, October 8, to Rips Ales and Cocktails, which should make up for a fun live show in a nontraditional lounge setting.
Phantogram is a two-piece band with the shoegaze, techno sound of Yeasayer and vocals and thicker beats of Sleigh Bells. Josh Carter (guitar) and Sarah Barthel (vocals/keyboardist) were childhood friends before starting Phantogram in 2007.
More boy-and-girl duos keep popping up, and every time it's something new, intriguing and mind-blowing. The band has shared the stage with bands such as The xx, Metric and Ra Ra Riot, and played SXSW last year.
They were recently featured in SPIN and have been surging up the indie status chart with their February debut release, Eyelid Movies. Choice cuts "Running from the Cops" and "Mouthful of Diamonds" (see below) should added to your iPod as soon as possible.
Their electro-pop-meets-hip-hop beats will have you bobbing your head and wondering how only four hands make all that noise.
And, if you haven't heard of Why?, the band's drummer will be a nice surprise as an opener. Along with his younger brother, Yoni Wolf, who is the lead singer of Why?, Josiah Wolf has an quirky voice that seems odd at first but quickly begins to grow on you.
His solo album, Jet Lag, has a nice, slow, calm feeling about it, but there are surprises along with the soft sounds. What's even more surprising is that he played every single instrument on the CD, so how will he do it in person? You'll have to go to Rips to find out.
The show was originally scheduled at Sanctum on the Melrose Curve, but the venue has changed to Rips, which isn't a typical spot to see live music of the non-DJ variety, so it's nice to see new potential venues popping up in the 'hood. The show (21+ only) is $10 and doors open at 9 p.m. The bill also includes DJs William Reed, Jared Alan and Sean Watson.
Rips Fine Ales and Cocktails is located at 3045 N. 16th St. in Midtown — 602.266.0015
Posted on 8/26/09 by Si Robins » No Comments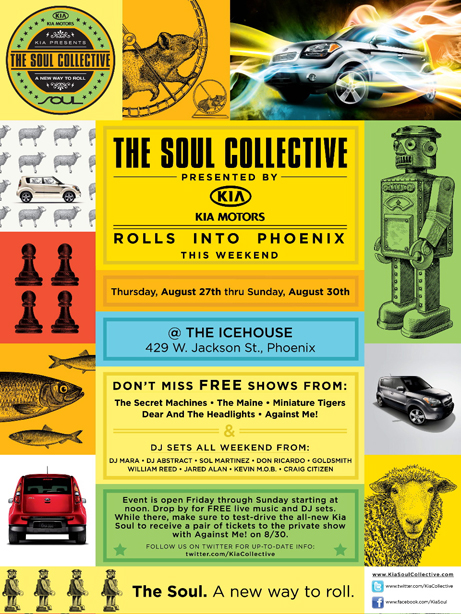 Kia's Soul Collective event motors into Downtown Phoenix this week, and it gives visitors the opportunity to test drive a sweet ride and witness some some face-melting rock. Running Thursday through Sunday at the Icehouse (429 W. Jackson St.), Soul Collective showcases Kia's new 2010 Soul model, with local DJs and bands playing free sets for everyone that stops in. Everyone that takes a free test drive will receive two tickets for Sunday's private show with Florida punk group Against Me! The schedule follows:
Thursday, August 27
Preview event with Secret Machines and DJ Mara from 6:30-10 p.m. RSVP here.
Friday, August 28
Test drives from 12-8 p.m., DJ sets from DJ Abstract, Sol Martinez and Don Ricardo
Tempe pop-punk band The Maine plays at 7:30
Saturday, August 29
Test drives from 12-8 p.m., DJ sets from William Reed, Goldsmith, Jared Alan
Phoenix indie rockers Miniature Tigers play at 6, followed by Dear and the Headlights at 7
Sunday, August 30
Test drives from 12-4 p.m. DJ sets from Kevin M.O.B., Craig Citizen
Against Me! plays at 8 (doors at 6:30)