Toby Yatso
Posted on 5/01/15 by Katrina Becker » No Comments
With its deft characterizations and non-stop flow, the one-man show Buyer & Cellar (B&C) is far more than a funny riff on the quirks of a celebrity.
The entirely fictional story is set in a fantastic — but surprisingly real — location: the private shopping mall of actress-singer-composer Barbra Streisand. The Academy, Tony, Golden Globe and Grammy award-winning artist wrote My Passion for Design in 2010. Her book includes a description of the mall, built in the basement of her Malibu home and housing Streisand's personal collections in settings including a doll shop and a boutique of antique clothing.
Fascinated with what he calls an "artificial utopia," playwright Jonathan Tolins (The Twilight of the Golds, If Memory Serves, The Last Sunday in June, and Secrets of the Trade) spins the comical tale of a struggling actor hired to work as the mall's sole employee.
"The set is very simple and classy, leaving a sort of blank slate for creative lighting, projections, and imaginative storytelling," says actor Toby Yatso, the star of Phoenix Theatre's production. "And there are only two props: an actual copy of My Passion for Design, and a cell phone in my pocket."
Fresh from an athletic performance as Bert in Mary Poppins, Yatso teaches musical theater at Arizona State University, works as a member of the Megaw Actors Studio and an artist-in-residence at Phoenix Theatre (PT), and directs PT's summer Musical Theatre Intensive program.
Buyer & Cellar is directed by Ron May, who himself stars in the upcoming Phoenix Theatre production of One Man, Two Guvnors running May 20 through June 14. May is founding artistic director for Tempe's Stray Cat Theatre, and brings to B&C his considerable expertise with unusual shows like Bloody Bloody Andrew Jackson and Pluto.
Although Streisand is a cultural icon, B&C promises equal entertainment to devotees and new fans alike with no need for deep background knowledge, says May,"…no more than an audience has to have any kind of knowledge of, like, Danish royalty to enjoy Hamlet."
"I suppose knowing about the ins and outs of Barbra's life may give you a deeper appreciation of a handful of references, but there's nothing that's going to really leave anyone in the dark," May explains. "It's a comedy about our worship of celebrities – Barbra just happens to be the target."
"She's funny, she's warm, she's wildly quirky, she's vulnerable, she's demanding, she's caring…" he says. "I actually liked her more after working on this show." May adds, "If Barbra Streisand in real life is anything like the Barbra in this show, I totally want to be friends with her."
"The script does a superb job of teaching as it goes," agrees Yatso. "All you need to know is that Barbra Streisand is a force of nature in the entertainment industry, so that covers just about everyone in America."
"I think our obsession with celebrities is twofold," he continues, "…and the play touches on both halves – what makes her untouchable and what makes her perhaps like everybody else."
Although Yatso's six roles in B&C don't take him strolling up and overhead around the proscenium arch as in Mary Poppins, they demand lighting-fast character changes. "Let it be known that I am not flipping in the air or tap-dancing on the ceiling in this one," the six-and-a-half-foot-plus actor says with a laugh. "But I try to use my body expressively and creatively however and whenever possible." He adds, "There's a lot of body there, so make it count, right?"
"It's actually a very physical show," says May. "It's just one guy creating a number of different worlds and characters and environments and situations, and all he has is his voice and his body." The director explains, "All it takes is a little subtle shift of his physicality and you instantly know which character just showed up on stage. Those skills are a godsend in a show like this."
"I have a lot of conversations 'with myself,'" Yatso says. "Maybe it feels like playing Ping-Pong with yourself, but both sides really want to score the point…?"
"The challenge is really for Toby," declares May. "He has to keep the ball up in the air for the whole 100 minutes. The amount of focus and concentration and energy that takes is pretty insane." He continues, "My satisfaction honestly comes from watching him absolutely kill it night after night and audiences going wild over him." May chuckles and adds, "I feel like a purring cat watching him."
If you go:
Posted on 12/13/14 by Katrina Becker » No Comments
Whether you prefer to immerse yourself in the holiday spirit or rebel against the trappings of the season, you'll find your fun downtown with a few of Phoenix's quirkier activities. Adults-only theater pushes the envelope with A Bloody Mary Christmas while unique Christmas light tours appeal to all ages, and puppetry and dance shows keep kids jolly.
Ballet Arizona offers the usual fairies and sugarplums at Symphony Hall with its spectacular, highly acclaimed production of The Nutcracker (through December 28), reinvented a few years ago by artistic director Ib Andersen. Tchaikovsky's familiar music performed by The Phoenix Symphony can't be beat, and a family four-pack includes parking, premium seats, a photo with the Sugarplum Fairy and hot cocoa.
If you prefer the music of a different Russian, try Snow Queen at Herberger Theater Center's Stage West (through Dec. 21), choreographed by Frances Smith Cohen and presented by Center Dance Ensemble. Hans Christian Andersen's tale comes to life with melodies by Sergei Prokofiev. Take a midday work break, buy or bring your lunch, and sample the Lunch Time Dance Theater option for only $6.
In addition to the occasional wickedly subversive 18+ puppet slam, Great Arizona Puppet Theater provides a steady stream of funny shows for children young and old. The Night Before Christmas (through December 28) features joyful music and stories.
For those who love cinema, FilmBar offers a glorious month full of movies in an intimate 70-seat venue with the added bonus of a beer and wine bar (alcohol with popcorn — what could be better?). December's options include The Captive, The Babadook, Bad Santa and Free the Nipple (both on the Naughty & Nice Film Series), Awake: The Life of Yogananda, and the incomparable Monty Python's Life of Brian. Foreign films include Luis Buñuel's The Exterminating Angel (El ángel exterminador) and Louis Malle's Zazie dans le metro as a double feature. And don't miss Opera at FilmBar — December 19 brings Gioachino Rossini's La Cenerentola (Cinderella) from the Gran Teatre del Liceu, starring a sparkling Joyce DiDonato and the yummy Juan Diego Flórez.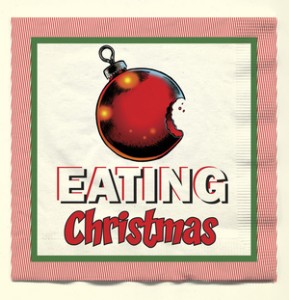 The calendar's packed at Crescent Ballroom, where Cocina 10's food and drink are complemented by the stories of Chow Bella's Eating Christmas (December 16). For a canned food donation you'll hear food-themed tales of holiday adventure (for ages 21 and older). Otherwise, try "Life's a Drag. Party Like a Queen" (December 18) with interactive games, "Truth, Drag or Dare," and drink specials all hosted by Olivia Gardens.
Phoenix Theatre serves a full plate of seasonal cheer with Holiday Classics From Screen to Stage (December 18-21), when Arizona Opera singers croon holiday favorites from films like Elf, Miracle on 34th Street, Love Actually, A Charlie Brown Christmas and more. Vocalist Dennis Rowland takes the stage with the Greg Warner Project and special guest Diana Lee for the Holiday Jazz Cabaret (December 22-24) and a range of Christmas classics. And you're sure to have a jolly holiday with Mary Poppins (through December 28), an eye-popping fast-paced feast of color, song, dance, and special effects including Valley favorite Toby Yatso as a tap-dancing, levitating chimney sweep.
Back in the realm of adults-only entertainment, Space 55 pulls out all the stops for the fifth year of A Bloody Mary Christmas (through December 21), in which Sun City retirees sing, dance, and battle a heartless homeowners' association. Set to original music by Dangerville and Samson Says, Bloody Mary showcases Toni Jourdan, Lee Quarrie, Paula McKenny and Bob Peters. 7 Minutes Under the Mistletoe (December 20) gives local performers their seven minutes in the sun with an opportunity to do whatever they want — interpretive dance, dinosaur burlesque, competitive doughnut eating, action figure battles…even naked stage magic. Who knows what you'll see?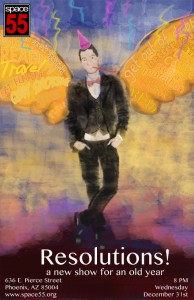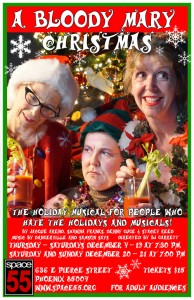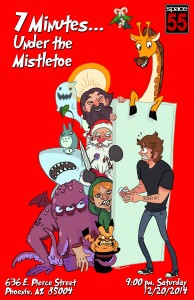 Other Space 55 shows include Storyline: A Winter's Tale (December 19), part of a monthly storytelling showcase, and Resolutions! A new show for an old year (December 31), a good warm-up for your New Year's Eve party or downtown's Flannel Ball.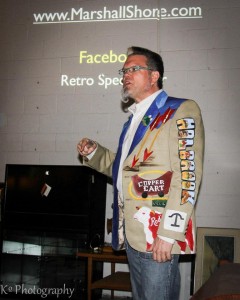 "Hip Historian" Marshall Shore brings a big yellow school bus to The Clarendon Hotel as the launch point for his Christmas Lights Tours (December 16, 18 & 23). "We cruise through Phoenix, Tempe and Mesa," says Shore. "I curate for the most jaw-dropping displays that I can locate." Join in the caroling and live music with your very own kazoo (provided), or sit back and enjoy Shore's talents as a storyteller while you see commercial, private home and religious displays.
If you go:
Schedules are subject to change. For more holiday diversions visit DowntownPhoenix.com:

Posted on 1/06/13 by Katrina Becker » 1 Comment
This weekend Phoenix Theatre offers its final performances of the all-Gershwin musical 'S Wonderful, directed by Associate Artistic Director Robert Kolby Harper. "This kind of show is really hard," he says, "not just for the director-choreographer but for the actors because they'll change clothes 50,000 times, and they'll sing 40 songs by the end of the night."
Perhaps the number of wardrobe changes is slightly exaggerated, but 'S Wonderful does cover more than 42 Gershwin tunes in its whirlwind tour of five time periods and locations. Mini-musicals take audiences to a 1939 Parisian café, a 1948 Hollywood movie studio, and New Orleans in 1957 – there's a total of five vignettes of 15-20 minutes each, all sharing the same sleek but effective Art Deco-inspired set pieces.
If you're searching for a deep, complex plot, don't bother – the simple, timeless themes of yearning, attraction, romance, and love are carried on the thinnest of storylines. It's all a vehicle for the rich music of the Gershwin brothers. And "if you're looking for linear," says Harper with a chuckle, "you're screwed, because it's not gonna happen." He shakes his head and continues, "But that's not how memories are; memories are collages, feelings…sometimes just snapshots."
A tight, talented onstage three-piece combo of piano, bass, and drums plays nearly non-stop, providing not only accompaniment but also interludes between the mini-musicals and seamless segues between styles.
So many songs in such a relatively short show might create a dizzying, abbreviated effect, but Harper says that while "there are moments where it's more snippety, there's a big group of songs where you get a nice chunk." A few of the numbers receiving more extended play include "Nice Work If You Can Get It" as well as selections from the Gershwins' beloved folk opera.
"[The songs] that I'm most excited about are from Porgy and Bess, because I get to sing a little bit on 'There's a Boat Dat's Leavin' Soon for New York,'" says actor Toby Yatso. "I'll probably never be in a production of Porgy and Bess for racial reasons," he continues, "so I think it's fun to be able to experience those songs, that music, that score, even if it's just a little taste…it's a unique opportunity."
Yatso is an Associate Artist at Phoenix Theatre, and serves on the faculty for Arizona State University's Lyric Opera Theatre program (as does Harper). He's won numerous ariZoni and Encore Society awards for his work onstage and as a director, teacher, and choreographer in shows like The Producers, Avenue Q, and Glorious.
"What I like about Toby is that he's never satisfied with just bringing the same-old same-old," explains Harper. "And he's just awesome to work with – I laugh hysterically." He smiles. "That's one of my big things in rehearsal: if we're not laughing, we're going home, 'cause life's too short. We're not curing cancer here, people – we're doing a musical revue."
"At the end of the day, if you're in a revue, yeah – sing pretty, but you've got to be funny. It can't all be about the voice, because I can get a CD and sit at home in my PJs and have a cocktail," Harper continues. "So I want people who can be interesting to watch, and move you to feel something…lift the music off the page."
The cast also includes Kaitlynn Kleinman Bluth, Jenny Hintze, Kyle Erickson Hewitt, and Jenn Taber, who stars in 'S Wonderful's mini-musical "Of Thee I Sing," embracing the role of an abandoned chanteuse. "Jenn's one of the funniest women I've ever met," says Yatso. "She can sing anything and is just so committed to everything she does…and it's fun to work with her because we're such different-sized people. And I love that – I just love the contrast of us."
The 6-foot-5-inch-plus Yatso continues, "I think I'm known because of my height, and as a unique physical presence." His character in the first vignette is a newsroom worker, a sort of silent movie standard with choreography making the most of Yatso's build. "This is so much about the physical storytelling — I get to heighten all my physical attributes…and I have a lot!" he laughs wryly.
He's delighted with all three of his female co-stars. "Jenny and I have danced together a lot – I always feel like she makes me look like a better dancer than I probably would be by myself," Yatso chuckles. "And Kaitlynn…we always felt we were so connected onstage." He smiles again, and exclaims, "When I heard it was those three women, I thought, 'I am a lucky, lucky man!'"
'S Wonderful includes plenty of dancing along with songs ranging from the less familiar ("My Cousin in Milwaukee") to beloved favorites. "Of course you can't have Gershwin without 'Someone To Watch Over Me,'" says Yatso. Harper agrees; "I don't know who can hear that song and not have a real visceral reaction to those lyrics." He continues, "I think even now…even teenagers can listen to that and go, 'Wow – yes, I feel that. That'd be awesome – I'd love to have someone watch over me like that."
"And that's the whole point," Harper says. "That's what music does, especially the Gershwins' music – it connects people in ways that are meaningful, that are deeper than just dancing in the club. It boils down to love."
---

Even as 'S Wonderful leaves the stage, Phoenix Theatre prepares for the world premiere of another production: Love Makes the World Go 'Round, based on the music of Bob Merrill, who wrote hits like "Mambo Italiano," "If I Knew You Were Coming I'd've Baked a Cake," and "(How Much Is) That Doggie in the Window?" as well as works for theatre and film like Funny Girl and Carnival. Merrill, who reportedly composed on toy xylophones, took his life in 1998 at the age of 74.
"Love Makes the World Go 'Round is set in a New York piano bar, where these three women have sort of wandered in," explains Producing Artistic Director Michael Barnard. "They're each in a different stage in their lives and their marriages – or 'not-marriages' – so they get into conversations with the help of the piano player…it's a very funny piece."
The tiny cast includes Jeannie Shubitz, Allison Houston, and Patti Davis, while the pianist is Brad Ellis, an arranger and accompanist for television's "Glee," who also worked with writer Duane Poole on the show's arrangements.
---