TEDx
Posted on 8/05/14 by DPJ Staff » No Comments
DPJ's Wire series delivers news and information straight from the source without translation.
"Food and Drink Inspired TEDx Event Happening in Downtown Phoenix on August 28th"
"If You Can't Stand the Heat, Get out of the Kitchen" is the theme of the upcoming TEDxEvansChurchill event, which will bring chefs, bartenders, food growers, scientists, artists and restaurateurs out of their kitchens and onto the stage to talk about the things that get them excited in the world of food and beverages.
What do a tobacco smoked cocktail, vegetables growing under the shade of city buildings, mind-expanding edibles, and the newest craze in printing all have in common? They are just a few of the enlightening topics to be discussed at the upcoming TEDxEvansChurchill event at the Renaissance Hotel Downtown Phoenix, AZ on August 28. TEDxEvansChurchill, sponsored by New Belgium Brewery and Downtown Phoenix Inc., will feature more than 8 speakers who will share inspiring and thought-provoking insights on their areas of expertise.
Some of the presenters include: Blue Hound Kitchen & Cocktail's Stephanie Teslar, Brat Haus's Payton Curry, Short Leash's Brad Moore and a local beer cicerone. The emcees for the evening will be Arizona Republic's Megan Finnerty and David Tyda of Affordable Food Festivals.
FED after TED will take place directly following the presentations and will include beer samples paired with small plates from downtown restaurants (Marston's Cafe, Phoenix Public Market, Kincaid's and more) while mingling and meeting the speakers. Tickets are available for the presentation and after party separately, or offered at a discount if purchased together. 21+ with photo ID for beer wristband, under 18 must be accompanied by legal guardian.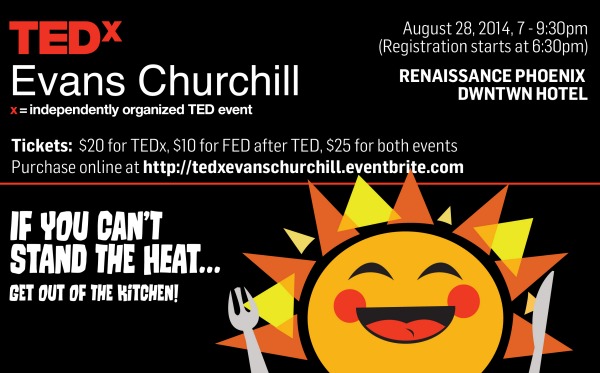 When: Thursday, August 28, 2014 – TEDxEvansChurchill If You Can't Stand the Heat, Get Out of the Kitchen
7 PM to 8 PM (Registration will begin at 6 PM.)
FED after TED – 8 PM to 10 PM
Where: Renaissance Phoenix Downtown Hotel
50 E Adams St., Phoenix, AZ 85004
Tickets: $20 for TEDxEvansChurchill, $10 for FED after TED, or $25 for both events.
http://www.eventbrite.com/e/tedx-evanschurchill-if-you-cant-stand-the-heat-get-out-of-the-kitchen-tickets-12462564867
Posted on 12/08/11 by J. Seth Anderson » 1 Comment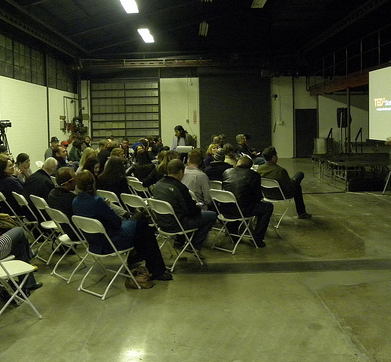 Phoenicians braved the chilly desert Wednesday night, bundled in festive hats and scarves, to meet at the Levine Machine in the Warehouse District downtown for the latest TEDx event.
The theme of the night was "Urban Placemaking and Third Places," those spots in our communities where we rub elbows with strangers, make new connections and create memories. They are the spaces where "everyone knows your name" and equally charming because you never know whom you'll bump into. These Third Spaces give a city character. They are necessary to community vitality because they embrace us. As one speaker put it, these spaces make life more humane through the social interactions they provide, the interactions we intuitively crave as human beings.
In his opening remarks, Bob Diehl, one of the organizers of the event (along with Andrew Knochel and Jim McPherson), stated that the Valley of the Sun is at a crossroads.
"How it got here cannot be how it moves forward, unless we want to be left in the dustbin of history. Dialogue will help the city move forward."
And that's what TEDx events aim to do through rousing talks from people in the community who are on the front lines changing the landscape and culture of the city. The weather may have been chilly and dark but the Levine Machine felt warm as it was lit up by the power and optimism of bright ideas.
The first speaker of the night, Marianne Belardi gave a talk titled, "People Who Need People." She reminisced about the Third Places of her youth and the nostalgia they created.
"Third Places offer sustenance with a side of sociability," she said.
Places like farmers markets, coffee shops, even open mic nights create a place for community connections.
Craig DeMarco, owner of Postino, Windsor, and Churn spoke about urban redevelopment and not taking no for an answer.
He shared a story of a trip through small towns in Italy where he frequently wound up at the local wine bars. Back in Phoenix he searched for the same spaces for a similar experience but found none, so he and his wife set out to create it. They faced challenges from neighborhood opposition and the red tape of the city, but they succeeded by never giving up the dream. Today his business ventures are recognized as some of the best local restaurants in the Valley, unique for purposefully being tied to the history of the neighborhoods where they are located. (The original Postino is housed in the old Arcadia post office building and Windsor is located in an old building tucked into the Windsor Square neighborhood.)
He announced to the attendees that the stretch of Central Avenue north of Camelback near Windsor will have bike lanes added by narrowing Central Avenue from 6 lanes of traffic to 4 to create a more pedestrian friendly environment for the neighborhood.
Jeff Fischer spoke next about his concept for Lux, considered one of the best coffee shops in Phoenix. The only speaker to deliver his remarks sitting down, he spoke in verse with the passion of an artist explaining the nuances of his latest masterpiece. "Lux is a personal confession," he said.
The evening concluded with speaker Margaret Bruning, the former associate director of Scottsdale Public Art. She spoke about public art as a Third Place because it "becomes a portal for others in the community to create their own experiences."
"It's our job to take advantage of our public spaces, private spaces, coffee shops. People crave authenticity to mingle, walk and learn something new." Along the banks of one of the Valley's greatest assets, the 131 miles of canals, more pedestrian pathways and public art are being developed because, "that's the community's living room."
The theme for the next TEDxScottsdaleSalon is "Rethinking the Grid" and will be this Saturday from 3:30 to 7 p.m. at the Scottsdale Museum for Contemporary Art.
Photos courtesy of Jeremy Stapleton.
Posted on 10/25/10 by Yuri Artibise » No Comments
November is right around the corner, and that means it's time for TEDxPhoenix 2010! TEDxPhoenix will host its second event on Saturday, November 6, 2010, from 11 a.m. to 7 p.m. at the Eight KAET PBS Studios in Downtown Phoenix.
This year's event is building off the theme for TED2010 — "What the World Needs Now" — and what they feel the world and Phoenix needs now are more optimists and catalysts.
That's why this year, the organizers are bringing us a full day of thought-provoking talks by some of the Valley's most inspirational and innovative thinkers and doers. These are people who have spoken at PopTech, survived civil war, made the list of the Valley's most intriguing individuals, championed local movements, represented the Navajo Nation, made regular appearances on the Science Channel, have spoken at the Googleplex, and authored books on science, entrepreneurship and design.
Speakers include:
Dr. Lawrence Krauss, Jany Deng, Kimber Lanning, Jay Rogers, Bob Grossfeld, Prasad Boradkar, Pamela Slim, Jolyana Bitsuie, Margaret Regan, Syed Toufeeq Ahmed, Eric Torres, Nina Miller, Goran Konjevod and Helene Neville, as well as a performance by Dry River Yacht Club.
For a full list of TEDxPhoenix 2010 speakers, please visit the speaker page. In addition, selected TEDTalks videos will showcase some of the world's most renowned speakers.
TEDxPhoenix is the Phoenix metro's opportunity to help make our local and global communities a better place through big ideas worth sharing and doing.

— Tomas Carrillo, TEDxPhoenix Curator
In addition to witnessing these great talks, attendees will also be treated to the most TED-like event that Arizona has seen so far. Organizers work around the clock to make sure that attendees get to experience the electric atmosphere of TED from the TED-like badges all the way down to the free coffee, snacks, drinks and gift bags. In addition, attendees get to enjoy a free catered lunch in Civic Space Park.
All of this is not being done to simply pamper attendees, but to promote collaboration and the exchange of ideas. This is an event focused on ideas worth sharing, spreading and doing!
Tickets for the event run $50 and are first come, first served, so once they run out, they're gone! In addition, all proceeds go toward paying for event costs, as TEDxPhoenix is a not-for-profit event run by unpaid volunteers. If $50 seems high, consider that it's less than 1% of the cost of the TED Conference and less than half the cost of most local conferences.
TICKETS: http://tedxphoenix.ticketleap.com/tedxphoenix-2010/
We hope you will join us for TEDxPhoenix 2010 and take part in an event that is quickly becoming a global laboratory for the spreading of ideas, as well as becoming part of a global revolution in education.
About TEDx
In the spirit of ideas worth spreading, TED has created a program called TEDx. TEDx is a program of local, not-for-profit, self-organized events that bring people together to share a TED-like experience. At TEDx events, TEDTalks video and live speakers combine to spark deep discussion and connection in a small group.
The TED Conference provides general guidance for the TEDx program, but individual TEDx events, including TEDxPhoenix, are self-organized independent events operated under license from TED.
About TEDxPhoenix
x = independently organized event
TEDxPhoenix is a not-for-profit community organized and run event. A team of volunteers plans and stages the event, and support is sought through donations from local Valley businesses and organizations. The goal of TEDxPhoenix is to help spread ideas capable of changing the Valley as well as the world.
To learn more about TEDxPhoenix, see the TEDxPhoenix website where you can also sign up to receive email updates, or join the TEDxPhoenix community by following TEDxPhoenix on Twitter or the TEDxPhoenix Facebook page.
If you would like more information about TEDxPhoenix, please call Tomas Carrillo at 480.329.5526 or email Tomas at tomas@tedxphoenix.com.