Songbird Coffee & Tea House
Posted on 9/11/14 by David Krietor » No Comments
Who doesn't love a parade? And one was held in downtown Phoenix on August 27 for the newly-crowned – for the third consecutive year – Arena Bowl Champions, the Arizona Rattlers. Another parade may occur (fingers crossed) if the Phoenix Mercury reign supreme in the WNBA Finals against the Chicago Sky. And speaking of hot streaks…
Summer Hotness
On August 26, hundreds of downtown advocates and supporters attended RadiatePHX at the University of Arizona College of Medicine's Virginia G. Piper Auditorium. Sponsored by Downtown Phoenix, Inc. and Downtown Phoenix Journal, the RadiatePHX business and community mixer will be held on the third Tuesday of every month at an interesting downtown space with a diverse mix of programming and speakers. "This is exactly what we had envisioned to bring life back into the heart of the city," said Phoenix Mayor Greg Stanton. On tap for the September 16 RadiatePHX at ASU's Step Gallery in the Phoenix Warehouse District are Steven Tepper, new dean of the ASU Herberger Institute for Design and the Arts, and Councilwoman Kate Gallego.
On August 27, Downtown Phoenix, Inc. and Phoenix Parks and Recreation launched Wednesday Wind Up, a weekly lunch time event featuring food trucks, local retail business booths, and outdoor games and activities at Civic Space Park.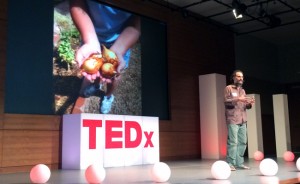 On August 28, TEDx Evans Churchill held its second event, "If You Can't Stand the Heat, Get Out of the Kitchen," at the downtown Phoenix Convention Center. Seven speakers spoke to a full-house on food related topics. Afterward, everyone sauntered over to FED after TED to "wine and dine" on food and beer pairings from local restaurants.
The Firehouse Gallery's "Comedy on Fire" open-mic show is one of the most prominent places for local comics to ply their trade. Held monthly since March of 2013, the show has become so popular that out-of-state comics are being booked to perform.
Coming Attractions
US Airways and merger partner American Airlines will not be renewing their naming rights deal for downtown's US Airways Center. First it was America West Arena, now US Airways Center. What's next? We will know by next fall. Despite the name change we expect great things from the Suns this season!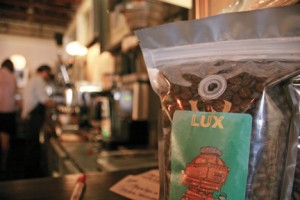 Lux, one of central Phoenix's most popular coffee and dining spots, will open a second location at First and Portland streets in the Evans Churchill neighborhood. Both an adaptive reuse of an existing structure and adjacent new construction, Jeff Fischer's Lux Commonwealth and County will sport the same look and feel which has made the original North Central Avenue location so inviting and successful.
Redevelopment plans for two iconic downtown Phoenix buildings made significant progress. The city of Phoenix picked P.B. Bell Cos. and Davis Enterprises to redevelop the 1915 Jefferson Hotel (aka Barrister Building) and adjacent vacant parcels at Central Avenue and Jefferson Street into boutique-style residential and commercial space. In addition, the Maricopa County Board of Supervisors agreed to work with developer CSM Lodging on tax incentives to repurpose the 1931 Professional Building at Central Avenue and Monroe Street into a boutique hotel.
For the last eight years Richard Adkins, our city's forestry supervisor, has labored to keep trees from falling victim to business and neighborhood development, street widenings, and storm damage — all without a single budget line item for replacement trees. Now, with the support of the new Downtown Phoenix, Inc. Tree & Shade Task Force, comprised of a dozen community leaders and city employees (including Richard), new trees will be added and existing trees will be better maintained in and around downtown Phoenix, all in time for Super Bowl XLIX.
The Grand Avenue Members' Association and Phoenix Annual Parade of the Arts are are teaming up to bring even more live music, art, and local businesses to downtown Phoenix at the 6th Annual Grand Avenue Festival.
Only in Downtown
Phoenix Union Bioscience High School in the Evans Churchill neighborhood was named one of the top 30 "Most Amazing High School Campuses in the World" by BestEducationDegrees.com.
At historic Trinity Cathedral in the heart of the Roosevelt Row Arts District, the Grammy Award-winning Phoenix Chorale holds open rehearsals for anyone who enjoys listening to great music.
The Duce, a kick-back restaurant, lounge, vintage shop, and boxing gym located in a 1928 brick warehouse at Central Avenue and Lincoln Street, was recently named as one of the 12 most "Unusual American Restaurants" in the U.S.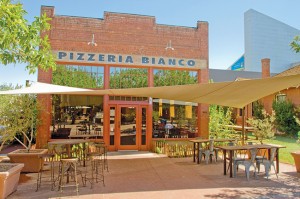 Foodie website "The Daily Meal" recently ranked Pizzeria Bianco at Heritage & Science Park as having the third-best pizza in the U.S. for the second time in a row.
Congratulations to the board and staff of the Arizona Science Center at Heritage & Science Park for receiving a $246,000 grant by the APS Foundation to continue ASC's Rural Expansion Project that brings valuable teacher, leader, and community professional development along with student programming to school districts in our rural communities.
Legal Briefs
As more and more bicycles take to the road (and sidewalks) in downtown Phoenix, the State Press reports that cyclists balance legality and safety under the watchful eyes of police officers on downtown's busy city streets.
On the first Monday of every month between 4 and 7 p.m., individuals with legal questions can stop by Songbird Coffee and Tea House on E. Roosevelt Street for "Cafe O'Law." There Phoenix attorney Lora B. Sanders of the Sanders Law Firm provides free legal advice to anyone who drops in to purchase a cafe au lait or other snazzy drink refreshment.
Early September Activities
Posted on 8/14/14 by David Krietor » 1 Comment
David Krietor has served as CEO of the newly-formed Downtown Phoenix, Inc. ("DPI") since April 8, 2013. In that time, he has begun work with community stakeholders to develop the downtown we want. "Your Downtown" shares his thoughts and DPI's progress with the downtown community and beyond. Read the other chats here.
I want you to mark your calendar for Tuesday, August 26, 5 to 7 p.m., at the Virginia G. Piper Auditorium, University of Arizona College of Medicine – Phoenix. It's the premiere of RadiatePHX, a monthly networking event for business, community, and city leaders. Hosted by Downtown Phoenix, Inc. and Downtown Phoenix Journal, RadiatePHX provides a monthly opportunity to connect with a broad spectrum of downtown advocates, receive key updates from guest speakers on what's happening in the city core, and learn how you can connect and contribute. RSVP here.
Get Involved
The Arizona Super Bowl Host Committee is seeking 5,000 volunteers to help out over a nearly two-week timeframe at various Super Bowl-related events, including Super Bowl Central in downtown Phoenix. If you have friends, family, or employees interested in helping to showcase our downtown (and I know you do), have them visit the Super Bowl Volunteer webpage.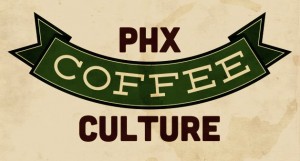 This Could Be PHX, a website that promotes downtown businesses, launched PHX Coffee Culture last month to emphasize the city's growing coffee movement, highlighting 13 coffee shops in central Phoenix. The project is a joint effort between Ryan Tempest and Quinn Whissen, co-founders of This Could Be PHX, and Jonathan Carroll, owner of Songbird Coffee & Tea House.
Turning Phoenix Green
According to the Arizona Republic, homes and businesses along light rail routes in Phoenix should save about $13 million a year on electricity bills from new energy-efficiency projects paid for by Energize Phoenix grants under the federal government's 2009 stimulus program. But an audit released earlier this year showed that energy savings from upgrades, which included better lighting, shade screens, cooling systems, and duct repairs, were lower than predicted.
Progress is being made on the renovation of the 1931 Professional Building at 15 E. Monroe St. in downtown Phoenix. The project, renamed the Monroe Hilton Garden Inn, is now in the city permitting stage.
Several recent studies highlight how Arizonans and Phoenicians are becoming less reliant on a car-centric transportation system:
Staying Awhile
Snell & Wilmer LLP has renewed its lease for approximately 10 years at Arizona Center. A long-standing anchor tenant at the downtown development, Snell & Wilmer is the largest commercial law firm in metro Phoenix.
Buffalo Wild Wings is seeking a new restaurant location in central Phoenix, possibly downtown Phoenix, according to the Phoenix Business Journal.
College students and Millennials are driving the local multi-family housing market as younger demographics are pushing new apartment developments in central Phoenix, Scottsdale, and Tempe. Despite this trend, the Phoenix-area housing market is officially in a slump, according to a new report from ASU's W.P. Carey School of Business.
According to the Wall Street Journal, as Millennials and other urban dwellers have children, their needs are changing. And cities, like Phoenix, want to hold on to them by becoming more "playable," for both children and adults.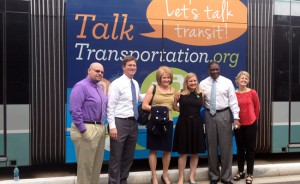 Parking Zones
Parking meter changes in downtown Phoenix take effect next week. Hours that drivers have to pay to park are extended to seven days a week from 8 a.m. to 10 p.m., including holidays. How much drivers pay will vary depending on what area or "zone" they are located.
AZ + Africa
The Washington Fellowship for Young African Leaders, a six-week professional civic leadership training institute for 25 young African leaders, was recently concluded by the ASU College of Public Programs. Listen to Jonathan Koppell, dean of the College, and Al Kags, one of the ASU Fellows, recap the time spent in downtown Phoenix in this KJZZ Radio interview.
Well-Earned Grants
A $1 million grant from the Donald W. Reynolds Foundation will enable ASU journalism students to produce daily coverage of business and economic issues for regional and national media outlets. The Reynolds Business Reporting Bureau will be located in a state-of-the-art newsroom at the Cronkite School on ASU's Downtown Phoenix campus.
The Phoenix Office of Arts and Culture Public Art Program, in partnership with Friendly House and the ASU School of Film, Dance, and Theatre in the Herberger Institute for Design and the Arts, will receive a $100,000 National Endowment for the Arts (NEA) Our Town grant. The funds will be used to create "Story Days," a two-year series of story-based arts programs and events that explore the connections Phoenix residents have to their communities.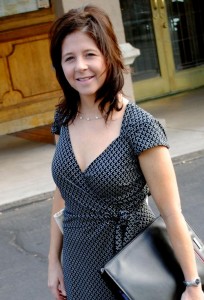 Individual Recognition
Congratulations to three young downtown advocates who received significant recognition this past month. Kimber Lanning (right), director of Local First Arizona, a small business owner, and member of the Downtown Phoenix, Inc. board of directors, has been named the recipient of the International Economic Development Council's 2014 Citizen Leadership Award.
In addition, artists Jesse Perry and Monica Robles, who ply their trade in downtown Phoenix, were named to the 2014 edition of the Phoenix New Times' "100 Creatives."
Posted on 5/17/12 by DPJ Staff » 1 Comment
As you drive by the monOrchid building on Roosevelt St. you may notice one more bird painted on the exterior wall. That's the logo of the Songbird Coffee & Tea House, which is just a few short weeks away from opening its doors on a planned opening date of Monday, June 18.
While owners Jonathan and Erin Westgate Carroll work on the usual build-out and permitting process, and the fun headaches that come with that, let's look ahead and get a glimpse of their vision for this re-activated space.
Community Focus
Songbird will be located at 214 East Roosevelt St. and the Carrolls are "committed to making Roosevelt Row and the surrounding areas the most talked about coffee community in the state of Arizona." [Worth noting: if you want to stroll to Songbird without stepping outside, contact monOrchid for office or studio space.]
Competition or Synergy?
With Fair Trade Cafe, GIANT Coffee, Royal Coffee Bar and JoBot Coffee Shop nearby, Songbird will be the fifth coffee business within a half-mile radius. The owners view their coffee spot as one more business contributing to the Roosevelt Row community.
Menu Offerings
With a planned selection of coffee, tea, pastries and burritos, Songbird seems set on satisfying a variety of appetites and palates.
The Atmosphere
"Casual and contemporary with an accent of industrial and modern décor throughout." Plenty of electrical outlets are promised as is free Wi-Fi.
Programming
They are planning to take advantage of the open gallery space in monOrchid, offering free movie nights, acoustic music shows of all genres, art displays and poetry readings on random nights. Games and books will be on display/located on the bookshelf for customers.
Timeline and Schedule
Says Carroll, "We're hoping to have our grand opening Monday, June 18. Thus far, we're on schedule, but the 18th is tentative depending on [the permits, etc.]." Hours will be 7 a.m. 7 p.m. to start. Carroll says they will chart the first few weeks to a month and then fluctuate hours based on the results. As with any local business, if we want them to keep those hours, we will have to do your part and go.
Photos by Esther Martinez courtesy of Songbird.
If you go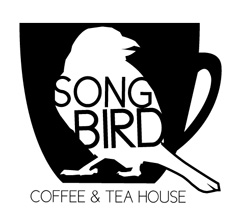 What: Songbird Coffee & Tea House
Where: monOrchid, 214 E. Roosevelt, in the Evans Churchill Neighborhood
When: Scheduled to open Monday, June 18
Hours: 7 a.m. to 7 p.m. to start
More Information: Visit Facebook