SAMA
Posted on 7/24/12 by DPJ Staff » No Comments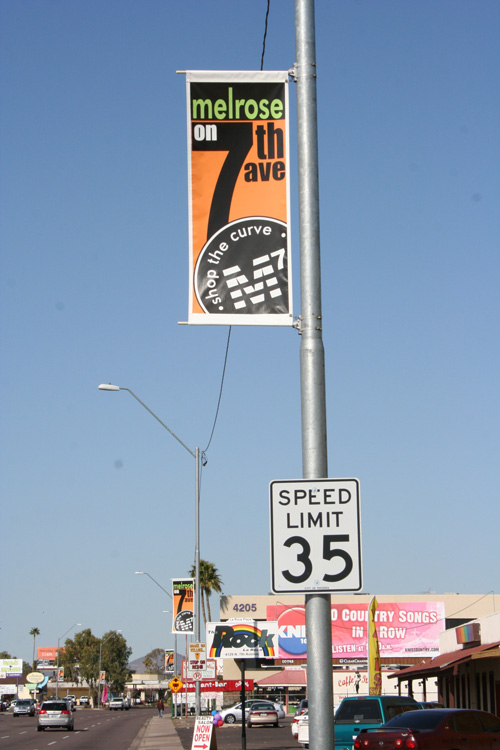 The Seventh Avenue Merchants Association (SAMA) is seeking design submissions for new street banners. Currently there are 42 light pole banners that line the Melrose District (7th Ave from Camelback to Indian School Road). SAMA is seeking to have those banners updated and replaced with three different designs reflecting the themes: shopping, dining and services.
Details of submission:
Banners are 26 inches wide by 64 inches tall. Designs must be in full color and contain the SAMA branding in a visible and prominent way. Designer must submit graphics for all three themes (shopping, dining and services). Designs will leave a 26 inch wide by 15 inch tall blank space at the bottom of each banner for banner sponsor information. This blank space can coordinate in color and feel with the overall design. All submissions must be in either .pdf or .ai format and must be print ready. Design must submitted by Wednesday August 22, 2012. The winning design will be announced Friday August 31, 2012.
Please email all submissions to m7news@cox.net with "2012 banner designs" in the subject line.
For more information please contact Meghan Olesen at 480.703.2620 or email lucky15creative@cox.net.
Posted on 7/23/12 by DPJ Staff » No Comments
Some news items don't need translation. That's why DPJ launched the From the Wire series, so we could serve the destinations here by posting information and announcements – in their own words.
Community Alliance of Seventh Avenue is Formed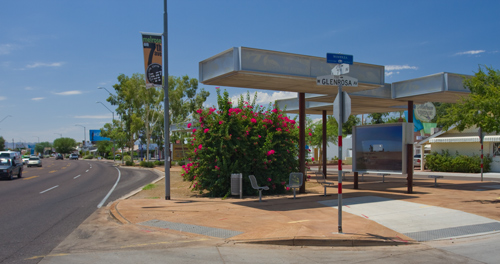 In the effort to continue the revitalization and beautification of the Melrose District and its surrounding neighborhoods, the Seventh Avenue Merchants Association (SAMA) is eager to announce the formation of the Community Alliance of Seventh Avenue (CASA).
"We are excited to perpetuate the positive work that has already been done in the Melrose District," says CASA President, Meghan Olesen.  "By working together we can continue to build a unique and vibrant area."
CASA was formed to create a strong alliance between the residents of Pierson Place, Woodlea/Melrose, Grandview and Carnation Neighborhood Associations; as well as the Seventh Avenue Merchants Association with the goal of facilitating pedestrian friendly beautification projects that are mutually beneficial to the diverse population that reside, work and play in the Melrose District.
"Woodlea Melrose residents are excited to continue our partnership with SAMA in a way that focuses on the community as a whole," added Pam Pawlowski, Woodlea Melrose Neighborhood Association Vice Chair.  "We can't wait to get project ideas from our neighbors.  Their involvement is important to the overall success!"
"Pierson Place is delighted to be part of new improvements on 7th Ave!  The projects to date are a testament to what great things neighbors can accomplish when working together, and we look forward to continuing that trend.  We know that improving our border is equally important to adjacent neighborhoods and business districts alike.  No doubt our residents will enjoy this opportunity!"  Charles Jones, President, Pierson Place Historic District.
The Community Alliance of Seventh Avenue Board is interested to hear all project ideas, big and small.  Residents and community members are encouraged to contact the board with project ideas they can consider for implementation.
For more information please contact Meghan Olesen at 480.703.2620 or email lucky15creative@cox.net.
Photo credit: Jack London
Posted on 5/28/10 by Yuri Artibise » No Comments
The Seventh Avenue Merchants Association needs your help to make a community garden possible in the Melrose District. The association has applied for a $250,000 grant from Pepsi Refresh. The grant money, with additional help from Clear Channel Communications, will create a community garden on what is described as a weed-infested lot at the corner of 7th and Montecito avenues — the heart of the "m7 Curve." The design for the garden has already been achieved by combining community input and student talent from the ASU School of Architecture and Landscape Architecture.
So far, the garden is doing well in voting, but not well enough. Out of 1,341 ideas on the Pepsi site, the garden has been hovering around the rank of 140. It has to be either #1 or #2 to win the $250,000. The competition is tight, and only a few votes separate the garden from the top two places.
The key to success lies with you and others who can vote on the Pepsi grant website. You can take action now and use the following link to vote for the Melrose Community Garden. Remember, you can vote once per day between now and May 31. In addition, pass the word on to your friends and family, wherever they may live. If they have a computer with Internet access, they can vote!
or use this link: http://www.refresheverything.com/M7project