museum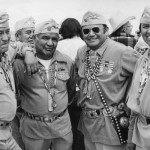 Posted on October 26th, 2012 by Katrina Becker
Two exhibits at the Heard Museum honor American Indian soldiers and their native language.
Posted on June 25th, 2009 by Christina O'Haver
On Monday, June 29, the Heard Museum will be holding another Movie Mondays event.
They will be showing a 28-minute film called If Weather Permits at 1:30pm. Elisapie Isaac, a young, city-based Inuit filmmaker returns to her roots, the village of Kangirsujuaq in Nunavik. Here, she ponders the relationship between the Inuit past and the future in today's world. In interviews with her extraordinary grandfather and with young people of the community, she finds more questions than answers. To bridge the growing gap between the young and the old, she lets Naalak, an elder, and Danny, a young policeman from Kangirsujuaq, tell us what they think. Isaac also speaks to her grandfather, now dead, and confides in him her hopes and fears.
Posted on June 18th, 2009 by Christina O'Haver
It's almost Monday and that means another Movie Mondays event at the Heard Museum.
On Monday, June 22 at 1:30pm, the museum will be showing Oil on Ice, a 90-minute vivid, compelling and comprehensive documentary connecting the fate of the Arctic National Wildlife Refuge to decisions America makes about energy policy, transportation choices, and other seemingly unrelated matters. Caught in the balance are the culture and livelihood of the Gwich'in people and the migratory wildlife in this fragile ecosystem.
Posted on June 14th, 2009 by Christina O'Haver
On Friday, June 19, come out for an evening of entertainment, lectures, dining and drinks and the Heard Museum's 10 exhibit galleries during NU (Native + You).
Posted on June 8th, 2009 by Christina O'Haver
Visit the Heard Museum on Sunday, June 14 for free admission.
As a thank you to the community for its support, the Heard Museum offers free admission on the second Sunday of most months. Explore the 10 featured exhibition galleries, grab lunch at the Café at the Heard and browse the Heard Museum Shop.
Posted on May 28th, 2009 by Christina O'Haver
Movie Mondays are back to the Heard Museum this summer by popular demand.
The first movie, Totem: The Return of the G'psgolox Pole, will show on June 1 at 1:30pm. In 1929, a 9-meter-high totem pole was stolen from the Haisla people's village in northwestern British Columbia. The totem pole was discovered in 1991 in Stockholm, Sweden. The 70-minute film, released in 2003, follows the journey of the Haisla to reclaim their traditional mortuary pole.