local business
Posted on 2/06/15 by DPJ Staff » 1 Comment
Now that the crowds have gone home and we've recovered from all the excitement, we realize that the events surrounding Super Bowl XLIX were eye-opening in a lot of different ways for Phoenix. While the masses of tourists explored our city, we as local residents discovered a few things about ourselves.
1.  We really like to host events. And we're good at it.
Maybe we knew this already, considering that Phoenix regularly plays host to major sporting events, music and art festivals, car shows, and much more. But the Super Bowl kicked it up a few notches and proved that we know how to come together and show people a good time.
2. Downtown is FUN.
Downtown Phoenix was busting at the seams with smiling faces and palpable excitement. Of course, having things like The Roots, giant jars of salsa to fall into, and a mini-Puppy Bowl will have that effect on people, but the fun quotient didn't stop there. There were concerts and festivals and special offers from local restaurants and bars. The best of downtown was on display.
3. Phoenicians are friendly.
We're proud to share our downtown with visitors from around the country and across the Valley. Our ambassadors and way-finding makes downtown feel safe, inviting, and easy to navigate.
4. This is what city living feels like.
The sea of sports jerseys aside, the crowds walking along – and in – our city streets created an energy often felt in larger, more concentrated cities. We liked it. A lot.
5. Open container laws work well in the downtown core.
There's just something about walking around with a beer in your hand that makes you feel like you're in a city that knows how to have a good time.
6. We are good at the big. Now let's be good at the small.
This community likes coming together on big projects, but we can do better with the smaller elements that affect the ongoing quality of our urban life. From storefronts to landscaping and design, we're off to a great start, but we can do better.
7. We still have work to do to connect visitors to authentic Phoenix culture.
There is much to be proud of in downtown Phoenix: beautiful scenery, local restaurants, businesses and artists, historic neighborhoods, convenient public transit, and a dedicated community of people who love this city. The Super Bowl provided a prime opportunity to show it all off; now we just have to keep that momentum going.
8. Sports tourism is an economic development tool for Phoenix.
From Colangelo to Sarver to Bidwill, sports owners have a history of helping develop our city. Not all actions have necessarily been positive over the years, but there's no denying the effect.
9. Cultural tourism could be a much bigger economic development tool than it is.
Beyond giant sporting events, Phoenix's southwestern culture should be a draw for visitors with time and money to spend. From echoes of the earliest Hohokam settlements, to internationally renowned museums, and historic architectural treasures, to cutting edge contemporary public art, pop culture wild west experiences, top-rated educational institutions, and unique natural wonders, our desert city has a lot to see and experience.
10. We're excited to call ourselves locals
Ultimately, it's the people who make Phoenix what it is. From our community leaders, to business owners, to residents, we all contribute to Phoenix's culture and we are incredibly proud to be a part of it.
Courtney McCune, Jill Bernstein, April Atwood and Catrina Kahler contributed to this story.
Posted on 10/26/11 by Alexandra Flamini » No Comments
As part of the Grand Ave Fest this past weekend in Downtown Phoenix, the Grand Avenue Merchants Association hosted ReDapt tours of the repurposed buildings along the iconic highway.
Grand Avenue was built in 1888. It predated the railroad and was the primary route from Phoenix to Wickenburg to Los Angeles. The only diagonal road on the grid of Phoenix, its history is relative to the automobile industry. Most of the history of the buildings on the tour also relates to cars and travel.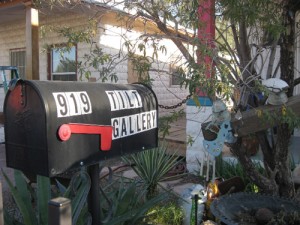 On the way to the first stop, the tour passed the Tilt gallery. This gallery and workshop space consists of two live/work houses within the Arts Overlay area.
The two readapted homes were built in 1907 and are "Sears Houses." These homes could be mail ordered. They came with molds to pour the concrete blocks that the homes are then built with. All of the bricks are exactly the same, which makes these homes easily identifiable.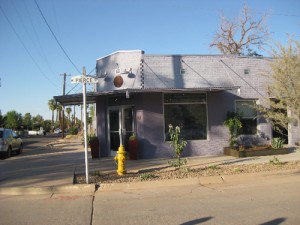 Stop #1 – 748 W Pierce St
The first stop was 9th & Pierce, a purple painted building on the corner. Once a corner market in the 20s, it became a livery garage in 1925. The space was commercial on one side and a home on the other.
Venue Projects – Kitchell Perez, a developer focused on adaptive projects, and the Office of Desert Architecture, an architecture firm, now share the building. The building is split by the original kitchen and bathroom.
Stop #2 – Roberto-Venn School of Luthiery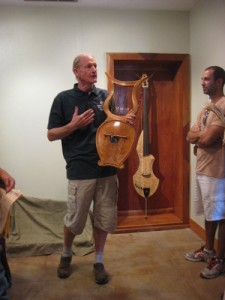 Second on the tour was Roberto-Venn School of Luthiery. The school has graduated over 1200 students of guitar making since it opened in 1969 as Juan Roberto Guitar Works. The Roberto-Venn School has newly moved to the readapted warehouse space. Originally, the warehouse served as an automobile tire business. When renovating, the school's instructors did most of the work themselves to keep costs low.
William Eaton, the Director of Roberto-Venn School of Luthiery, is also the Vice President of Sustainable Arizona, an organization geared to creating a healthy living environment in Arizona. With his sustainable knowledge, the school has taken a lot of steps to make the building as Earth-friendly as possible. They've left the original garage doors intact to decrease the need for air conditioning and utilize a lot of natural light. The school will eventually re-insulate the roof and possibly add solar panels.
Stop #3 – The Chocolate Factory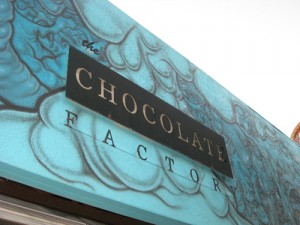 Last, the tour visited The Chocolate Factory, a gallery space featuring the work of owner, Hector Ruiz. When his art isn't on display, he features installations done by local and out-of-state artists.
The building is most identifiable by its teal and black spray paint job. Appropriately, the building looks as though it is melting. Ruiz tries to rotate through the exterior art by offering the job to local graffiti artists.
In addition, the garage door features a piece by El Mac, an artist famous for his southwestern influenced, spray painted portraits. Ruiz shared that he won't paint over it. It has only been vandalized once. It was originally an auto-body shop, but that part of its history remains fairly hidden.
The Grand Avenue area is the perfect place for re-adaptation of buildings to occur. With so many empty buildings with so much character, it's hard for some people to stay away.
Posted on 6/14/10 by Yuri Artibise » No Comments
Any responsible Downtowner knows that buying locally — whether it's groceries, a night on the town or a new outfit — is important to the vitality of our urban core. Now we have the facts to prove it.
A recent study commissioned by Local First Arizona found that SCF Arizona, the state's largest workers' compensation insurer, had a $528.3-million economic impact in Arizona in 2009. Applied Economics, who conducted the study, determined that last year SCF sourced 82% of its goods and services from other Arizona companies.
According to Kimber Lanning, Executive Director of Local First, the purpose of the study was to show the impact that one major employer can have on Arizona's economy. In the past, other general measurements have suggested that when consumers buy locally the majority of those dollars spent are recirculated back into the local economy. This is the first fully scientific study in Arizona measuring the economic impact of just one employer.
SCF Arizona is a sleeping giant when it comes to its local economic impact in the state. We hope this study encourages business leaders to think even more broadly about the impact of spending their money with local companies. The ripple effect adds up to much more than most of us realize, and this study quantifies that impact. The numbers are staggering.

— Local First Arizona Executive Director Kimber Lanning
Rick DeGraw, Chief of Staff of SCF Arizona, said the 531-employee company has looked for more ways to buy locally over the past few years. SCF Arizona spent $38.5 million with other Arizona companies in 2009. In turn, this created an estimated $68.2-million impact, including the dollars recirculating within the state.
In addition, SCF Arizona pays its employees $36.4 million, or an average of $59,100 per employee plus benefits. This is well above the all-industry average wage across the state. Factoring in employees at all the secondary businesses SCF Arizona purchased from, total employee impact from SCF Arizona was another 3,000 jobs and $167.9 million in annual payroll. These jobs and payroll stem from direct and indirect impacts of supplier demand created by SCF and consumer demand created by its employees.
SCF Arizona also plays an important role as a responsible corporate citizen in Arizona, donating a staggering $570,000 to nonprofit entities across the state in 2009, despite the massive economic downturn.
We feel strongly about being an Arizona company. Our policyholders are all Arizona companies, and when we support them, we are really supporting ourselves. That's true of any business when a consumer spends his or her dollars locally. So, whenever we can, we spend locally.

— SCF Arizona President and CEO Don Smith
Just this month, SCF Arizona stopped buying office supplies from Minneapolis-based Corporate Express and switched to Tempe-based Wist Office Products Co., a workers' compensation policyholder. "We compared 1,000 products, and were able to move over to Wist without paying more for anything," DeGraw said.
Created in 1925 as a part of the Industrial Commission of Arizona, SCF Arizona employs 555 people, covers more than 35,000 businesses and has about a 40% market share in the state. In May 2010, Gov. Jan Brewer signed Senate Bill 1045, directing SCF to become a mutual insurance company. Under the law, the organization will have three years to transition, becoming fully privatized in January 2013. When the transition is complete, SCF Arizona will be the largest insurance company in Arizona — and will continue to have a major impact on the local economy.
It is hoped that this study reignites interest in local purchasing by both private and public sector organizations in Arizona. Lanning has tried to convince the state of Arizona to switch its $5-million office supply contract with OfficeMax to Wist. In 2007, Local First Arizona organized a study that showed the state's $5-million office supply contract was losing $500,000 in "leakage" by staying with OfficeMax and not switching to a local supplier. State legislation addressing that issue was unsuccessful in 2008.
The state of Arizona is one of only three remaining states that does not favor local businesses in the purchasing process. Arizona's purchasing decisions are based on the lowest price rather than actual net gains for the state. We can prove if we spend a bit more money supporting a company that provides Arizona jobs, the impacts are positive.

— Kimber Lanning
For the complete study produced by Applied Economics, contact Kimber Lanning, Executive Director of Local First Arizona, or find it on the LFA website and on their Facebook page.