Gallo Blanco Café and Bar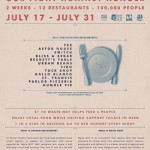 Posted on June 19th, 2012 by DPJ Staff
Devour Phoenix and Waste Not team up to create an opportunity for locals to eat at their favorite restaurants and support a good cause.
Posted on September 21st, 2010 by Si Robins
The second annual event runs from September 29 to October 3.
Posted on November 9th, 2009 by Emily Jackson
The USGBC Greenbuild International Conference and Expo is in town November 11-13. DPJ offers helpful leisurely suggestions to enjoy your time in Downtown Phoenix.