Gallo Blanco Café and Bar
Posted on 6/19/12 by DPJ Staff » No Comments
Some news items don't need translation. That's why DPJ launched the From the Wire series, so we could serve the destinations here by posting information and announcements – in their own words.
Devour Phoenix and Waste Not Team Up for Hunger Awareness Drive July 17 -31
Devour Members set goal of using local food producers to raise enough money to feed 100,000 people
This July, the Devour Phoenix Restaurant Coalition, an initiative of Local First Arizona and the hosts of the Devoured Culinary Classic, is collaborating with Waste Not to tackle hunger in Phoenix through their Devour for Waste Not campaign.
Waste Not, a local food rescue organization that collects up to 6,000 pounds of local food daily and re-distributes it to agencies and organizations that feed the hungry, is able to gather and re-distribute a surplus of edible food that would otherwise be thrown away.  The collaborative effort has set a goal of feeding 100,000 people as a result of the Devour for Waste Not campaign and, with your help, will reach that goal. For every dollar raised by Devour restaurants, Waste Not can feed six people.
The details are simple and fun: help them reach their goal by dining out at one (or all 12!) of the participating restaurant locations from July 17 to July 31 and ask for the Waste Not featured dish. Each restaurant will be using local food purveyors like The Meat Shop, Queen Creek Olive Mill and Seacat Gardens and proceeds from the featured dish will go directly to Waste Not in their efforts in combating hunger.
IF YOU GO
What: Devour for Waste Not
When: Tuesday, July 17 to Tuesday, July 31
Where: Astor House, Beckett's Table, Bliss/ReBar, Cibo, FEZ, Gallo Blanco, Humble Pie, St. Francis, Switch, The Parlor, Tuck Shop, Urban Beans
Posted on 9/21/10 by Si Robins » No Comments
If you have the rare opportunity to track down ever-busy Phoenix Design Week co-founders Mark Dudlik and Dave Bjorn, the duo that is Dojo Collective, and ask them why they're working nearly around the clock to make the second annual event a success, it becomes apparent that these guys ooze the creative scene of Phoenix.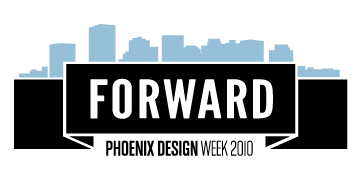 Frustrated with the lack of design respect our desert locale gets on a national scale — Dudlik names off a half-dozen highly praised metros like New York, Minneapolis and Austin before quickly stating Phoenix could be part of this top tier — you'd think these two (both of whom have day jobs, by the way) had no choice but to create the event, which runs from September 29 to October 3.
Trying to whittle Phoenix Design Week into a succinct description is taxing, if not simply because of its scope, then because of its expanding reputation. The theme this year is "FORWARD," hinting at progress, dignity and innovation. Simply put, Phoenix Design Week aims to celebrate the local design community and the city of Phoenix — it is a full-blown national conference, after all. More than 30 local and national speakers are scheduled throughout the weekend, plus a very notable two-day Adobe training program (traditionally a value of $800) is offered. This year's conference, held at the Phoenix Convention Center, proudly features seven national speakers, as well as a whole host of locals spreading their creative knowledge.
But what if you're not a designer? Some of us can't draw a straight line to save our lives, but we can still appreciate some killer exhibits — 10 in all, spread across three Valley locations. It's inspiring to all.
Conference
The conference runs from 9 a.m. to 6 p.m. on Saturday and Sunday at the Phoenix Convention Center. A party open to everyone who registers for the conference will be held at Gallo Blanco Café and Bar on Saturday at 7 p.m.
National Speakers
Hillman Curtis, Saturday, 10:45 a.m.
Mike Joosse, Saturday, 1:30 p.m.
Brian Singer, Saturday, 3 p.m.
James Victor and Paul Sahre, Saturday, 4:30 p.m.
Andres Krogh, Sunday, 3 p.m.
Von Glitschka, Sunday, 4:30 p.m.
Exhibits
Held Wednesday 10 a.m. to 5 p.m. and Thursday and Friday 11 a.m. to 6 p.m. at CO+HOOTS, Air Marketing and Sitewire. Exhibit receptions are at 7 p.m. on Wednesday at Sitewire, 7 p.m. on Thursday at Air and 6 p.m. on First Friday at CO+HOOTS.
If You Go: Phoenix Design Week
Conference dates are Saturday, October 2 and Sunday, October 3
Registration is $125 online for the full conference
Follow on Twitter with hashtag #phxdw
Phoenix Convention Center is located at 100 N. 3rd St. in Downtown Phoenix (light rail at 3rd Street & Washington/Jefferson stations).
Posted on 11/09/09 by Emily Jackson » No Comments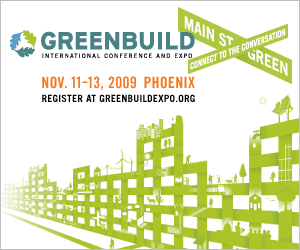 It's a beautiful time of year, and the Phoenix Convention Center will delight out-of-state visitors. DPJ extends its own form of hospitality by providing a little Conventional Wisdom, some insight into what can be found/viewed/sipped/snacked on while visiting Downtown Phoenix.
In town
November 10-14 Greenbuild International Conference and Expo
Let DPJ be the first to welcome you to the neighborhood! Looking over your itinerary, we can't help but notice you're going to have some free time to explore the heart of our fair city.
Weather report
Average high: 82°
Average low: 58º
Breaks/lunch
Arcadia Farms is a short walk or quick ride on the METRO light rail. Housed in two of Phoenix's foremost cultural establishments, the Phoenix Art Museum and Arizona Science Center, respectively, these cafés have been striving to inspire the people of Central Phoenix to enjoy cuisine from local, organically grown, pesticide-free and hormone-free ingredients. Your patronage will help cultivate our sustainability by supporting local farmers and the restaurants that promote them.
Dinner
Phoenix dinner options span across many regions and continents, and locally grown dinner options are on the rise in Downtown Phoenix, with even more options if you hop on the METRO light rail.
NINE|05, located at 4th and Garfield streets, offers what it refers to as "earth conscious" and ingredient-driven food of the modern Asian persuasion, a winning combination in our eyes. The outdoor seating option is ideal for the current patio-perfect weather; enjoy some crepes and kimchi in this casual atmosphere.
For those staying further uptown, the Mexico City-style Gallo Blanco Café & Bar will not disappoint. Nestled inside of Phoenix's favorite boutique hotel, The Clarendon, this café is proud of it is locally sourced ingredients, and uses its website to promote the causes it cares about. With reasonable prices and portions, the Phoenix regulars here are more like addicts. Come for the tacos and stay for the rooftop sunset.
Local culture
There will be two chances during your conference for all to participate in the Downtown Phoenix Public Market, a 501(c)(3) nonprofit organization. The market is located adjacent to the new Urban Grocery and Wine Bar on the southeast corner of Central Avenue and McKinley Street. Shop for fresh produce and community arts and crafts and listen to music. Don't forget to stop into Royal at the Market for its signature Velvet Latte with white chocolate and a double shot of espresso. Spend some Downtown time meeting the locals who take sustainability to heart and come out to exchange ideas and goods twice per week, whether rain, shine or blistering heat. Visit on Wednesday 4 to 8 p.m. and Saturday 8 a.m. to 1 p.m.
Nightlife
After a long week of saving the planet, Roosevelt Row would like locals and convention-goers alike to come together and celebrate with the Green Streets Festival. A grand finale to the convention, the festival is a free community event that will feature eco-friendly products, local arts, crafts, food, bands and more. Also taking place will be the Downtown Phoenix Pub Crawl and beer garden, featuring seasonal brews. The festivities commence Friday evening and continue well into Saturday with a neighborhood tree planting, Second Saturday Sidewalk Sale, an art-exclusive vendor block party and live music for all to enjoy.
Getting around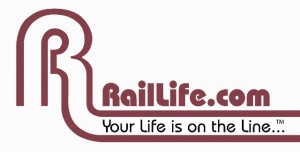 RailLife.com's quick METRO light rail tip: Light rail has increased hours on Friday and Saturday nights (technically Saturday and Sunday mornings), running until 2 a.m.
Check out RailLife.com for more light rail information.