Dojo Collective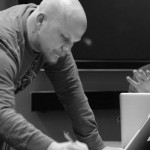 Posted on September 14th, 2011 by Christina O'Haver
Dave "Bully" Bjorn is at his best behind the scenes. Read on to see what he has in store for Downtown Phoenix and who he's helping succeed.
Posted on December 3rd, 2009 by Si Robins
For something different this First Friday, check out the preview event of Fractal, a collaborative space inside the Bragg's Pie building.