Combine Studios
Posted on 9/19/14 by DPJ Staff » No Comments
DPJ's Wire series delivers news and information straight from the source without translation.
ASU Art Museum receives $144k Museums for America grant from IMLS
The ASU Art Museum is the recipient of a $144,000 Museums for America grant from the Institute of Museum and Library Services (IMLS), in support of the museum's International Artist Residency Program at Combine Studios.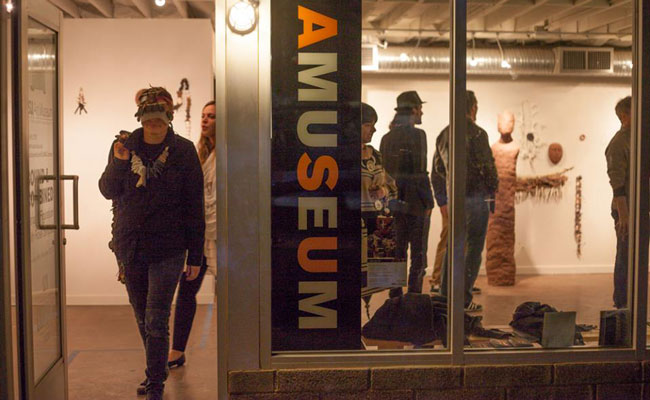 With this grant funding, the ASU Art Museum will commission three international artists to develop collaborative art projects with community-based partners to allow for direct engagement with diverse communities and encourage active participation in the creative process. As part of the museum's International Artist Residency Program at Combine Studios, artists will be integrated into the community to work alongside social service agencies, community organizations, university departments, residents, artists and students to generate artistic ideas. Each artist in residence will connect to the community through exhibitions, publications, performances, events, lectures, discussions, new community engagement and collaborations. The flow and exchange of artistic ideas will create new audiences, engaged partners and supporters of the museum as a catalyst for change in the community.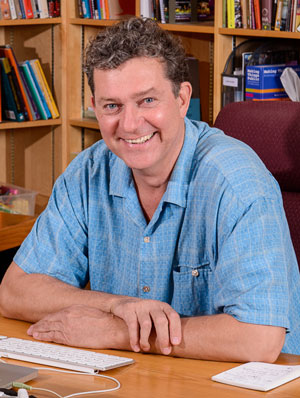 "The ASU Art Museum, in all of its work, but particularly through its national and internationally supported residency program, exemplifies much of what the Herberger Institute for Design and the Arts and the New American University are," says Gordon Knox, the ASU Art Museum's director (pictured right). "Our visiting artists engage in cross-departmental collaborations and socially embedded projects that have tangible impact on the region, empowering communities and advancing critical reappraisals of some of this generation's most pressing challenges. Bringing some of the art world's most innovative thinkers to the Valley and giving them the time and support to engage with the local community in the production of new artist-led investigations demonstrate how ASU is putting new ideas into action while advancing research and educating the next generation. The ASU Art Museum's work, and support such as this grant, exemplifies and makes concrete core aspirations of ASU and the Herberger Institute."
Established in 2011, the ASU Art Museum International Artist Residency Program brings accomplished professional artists from around the world to develop new work in partnership with the intellectual resources of Arizona State University and the diverse communities within Arizona. Through the program, artists develop work that investigates the pressing issues of our time in collaboration with scientists, technologists, social agencies and community organizations.
Images courtesy of ASU Art Museum
Posted on 6/06/14 by DPJ Staff » No Comments
DPJ's Wire series delivers news and information straight from the source without translation.
Current Work By Bassim Al-Shaker Opens June 6th
The 720 Gallery is pleased to announce its latest show featuring artist Bassim Al-Shaker from Baghdad, Iraq. Bassim was born in Baghdad in 1986 and has garnered top awards in painting in the Middle East. His work has been exhibited internationally and is in public, private and museum collections.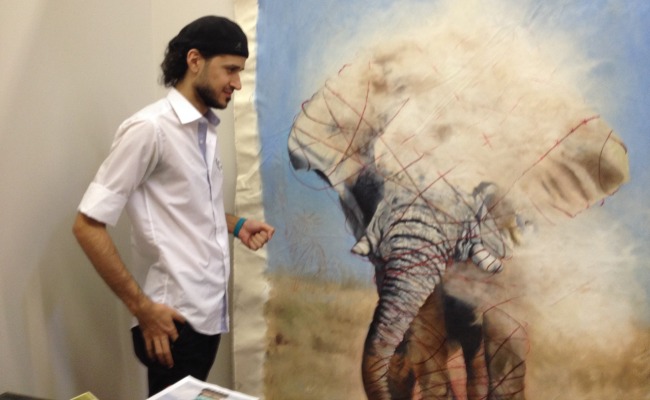 Bassim Al-Shaker was among the youngest instructors at the University of Baghdad where he taught painting. His work was featured in 2013 in the Iraqi Pavilion during the 55th International Venice Biennale. He was an invited Artist–in-Residence with the ASU Art Museum in 2013 and 2014 and became a legal permanent resident of the United States in 2014.
"Bassim is an extraordinarily talented artist, " said Gordon Knox, ASU Art Museum director. "His artwork was on view in the Venice Biennale, one of the most prestigious international exhibitions in the world. And now, through the ASU residency program, we are able to offer ASU students and the community an opportunity to interact with and learn from this dynamic young painter."
Al-Shaker paints in both a hyperrealist manner and a more expressive, gestural style. Says gallery owner Nancy Hill, "I've become a fan of Bassim's work and it's exciting to be able to share his art and vision here in downtown Phoenix."
He has been featured in the New York Times and his artwork has appeared in leading art journals including ArtForum, Art in America and the Guardian. Bassim Al-Shaker has been commissioned to paint portraits of royalty, elected officials and other prominent individuals.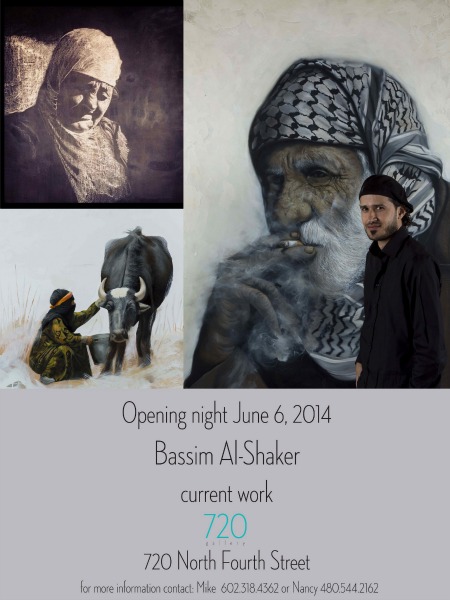 The opening reception for Current Work by Bassim Al-Shaker will be held on First Friday, June 6th from 6PM to 9PM. There will also be a 3rd Friday reception on June 20th from 6PM to 9PM. After the June First Friday event, the show can be seen by appointment through August 31st.
720 Gallery is located at 720 N. 4th Street, Phoenix, AZ. For more information, visit http://cargocollective.com/bassimalshaker/About-Bassim-Al-Shaker or call 602-318-4362 for an appointment.
The ASU Art Museum International Artist Residency at Combine Studios is located in downtown Phoenix, at 821 N. Third St. For additional information please call the ASU Art Museum at 480.965.2787
Posted on 1/15/13 by Jen Urso » No Comments
I have buried my sketchbook under books on polar exploration, a plant-based diet and the concept of space in the age of the internet. When I enter my studio space, I take a moment to stare frighteningly at the scattered, messy desktop buried under unopened mail and a few dirty coffee cups. I am haunted by Facebook posts of artist friend accomplishments and the reflection it has on my inactivity.
This is the frozen desert of being at an artistic standstill.
Like pressing on through a frigid, barren landscape with no clear end to the steady, repetitive horizon: the days of inactivity and unmeasurable creativity continue. For many artists, this is when we start to look at whether it might have been better to study as a Latent Print Examiner or follow a more practical career as an accountant. Maybe some have even fantasized about the seemingly simple life as a heavy machine operator or bus driver. Imagine the satisfaction of completing an honest day of work and settling in to relax in the evening.
This possibility is as remote as a constantly shifting magnetic pole and as unappealing as an unseasoned bowl of polenta. Any artist who has attempted this shift in career due to a temporary lack of inspiration soon finds out that they are floating in a virtual world of non-ideas. It is not the world they are cut out for.
Unfortunately, the artist is beset with the drive to produce and put something in to the world. Although one might be able to sit back and be distracted, distraught and disengaged, the pull to act keeps nagging like hunger. I can't ignore forever that there are thoughts in my head and I am compelled, like an explorer was to the open sea, to find out more about it.
It is time to get out. When in the darkest moments of intellectual despair, sometimes it's better to turn outward. Luckily, Phoenix has answered with a repertoire of activities to foster ideas, import information and maybe most importantly: generate human contact. Tuesday night Lawn Gnome hosts Books and Beakers, a weekly "bringing science to the people" event on the subject of Time Dilation Theory and more remotely local interdisciplinary artist Chris Danowski opens his show Dogface at the ASU West, Artspace West Gallery. Friday I can visit the multi-media installation by Ann Morton at Modified, Jackalope Ranch's Manifesto exhibit at Drive-Thru Gallery and the Valley of the Sunflowers Paper Project at Combine Studios.
With so many options to turn outward, I have no reason to fall further into the crevasse of my own artistic inactivity. Instead, I can revel in the collective ability for others in the community to lift me up through their own action and energy and realize that I will get mine back in time. The desert, even in its cold state, need not be bleak.
Suggested reading: The Race to the White Continent: Voyages to the Antarctic by Alan Gurney; Below the Convergence: Voyages Toward Antarctica, 1699-1839, Alan Gurney; City of Bits: Space, Place, and the Infobahn, William J. Mitchell; Thrive Foods: 200 Plant-Based Recipes for Peak Health, Brendan Brazier