Charles Bruffy
Posted on 8/27/14 by Colin Columna » No Comments
Downtown is more than a grid system of streets and square miles. It is defined by something more. In this short series, new DPJ contributor, Colin Columna hones in on the five senses as his guide to explore what makes downtown Phoenix unique.
With our ears attuned to the nuanced sounds of downtown Phoenix, from the distinctive "ding ding" of an approaching light rail train, to the sounds of laughter from people on their bikes and a radio playing from the open window of a passing car, we begin. Our first stop on this downtown sensory tour is along Phoenix's cultural highway, Central Avenue, at the intersection with Roosevelt Street. On the northwest corner stands the landmark Trinity Cathedral, spiritual home of the Episcopal congregation and secular home to the renowned Phoenix Chorale.
The Cathedral, completed in 1920, provides a graceful connection to Phoenix's history, but visit during First Friday Art Walk and the space is filled with the sights and sounds of contemporary urban life. The Cathedral Center for the Arts provides the visual experience in the Olney Gallery and Phoenix Chorale's Artistic Director Charles Bruffy conducts the surround sound of the Grammy Award winning ensemble during Open Rehearsals.
"I love our open rehearsals," says Bruffy, "they allow us an opportunity to invite people who may be familiar with their own church choir but unfamiliar with what we do, to drop in and experience something new and hopefully surprising."
At the center of downtown's thriving Roosevelt art district, and easily accessible from Central and Roosevelt Metro Light Rail station, the free rehearsals add an element of accessibility to classical music while giving Phoenix Chorale serious "street cred."
Bruffy explains the rehearsals allow for the audience to actively engage with the process. "Our singers have trained and perfected their gift and talent to sing from the heart. The casual atmosphere of open rehearsals allows us to not only sing but talk to our audience, answer questions, tell stories about the songs and tune their ears for the adventure of choral music. Our goal is make it possible for as many people to explore and enjoy the music and just as important to have fun."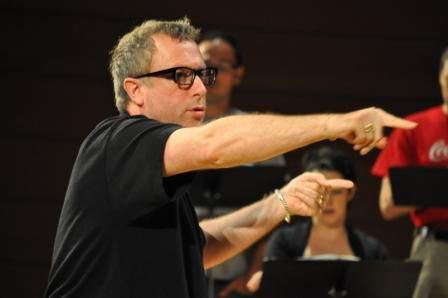 Choral music evolved from the earliest form of musical expression, telling stories through folk songs and devotional chants. Charles Bruffy plays a significant role in that evolution: appointed Artistic Director of the Phoenix Chorale in 1999, Artistic Director of the Kansas City Chorale since 1988, Chorus Director for the Kansas City Symphony Chorus since 2008 and an impressive list of other gigs around the country. His exhaustive schedule ensures that chorale music remain relevant and at the top of the charts.
Under his leadership the Phoenix Chorale and Kansas City Chorale have ten Grammy Award nominations and each garnered two Grammy Award wins. The latest Phoenix Chorale recording, Northern Lights, spent a lucky 13 weeks on the Billboard charts and of special significance to Bruffy, "We were named "Best Classical Vocal Album of the Year" on iTunes Best of 2012, how cool is that?"
Adding to the richness of the Chorale's sound is the unique qualities of Trinity Cathedral. "Many of our concerts are performed in sacred spaces, like the Cathedral." he says, "It may be that they are usually of older construction, of stone and hard acoustics that singers enjoy. But there is something very special that occurs when we perform in the sanctuary, a reverb is applied creating an added element to the performance, as if the voice is singing a duet."
If location is everything, Bruffy believes he could not be luckier. "I love being in the 'hood. Our city is so culturally rich and there are so many flavors and cuisines to sample downtown.
I can leave work, get to my apartment, go to one of my favorite places Cibo Urban Pizzeria for a meal and still make it to rehearsals on time." After performances Bruffy is often spotted at a few of his other favorites, including St. Francis, Breadfruit and Hanny's courtesy of the Light Rail.
The musical dynamo believes the trains add to downtown's vitality, "When I see the light rail go by, listen to the tone of the bell, I hear the sound of a twenty-first century city."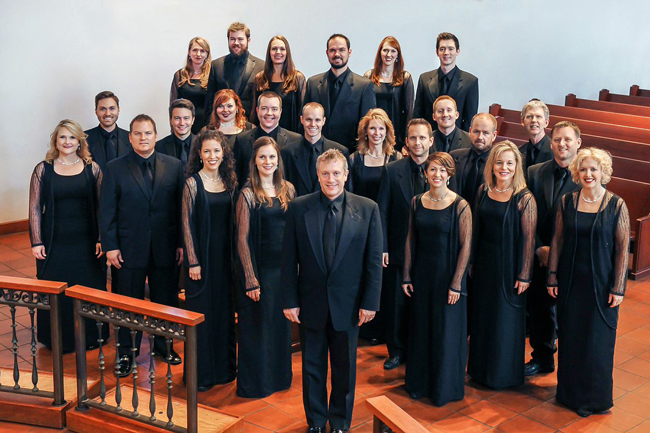 Bruffy sees a correlation between the eclectic cuisines found throughout downtown and the Chorale's concerts, "We are doing the same thing, creating a tantalizing tasting menu of songs."
Asked to imagine a concert that captures the flavor of downtown Phoenix Bruffy quickly, and expertly, whipped up this selection and provided a few highlights:
"Phoenix" by Ola Gjeilo, the Chorale's 2010 Composer in Residence.
"In the Beginning" by Aaron Copland. "This piece reminds me of the mythical bird, and our city's namesake, the Phoenix, always able to surprise, evolve and reinvent itself."
"Cloudburst" by Eric Whitacre
"Mountains" by Steven Chapman
"Anasazi Women" by Anne Kilstofte. "This piece is selected from our 2014/15 season, Desert Song concert. A musical celebration of the beautiful Southwest landscape in which we live."
To sample more of the Phoenix Chorale visit their website: www.phoenixchorale.org or call 602-253-2224.
Photos courtesy of Phoenix Chorale
Posted on 12/21/12 by Katrina Becker » No Comments
The sound of the Phoenix Chorale can be something like an instantly addictive drug – often, listeners are hooked after hearing just a few notes sung a cappella, without accompaniment. In addition to winning Grammy Awards, the Chorale's mesmerizing sound recently received even more recognition – iTunes named the choir's recording Northern Lights: Choral Works by Ola Gjeilo as Best Classical Vocal Album of the Year.
Led by Artistic Director Charles Bruffy, the Chorale turns those clear, pure tones to holiday repertoire for a program scheduled for performances December 20-23 at venues around the Valley, including Brophy Chapel and Trinity Cathedral. While the concerts include traditional favorites like "I Saw Three Ships," "Angels We Have Heard on High," and the "Wexford Carol," the centerpiece is a 10-movement suite called Gaudete! ("Rejoice") written by former Phoenix Chorale director Anders Öhrwall, and performed by the Chorale in his memory.
Born in Sweden in 1932, Öhrwall founded the Bach Choir at Stockholm's Church of Adolf Frederik, leading it for 36 years. He received a Swedish royal medal for his work, and conducted the Swedish Radio Choir and Youth Choir, the Stockholm Philharmonic Choir, and the Drottningholm Baroque Festival. Öhrwall was known not only for his meticulous rehearsal technique, but also for his numerous and popular choral arrangements and compositions.
Öhrwall conducted the Phoenix Chorale for two years when it was known as the Bach & Madrigal Society of Phoenix, leading the ensemble's change of name to the Phoenix Bach Choir from 1990 to 1992. He died on February 4, 2012 at the age of 79.
The tunes of Gaudete come from a collection of Latin songs published in 1582 in Sweden, and while the melodies may be recognizable – from carols like "Good Christian Men, Rejoice" and "Lo, How a Rose E'er Blooming" – the text is less familiar. Öhrwall's work stands apart with its addition of a woodwind trio, featuring a local ensemble: the Paradise Winds. "It's the clarity of the Phoenix Chorale that sets it apart, but also that they make such a warm sound," Bruffy explains. "I think it'll be a really nice and complete sonority in this pairing with instruments."
Founded by bassoonist Joseph Kluesener, the Paradise Winds shape themselves into a flexible, varying ensemble depending on the requirements of the music. "For this concert," says Kluesener, "there's a combination of bassoon, oboe, and flute, and the repertoire divides the winds into different arrangements of those three instruments." The oboist is Nikolaus Flickinger, and the flutist is Arizona State University professor Elizabeth Buck.
Kluesener, who also organizes Classical Revolution PHX, created the Paradise Winds as a genre-bending group in 2009 using ASU graduate students, alumni, and faculty. "That was the point," he explains, "to control the programming, the repertoire we play, and to really get to know what our instruments can do together."
As a testament to the group's innovative and tight-knit sound, it's been featured on American Public Media's radio show Performance Today. Although the musicians don't have a regular rehearsal schedule, they do enjoy a deep familiarity with their ensemble. "Everybody is really keenly capable," says Kluesener, "so we don't have to waste a lot of time mastering the vision of the presentation…because we've done so much together over the last three years."
Beyond Öhrwall's Gaudete, other holiday repertoire takes advantage of the Paradise Winds in different configurations – for example, Philip Stopford's arrangement of "Silent Night" adds flute to the choir. "It's one of my favorite songs throughout the year," says Bruffy. "I love the melody of it, and the peace that it always evokes. It's just quite lovely in its simplicity with an occasional fingerprint on the harmonies [from Stopford]." Born in 1977, Stopford has been compared to iconic choral composer John Rutter.
In the case of "Hark, the Herald Angels," Bruffy says he told his friend Jim Taylor, "Hey, I like this piece, but I'm only going to have flute, oboe, and bassoon – can you hook me up?" Bruffy smiles and continues, "So he created this arrangement with the specifications of just the three instruments instead of a whole orchestra." He laughs. "It's the 'Hark, the Herald' that we know, but this time 'Herald' has a little more character."
For contrast, the Chorale also performs three other arrangements of the classic Gaudete verse – one is from Phoenix Chorale soprano Kira Zeeman Rugen, who created her version for the male voices in a choir she conducted at ASU. Audiences even have the chance to sing along during a few favorite carols at each concert.
"One thing that I really like about the entirety of the program," says Bruffy, "is that with the complexity and velocity…and even voracity of the season, the pieces we're going to be doing are simply beautiful."