Beer for Brains Foundation
Posted on 12/06/12 by Rob Fullmer » No Comments
It's Friday afternoon and half of your office has joked about cutting out early and having a beer. You daydream about it but you stay at your desk. Our unwritten rules about when we drink are ingrained. We're supposed to cram it into a happy hour, often Thursday or Friday. The drinks are big, the food is small. That's our workplace culture–the larger culture.
Welcome to Beer Culture.
The Phoenix Brewers Invitational (PBI) in Phoenix Heritage Square is a new event for Arizona and it is billed as, "an opportunity to provide the Arizona craft beer scene and the City of Phoenix with a signature event to help generate awareness of our developing craft beer culture."  Craft beer culture says that it's OK for your local community to be involved in beer and beer events and this extends to our city leaders.
In most parts of the country, it wasn't politically acceptable for politicians to be seen with a glass of beer. President Obama is credited with changing that thinking with his beer summits. He's been photographed raising a pint of Guinness. He's bought a round of Buds at the Iowa state fair. He's had his chefs brew beer in the White House kitchen and famously shared them on the campaign trail.
The Mayors of beer culture-centric cities have always embraced beer. In San Diego, Mayor Jerry Sanders openly courts breweries to locate in San Diego County. Former Denver Mayor and now Colorado Governor John Hickenlooper once owned a brewery and is heavily involved in the Great American Beer Fest. Portland's Mayors have traditionally opened the 25 year old Oregon Brewers Festival (OBF) by tapping the first cask following a downtown parade. On Friday, December 7 at Noon, Phoenix Mayor is slated to open the Phoenix Brewers Invitational with a toast.
Did you miss that? Noon. Friday.
Famously, Postino Winecafe  has a bumper sticker that reads, "Drinking Wine at Lunch is not a Crime." That is true of wine culture and it is also true for those that enjoy good beer. If you're not able to make the leap from work culture to beer culture you can still check out the fest with your worker-bee cred intact.  The PIB is free to enter. You can check it out during your lunch hour and see what is being offered without paying.  The PIB will have Food Trucks on hand and there is craft root beer.
If you want to partake, there will be over 60 breweries each offering a single beer. Over 25 styles will be represented.  You need to purchase a commemorative mug and drink tickets. The glass will cost you $10.  Tickets are $1 each for a 3 oz sample. The mug and the tickets can be used when you return after work on Friday, or Noon to 10 p.m. on Saturday.
Another tenet of beer culture is that beer should be enjoyed with food. Often at a festival, you're enjoying great food with a tiny beer. The PIB will let you trade in four tokens for a full 12 oz serving. You can wash down the fare from Aji Mobile Food, Ole Dixie Southern Food, Torched Goodness, Emerson Fry Bread, Luncha Libre and Epic Hot Dogs with a hearty pour! Beer was meant to be enjoyed by the glass.
The Invitational is patterned after Portland's Oregon Brewer's Festival and it is one of the reasons that the city is referred to as Beervana. We expect that type of an event from such a beer city. Will Phoenix rise to the challenge? Will your Downtown Beer be a Friday afternoon one?
If you go:
Phoenix Brewers Invitational (PBI)
Location: Phoenix Heritage Square, 115 N. Sixth St., Phoenix, AZ 85004
Dates: Friday & Saturday, Dec 7 & 8
Times: Noon to 10PM
Cost: Admission into the festival grounds is free, In order to consume beer, purchase of a 2012 souvenir mug is required & costs $ 10.00. Beer is purchased with wooden tokens. Tokens cost $ 1.00 per. Patrons pay four tokens for a full 12 oz. mug of beer or one token for a 3-oz. taste.
Music
Friday, December 7th:
Headliner – Bird City,
Support – Versions of You, Cartoon Lion, We are Searchers, Inept Hero, Cosmic Goat, Libertine Social, Johnny Lee
Saturday, December 8th:
Headliner – 80 Proof,
Support – Black Bottom Lighters
Proceeds of the event benefit The Beer for Brains Foundation, a non-profit organization that raises money for the Barrow Neurological Institute at St. Joseph's Hospital and Medical Center in Phoenix.
Posted on 10/26/12 by Rob Fullmer » No Comments
The RareAffair, one of the best beer experiences in the country, will mark its third year on Saturday November 10 at the Arizona Science Center. Every year I have a difficult time writing about it. I look forward to going to it and then I remember that in a better world, this would be the last year for the RareAffair. We're lucky to have it. We're unlucky that it even exists at all. One of the best beer events in the country needs to go away–but only for the right reasons. The goal, after all, is to stop brain cancer.
The man behind the RareAffair is Louis Dolgoff. Dolgoff started the Beer for Brains Foundation when his wife Laurie was diagnosed with brain cancer. Some of you may have tasted your first craft beer because of "Dogfish Lou". As the first Dogfish Head Brewery Rep in Arizona, Lou chose Carly's as a downtown base of operations. Taps of Dogfish 60 and 90 Minute IPA were mainstays there for many years.
Today, Lou serves as the representative for Redstone Meadery based out of Boulder Colorado, but he's made downtown Phoenix his home. You might recognize this lanky fedora'd figure bombing around Evans Churchill or grabbing drinks at Angels Trumpet. Maybe you've attended some of the smaller events that he's put on in the Valley to support and promote the RareAffair.
The RareAffair is not the largest festival in the country. It's not even very big when compared to other beer events in the state. It's intimate. The format is structured for good times, music and conversation. Other festivals like the Great American Beer Fest revelry (GABF) have more varieties of beer. This festival has the right beer. It's a curated festival meaning that the beers are hand selected by Chuck Noll, a Certified Ciccerone who also serves as Master of Fine Beer for World Class Beverages. Many of the beers selected by Noll are beers are not sold in Arizona.
There's a rumor afoot that Indiana's Three Floyds is on a short list of likely "surprise appearances." Some beers are brewed specifically for this event. The Sonoran RAREaffair Ale is a porter made with Rhubarb. Papago's Wild Raven ia a wild yeast double black barrel aged IPA. According to the brewer, Ron Kloth, it's a collaboration done with Odell Brewing. It's been served just once and at the time Kloth characterized it as, "a true beer geek beer with great oak, smokey phenols and a touch of sourness."
Still other offering are unearthed from cool cellars to be opened after a years of conditioning. Alaskan Smoked Porter from 2004 fits that bill. This smoked beer loses its smoke when cellared but gains the dark fruit flavors of a Belgian Strong Dark. When it comes to beer, Noll puts the Rare in RareAffair.
This event is not just about beer. There is food from a dozen restaurants, cigars, spirits and wines. There is special pricing for designated drivers and something called a Sky Bike. If the last two years have taught me anything about the event, it's to expect the unexpected. There are certain to be line-up changes. There will be surprises. There will be fun.
You will learn about Lou and Laurie. You'll see why we should appreciate the RareAffair. This should be the last year. Right?
If you go:
Saturday, November 10
7:30 p.m. to 11 p.m. VIPS enter 6:30
Arizona Science Center
600 E Washington St
Phoenix, AZ 85004
Tickets:  http://rareaffair2012-eorg.eventbrite.com/
$75 until October 27;  $90 thereafter.
$175 for a VIP
$40 Designated Driver
Special lodging rate available at the Westin.
The Beer for Brains Foundation is a non-profit organization that raises money for the Barrow Neurological Institute at St. Joseph's Hospital and Medical Center in Phoenix.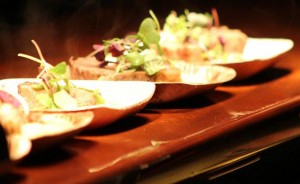 Participating Restaurants
Rico's American Grill
The Praying Monk
Hermosa Inn
Bistro 24
SanTan Brewing Company
O.H.S.O. Eatery + Nanobrewery
Copper Square Kitchen
Le Cordon Bleu
Emerson Fry Bread
Talking Stick Resort
Wigwam Resort
Muñeca
Beer
Sonoran Brewing RAREaffair Ale (Rhubarb Porter)
Papago Brewing / Odell Brewing Collaboration Ale
Bell's Brewing Roundhouse Rye IPA
Maui Brewing Liquid Breadfruit
New Belgium Brewing Trip 14
Popering Hommel Dry Hopped Bier
Abita Kaiser Alt
Great Divide Treasure Chest
Bier Brewery Brune
Four Peaks Sirius Black – Bourbon-barrel-aged Imperial Stout
Big Sky Ivan the Terrible
Thunder Canyon Cuppa Joe Porter
Grand Canyon Winter Shaggy Bock
Epic Brainless Belgian
Great Divide Yeti (2010)
Alaskan Smoked Porter (2004)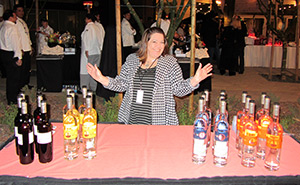 Cider & Mead
Redstone Mango Nectar
Crispin Bird on a Wire
Wines & Spirits
Galante Estates
Artesa
TR Elliot
Cruz Tequila
Dirty Tequila
Arroyo Vodka
Music 
Ken Levine & Jump, Jive & Wail
Remy De La Mora
Michael Droz Project