DPJ's Wire series delivers news and information straight from the source without translation.
PHOENIX FASHION WEEK RETURNS TO THE HEART OF DOWNTOWN PHOENIX
6TH Annual 'Spring into Style' Highlights Arizona's Top Stylists and Spring Runway Trends at Arizona Center
Phoenix Fashion Week kicks off its 2015 series of events this month by teaming up with Downtown Phoenix's own Arizona Center for the sixth-annual "Spring into Style" runway showcase. Hosted by Arizona Center, "Spring into Style" serves as a tribute to top stylists and showcases on-trend spring fashions set to the sounds of internationally-renowned DJ Q. On Saturday, March 21st, starting at 6:00p.m. with 'The Taste of Arizona Center', guests will have the opportunity to sample the best bites from local Arizona Center restaurants. Guests will also be treated to a fashionable outdoor Meet & Greet Mixer, where they will be able to shop stylish local pop-up shops with the backdrop of beautiful Downtown Phoenix. Media can enjoy a luxurious Log-In Lounge experience, and attendees can take in an interactive spring fashion show in the lush courtyard featuring hair and makeup by Salon Estique beginning at 8:30pm, followed by an after party directly following the show, hosted inside 1130 The Restaurant.
"Our team is excited to again offer a unique and popular fashion event to the heart of downtown Phoenix. Last year, it was a sold out event and with these very talented (6) stylists, we anticipate it being a hard ticket to get this year," said Brian Hill, Executive Director of Phoenix Fashion Week.
This special runway show serves as one of several preview events produced by Phoenix Fashion Week in anticipation of the Fall event scheduled to take place October 1 – 4, 2015 at Talking Stick Resort.
Event partners include: Arizona Center, 1130 The Restaurant, Boom Digitus, and Salon Estique.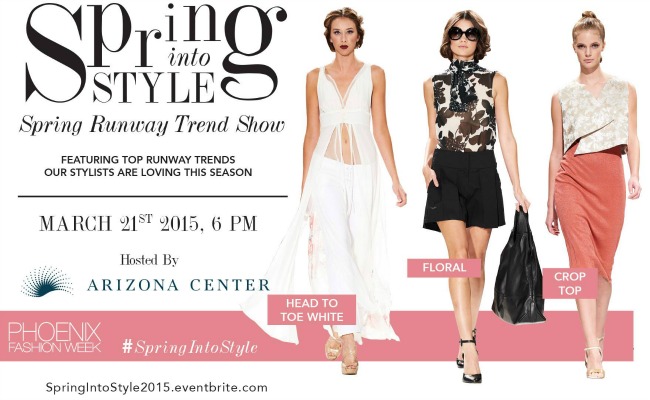 Featured stylists include:
Stylist, Audree Lopez – FLORAL Trend Show Sponsored by Boots Beauty USA:
Audree Lopez is a local stylist and founder of Simply Audree Kate blog. She is a senior at ASU and the co-founder and President of Business of Fashion student organization. www.simplyaudreekate.com
Stylist, Jackie Marin – BOLD Trend Show Sponsored by Iconic Beauty:
Jackie's style is one of a kind, sexy but elegant, dramatic, sophisticated and exciting. She loves to think outside the box and make a statement from the moment she puts an outfit together. Follow Jackie on Twitter: @jackiemarin04
Stylist, Jenesis Laforcarde – BOHO Trend Show Sponsored by Custom Kreations:
Jenesis started styling at the young age of 17. From there, the world became her runway! She started a consulting company called Love Jenesis Styles that provided wardrobe styling to many clients. A year passed and she started her own clothing line, Woman's Touch Apparel dedicated to empowering women everywhere! Then 2 years later she founded the Brave Wings Fashion Show. Jenesis is fueled with ambition and creativity; the only barrier to inhibit this journey is the one she creates for herself. www.lovejenesisstyles.com
Stylist, Nuvia Magdahi – DENIM Trend Show Sponsored by FINALLY MADE:
Nuvia Magdahi: accessorizing your personality to immediately shine through your presence is an exquisite taste she takes pride upon. A Fashion Stylist, a Visionary Photographer and a Creative Art Director with a passionate heart cluttered with dreams. www.MAGDAHI.com
Stylist, Tim Boado – DISTINCT PRINTS Trend Show Sponsored by Simplicity, A Male Concept Spa & The Dapper Devil :
As an Image Consultant, Timothy provides services to individuals and businesses alike, focusing on attention to details to enhance their brand, professional image and personal look.Timothy C. Boado, LLC. Follow Tim on Twitter: @fashnfien
Stylist, Vanessa Gonzales – NEUTRALS Trend Show Sponsored by Dillards:
Featured on Channel 3's 'Your Life A to Z' for fashion segments and given the opportunity to attend and style at the American Country Awards, Vanessa has styled for countless fashion shows and has a true passion for the fashion industry. Vanessa's background also includes styling for dozens of magazines such as Modern Luxury and Vogue Italia. www.vanessareneestyle.com
Tickets are available to the public for this event and can be purchased online at http://springintostyle2015.eventbrite.com/ or $40 for Style Seats and $125 for VIP Front Row. All tickets include access to official "Taste of Arizona Center" and the After Party.
If You Go:
WHERE: Arizona Center, 400 E Van Buren St, Phoenix, AZ 85004 (Park in Parking Garage off Filmore and 5th Street)
TICKETS: $40-$125. Purchase tickets at: http://springintostyle2015.eventbrite.com/
WHEN: Saturday, March 21st
'The Taste of Arizona Center' starting at 6:00pm – sample delicious bites from restaurants at The Arizona Center.
Doors open to the public at 6:00p.m.–Fashionable "Swag Bags" to the first guests, Pop-Up Shops
Press Conference at 6:00 p.m. (Open to select Media – RSVP to: lauren@phoenixfashionweek.com)
Fashion Show–8:30p.m.
After Party at 9:30p.m.
---