DPJ's Wire series delivers news and information straight from the source without translation.
CITY OF PHOENIX PARTNERS WITH UP GLOBAL AND CHASE BANK TO HOST FIRST EVER PHOENIX START UP WEEK
The city of Phoenix has partnered with Up Global and Chase Bank to host the first-ever Phoenix Start Up Week. Launched in 2012 in Denver, Startup Week has expanded to other cities and makes its debut in Phoenix from Feb. 23 – 27. Phoenix Start Up Week will build awareness of the startup community while providing an innovative environment for entrepreneurs.
Mayor Greg Stanton and Councilman Daniel Valenzuela will kick-off Phoenix Start Up Week on Feb. 23 at 9 a.m. at Chase Basecamp, 111 W. Monroe St., 19th FL.
"It's exciting to see so many energetic and hungry entrepreneurs in our city working together and sharing ideas," said Phoenix Mayor Greg Stanton. "We're strengthening our innovation-based economy by connecting our startup community and giving young companies the tools they need to thrive."
A free Valley wide entrepreneurial and innovation-focused event, Phoenix Start Up Week offers more than 130 different workshops, presentations and panels. Start Up Week offers entrepreneurs an opportunity to network with valley business leaders and obtain essential skills to launch successful startups.
"Phoenix's entrepreneurial ecosystem continues to build momentum as a hotbed where innovators can grow their companies, connect with their peers and share ideas," Councilman Daniel Valenzuela said. "Phoenix's 5K in 5Y initiative comes with aggressive goals to foster the creation of 5,000 enterprises in the next 5 years. We are committing the resources and energy to make Phoenix the premier place for budding entrepreneurs with a vision and drive to succeed."
Registration for Phoenix Start Up Week is available online at phoenix.startupweek.co.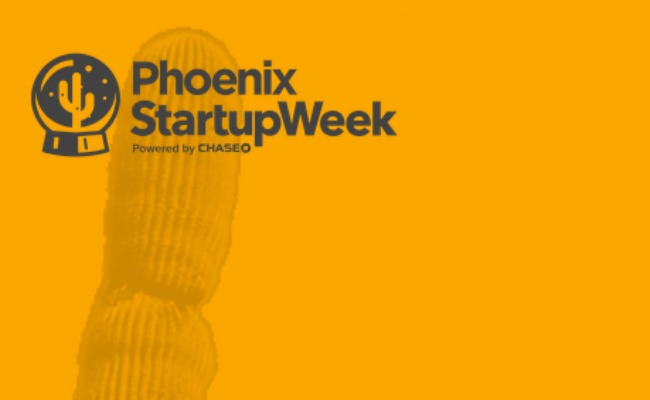 ---