DPJ's Wire series delivers news and information straight from the source without translation.
"REAL JAZZ" TAKES CENTERSTAGE AT FREE CONCERT AT CITYSCAPE
Event is one of many International Jazz Day events taking place worldwide on April 30
COME CELEBRATE "REAL JAZZ" AT THIS FREE OUTDOOR CONCERT
Downtown Phoenix is joining the line-up of more than 150 cities around the globe that will be participating in International Jazz Day on April 30, an annual event that is officially designated by the United Nations Educational, Scientific and Cultural Organization (UNESCO) to celebrate jazz and the role it plays in uniting people in all corners of the world. The FREE "Real Jazz" outdoor concert at CityScape features world-renowned jazz saxophonist Azar Lawrence, along with an all-star lineup of local, national and international jazz artists. Often compared to John Coltrane for his sound and harmonic approach, Lawrence has performed with McCoy Tyner, Miles Davis, Freddie Hubbard and Woody Shaw.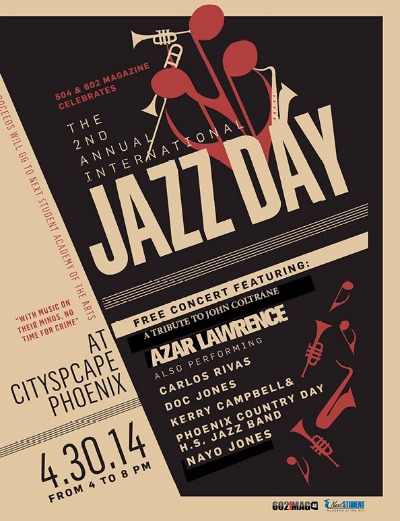 FEATURED PERFORMERS:
• Azar Lawrence – world-renowned jazz saxophonist plays tribute to the iconic John Coltrane and provides sneak preview of his new CD, The Seeker.
• Papa John DeFrancesco –soul-jazz music artist, father and mentor to world renowned organist and trumpeter Joey DeFrancesco.
• Carlos Rivas – International Latino jazz artist and founder and director of Mex-Sal, one of Arizona's most prestigious Latin groups, has performed throughout the world.
• Kerry Campbell – Jazz saxophonist and former member of The Dramatics and famed band War has also performed with jazz greats Herbie Hancock, George Duke and Joe Sample among others.
• Nayo Jones – Mentored by her father Doc Jones, jazz vocalist Nayo is a rising star who has opened for jazz greats such as Chris Botti, Otis and The Temptations, The Whispers and Lakeside.
• Phoenix Country Day School Varsity Jazz Band – under the direction of David Rowe.
• William "Doc" Jones – Jazz saxophonist, keyboard artist, music educator and founder of the NextStudent Academy, has performed with Aretha Franklin and The Temptations among others.
WHEN / WHERE:
Wednesday, April 30, 4 p.m. to 9 p.m.
CityScape at 1 East Washington Street, Phoenix, AZ 85004
"Real Jazz" is FREE to the public. VIP event seating is available at Copper Blues for the first 100 people who make a $100 donation to support the NextStudent Academy, a local 501(c)(3) organization that works with schools and after school programs to make jazz music education available and accessible to students from kindergarten through college. For more information about the event visit nextstudentmusic.com. For donations and VIP seating at "Real Jazz," call (602) 708-0810 or make your donation online at nextstudentmusic.com.
---