DPJ's Wire series delivers news and information straight from the source without translation.
CO-OP Phoenix produces first community Book Swap and launches five Free Little Libraries 
There is no better way to bring together curious minds than the love of reading. This spring, CO-OP Phoenix hosts their first pop-up Book Swap event.
With five clothing swaps under their belt, 700 swappers, and over 2500 lbs of items donated, Kelsey Wong and Karla Rasmusson, co-founders of CO-OP Phoenix have planned their next big community event, Book Swap PHX. On Saturday, March 22, from 11 a.m. to 3 p.m., Civic Space Park will be filled with once-enjoyed and ready to be enjoyed again books of every genre. Not only will these once-loved books be swapped, but also heartwarming stories from one reader to another will be shared.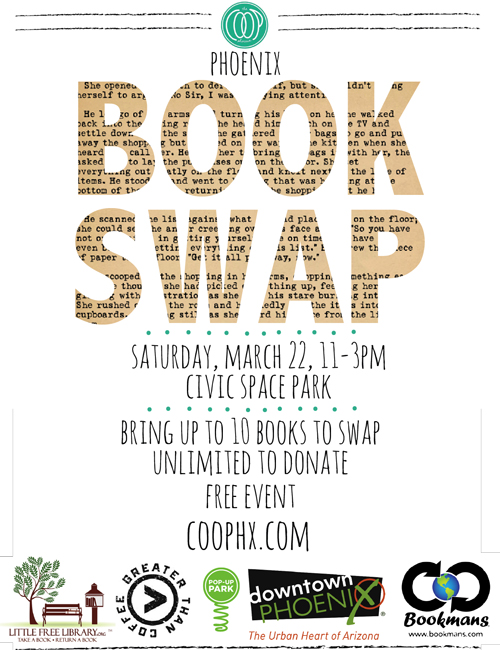 "It's really rewarding to see Phoenix coming together. Locals are really craving new ways to connect and be a part of something," said Kelsey Wong, executive director of CO-OP Phoenix. "Our events are different than your typical guest and entertainer, they are interactive. Every attendee gets to engage."
CO-OP Phoenix isn't stopping at the swap, they are launching five new Little Free Libraries downtown in partnership with Downtown Phoenix Partnership and the Little Free Library program. Starting at Civic Space Park, Heritage and Science Park, Downtown Info Center and Phoenix Public Market, the Book Swap will live on as donated books will be stored in the these libraries. In it's most basic form, a Free Little Library is a box full of books where anyone may stop by and pick up a book–or two–and bring back one to share.
"We love what CO-OP Phoenix is doing to bring fresh faces to the area and show locals that not only is downtown Phoenix community a cool place to be, but that we are a thriving city in the making," states Sara Anderson, events manager for the Downtown Phoenix Partnership.
After a full day of community and book swapping, leftover items will be donated to Little Free Libraries.
"Little Free Library is excited to participate in the Book Swap because all items donated will continue to be shared and enjoyed to any reader," says Samantha Jackson, founder of Little Free Library in Phoenix.
Tickets are free with a $5 suggested donation online or at the door. To pre-register for tickets, swappers can visit http://bookswapphx.splashthat.com.
---