DPJ's Wire series delivers news and information straight from the source without translation.
11th Annual Non-Profit Music Festival Features Diverse Lineup Including Ben Harper and Charlie Musselwhite, Disco Biscuits, Dwight Yoakam, Dispatch, STS9, Slightly Stoopid, Lettuce, Allen Stone and More
The 11th Annual McDowell Mountain Music Festival presented by Deschutes Brewery will include a stellar lineup of music superstars including Ben Harper and Charlie Musselwhite, Disco Biscuits, STS9, Dispatch, Slightly Stoopid, Dwight Yokam, Gramatik, G Love, Lettuce, Allen Stone, Donna the Buffalo, Nicki Blum & The Gramblers, West Water Outlaws and more.  The three-day festival will be held at Margaret T. Hance Park in downtown Phoenix, March 28-30, 2014.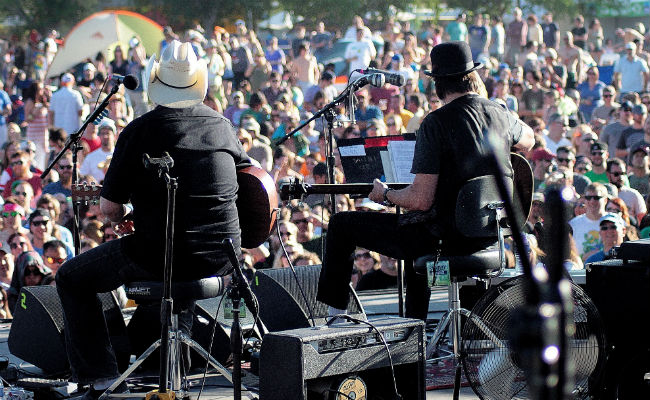 VIP, three-day and camping tickets are now on sale at www.mmmf.com for $150-$180 per person. Single day general admission tickets affordably priced between $50 and $70 will be available at a later date. After hours event passes will also be on sale at a later date. For more information about concert details and ticket prices, visit www.mmmf.com.
John Largay, President of Wespac Construction, which has produced the festival since 2004 says, "This festival is a party for the people. It's a community effort, engaging music enthusiasts to come out to enjoy an eclectic mix of talents and also to support notable charities in the Valley."
As Arizona's only 100 percent non-profit music festival, McDowell Mountain Music Festival McDowell Mountain Music Festival is proud to continue its alliance with two local, family-based, non-profits beneficiaries: Phoenix Children's Hospital Foundation and UMOM New Day Center, which provides homeless families and individuals with safe shelter, housing and supportive services. Over the years, the festival has raised more than one-million-dollars in funds for charity.
McDowell Mountain Music Festival attracts visitors from around the country for great weather, music and an opportunity to experience true culture.  The McDowell Mountain Music Festival seeks to provide the opportunity to experience the spirit cultivated when people join together to enjoy themselves and help the community. In addition, the music festival offers a marketplace for shopping, a Kid's Zone, a silent auction/raffle and more.
Image courtesy of Artigue Agency
---